Understanding Metal Railing Finishes
Keuka Studios Railing Finish Options
When choosing the finish type for your railing system, you'll want to consider your desired style, material, and location of the railing. Each material and finish combination offered at Keuka Studios has its unique advantages to consider before making your choice. Some materials and finishes can be used in combination to achieve your desired style. For example, using stainless steel posts and powder-coated steel stringers, or choosing a stainless steel top rail with powder-coated steel or aluminum posts. To select the materials and railing finish that's right for your project, take a look at the following examples.
1. Powder-Coated
An advantage of powder-coating your railing and stair project is the wide variety of colors and textures of powder coats that are available. This allows you to customize your project to complement or contrast with the surroundings. Powder coat finishes can be flat, matte, glossy, textured, sparkles, and wrinkles. These finishes may be applied to a variety of materials including steel, stainless steel, and aluminum. We offer 6 standard colors, however, custom colors may be chosen at a slight price increase to complement your specific project. Powder-coated steel is great for indoor or outdoor projects. However, for coastal environments, we recommend galvanized steel, conversion coated aluminum or stainless steel that is powder-coated for better corrosion resistance.
2. Brushed Stainless Steel
If you're looking for a modern railing with a sleek and luxurious feel, consider stainless steel with a brushed or polished finish. Keuka Studios offers three stainless steel finishes that each require a different degree of labor to achieve and thus vary in cost. One of the most common options is the #4 polish, also known as a brushed finish. (Shown on the cable railing image below).

#4 fine-brushed stainless steel indoor railing finish.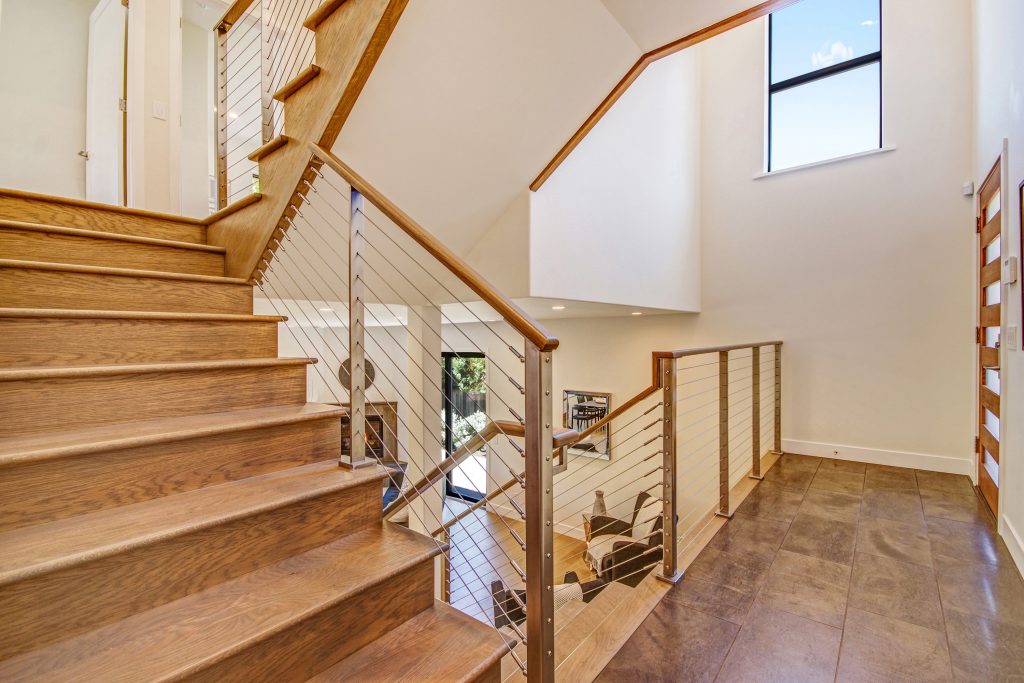 We also offer the #6 polish, sometimes referred to as a fine-brushed finish. (Shown on the glass railing indoor project and outdoor cable railing project below).
#6 fine-brushed stainless steel indoor railing finish.
#6 fine-brushed stainless steel outdoor railing finish project.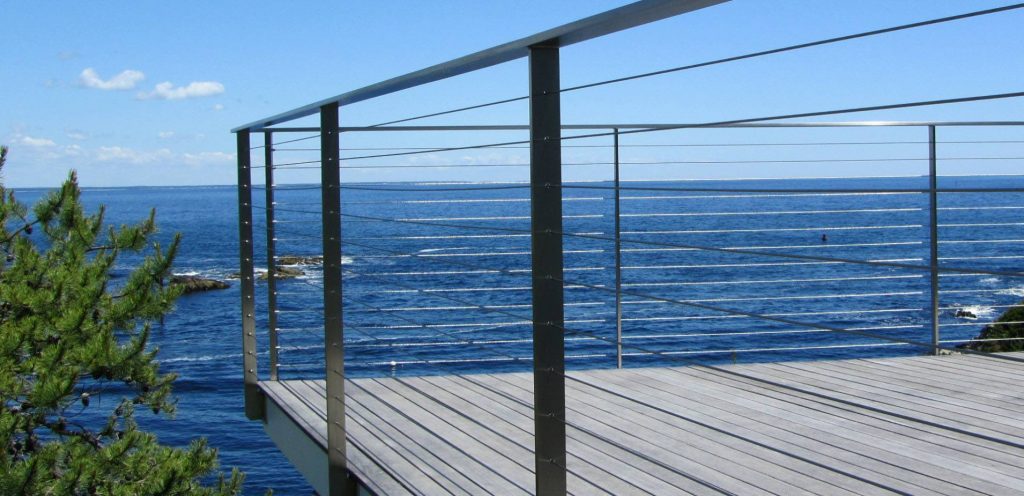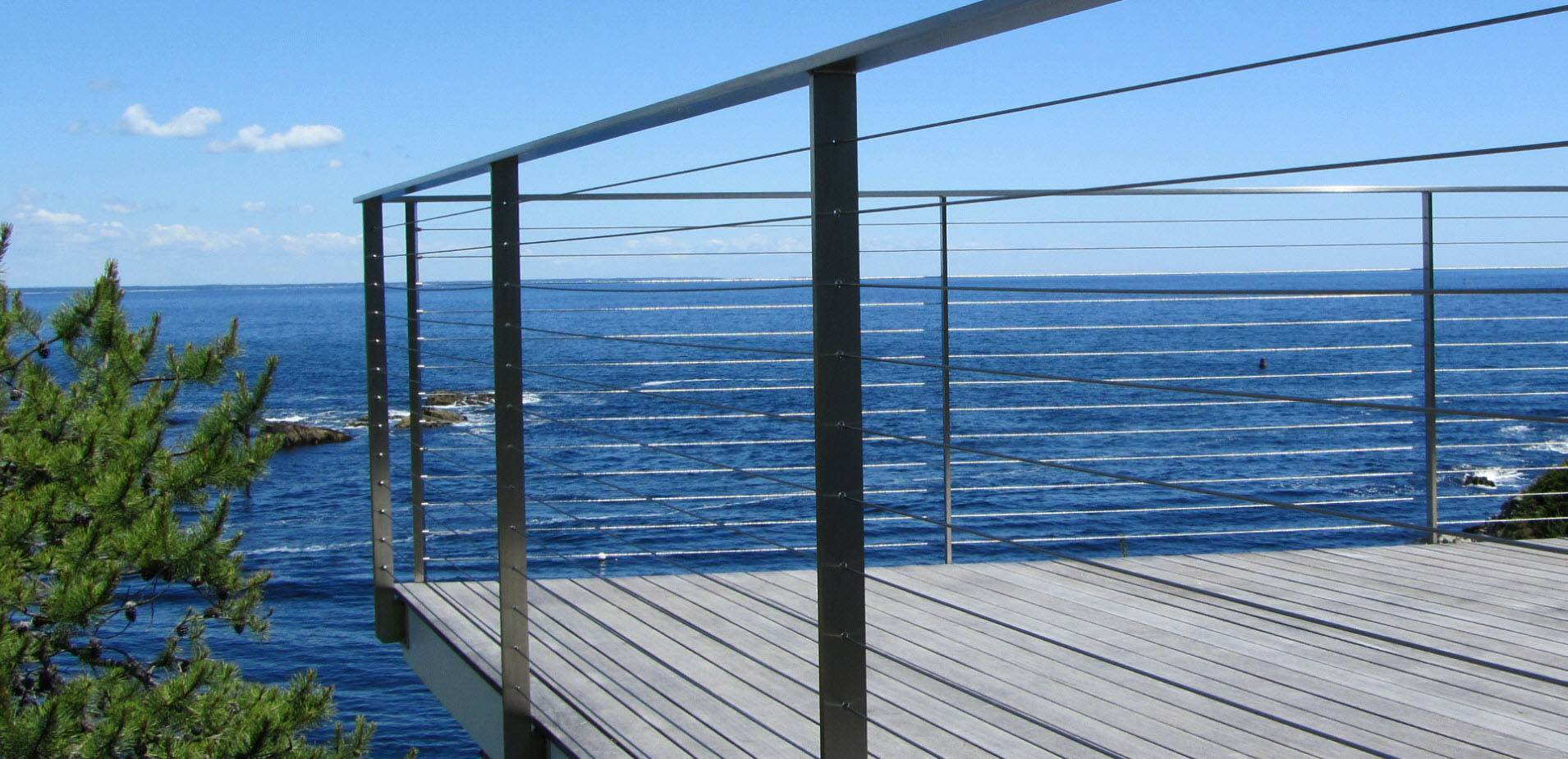 In addition, we have the #8 polish available, which is often called a mirror finish. This has a highly reflective surface. Stainless Steel looks beautiful on both indoor and outdoor applications and is a great choice for coastal environments.
3. Clear Anodized Aluminum
Anodized aluminum is perfect for both indoor and outdoor applications. The process of Anodizing gives the metal a lustrous look and it does not chip or peel. This makes the clear anodized a nice alternative to stainless steel since it has a silvery metallic, brushed appearance at a lower cost than stainless steel. Anodized aluminum is a nice choice for coastal environments and indoor or outdoor locations.

4. Hot-Dipped Galvanized Steel
Keuka Studios offers hot-dipped galvanized steel that can stand alone or be powder-coated to achieve a specific color. Galvanizing steel provides it with additional corrosion protection. Galvanized steel has an industrial look that is on-trend with today's industrial and rustic design styles. Many times the objective of a railing project will be to match the exposed galvanized steel beams in a space with open ceilings or the exposed steel structure under a deck.

Now that you have had a chance to review the many railing finish options we offer, our experts can further assist you with any additional questions you have to custom make the railing project you desire.