5 factors to consider when selecting a top rail for your deck railing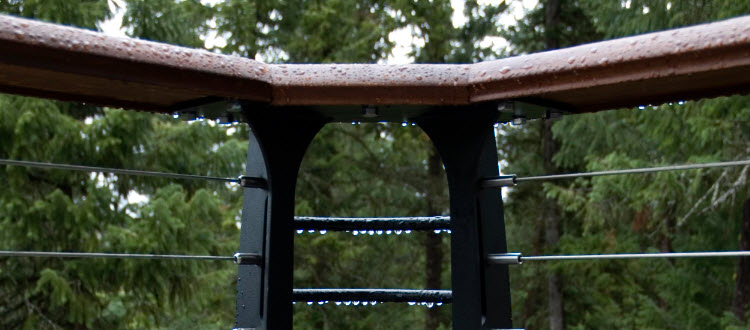 When choosing the right top rail for your railing project, there are many factors you should consider, including:
Style
Shape
Material
Color/Finish
Lighting

What is a railing top rail?
A top rail is a horizontal member across the top of the railing system that is typically affixed to the vertical posts and acts as a cap to the railing. The top rail is different than the handrail (which is meant to be graspable)
What style top rail do you want for your deck railing?
When you're thinking about the style of your top railing consider the style of your home and your personal taste. Do you prefer the simplicity of a square or rectangular top rail for a modern touch? Or a rounded profile that is smooth to the touch and rounds out the hard edges of the deck design?

Take a look at these projects for ideas on how this can work with various home styles.
Log Style, Modern Craftsman, Contemporary, Modern, Tropical, Colonial


What to consider when deciding on the shape?
The variety of the shapes of the top rail are reliant on the type of material to be used. Wood has the most flexibility of shape as we can custom mill it to nearly any shape and size. There are however limitations on how small the cross-section can be in order to maintain the structural integrity.

Metal rails are available in a somewhat lesser variety of shapes due to the relative difficulty in machining shapes into them. Typically metal top rails are made from tubing, extrusions, flat bars, and pipe.

Another consideration is whether you want the shape to act as a shelf allowing for guests to set their drinks on it? Or maybe you would prefer the top rail to be rounded to discourage items from being placed on the railing?
Is the view the most important aspect to you, then maybe a thinner top rail is the best choice to be the least obstructive to your view.

Some examples of wood and metal rail profiles shown below: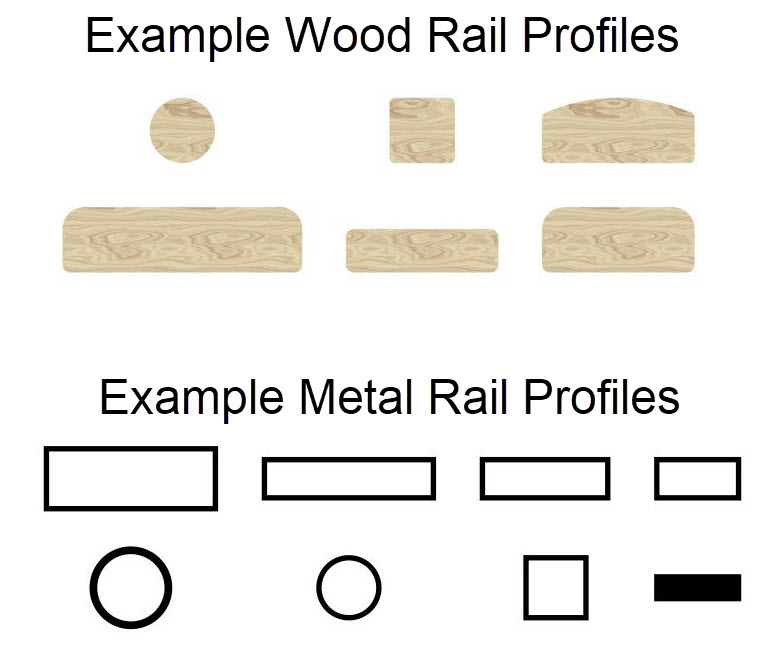 What type of top rail materials are there?
When choosing a top rail for exterior applications there are many wood and metal options. Wood is the easiest material to install since it's the easiest to cut drill and miter. Since the top rail is the only section of the railing you will consistently put your hands on, wood is typically softer to the touch than metal. Wood will not fluctuate in temperature as much as metal. Metal rails can get very cold in the winter and hot in the summer. If choosing wood we typically recommend IPE (Brazilian walnut) for your outdoor application. IPE (pronounced ee-pay) is a very strong wood that is considered to be part of the "ironwood" family. IPE requires some maintenance and should be oiled once or twice a year.

A metal rail is, of course, the lowest maintenance selection. There are solid or tube metal options available in steel, stainless steel, and aluminum. We provide a splice plate system that easily attaches to the railing posts for finish fitting on location.
What color or finish should I choose for the top rail?
For metal railings, there are a variety of finishes available. All metal rails can be powder coated in a wide variety of colors. If you find choosing a color daunting see these links for help.
5 considerations for choosing color
6 Popular cable railing color options

Steel railings have the option of being galvanized before painting or if you prefer the look of galvanized metal this could be the option for you. Stainless steel rails add glitz and shine to your railing system without paint, and has the added benefit of standing up well in a coastal environment. And yes, stainless steel can also be painted. Aluminum is a great choice and can be anodized to have a more natural look, or can be powder coated also.

The first image below shows an aluminum top rail powder coated to match the railing post.
The second image below shows our curved Keuka style railing post powder coated black with an aluminum rail powder coated sparkle silver.


Do you want LED lighting built into your top rail?
If you think concealed LED lighting is the way to go, we recommend a tube (round or square, or rectangle) type top rail that can easily hide the electric wires within it. Hiding the wires in the post as they run back to the LED drivers can be a bit more challenging, however, we have options to accomplish this.
See more pictures of the Sequoia project with concealed lighting here.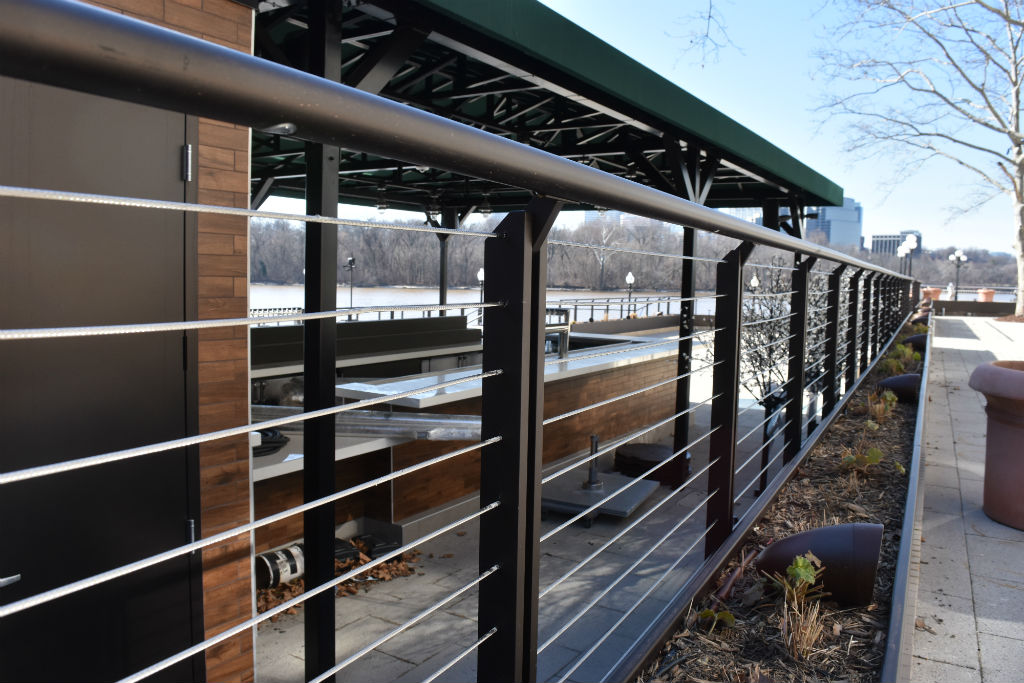 Whichever top rail material and style you choose for your railing applications, please make sure it works with the type of railing you have chosen. If you have a cable railing system there are force factors involved that most railings do not have. Therefore, it is imperative that the top rail be very sturdy since it's a key component of the entire railing system.
In addition to the top rail, your project may also need handrails that comply with ADA requirements and ideas. Handrails are required on commercial projects and add an extra element of safety to any stair railing. See this link for more information on ADA compliance requirements
If you still need help, our team of experts can advise you on the available options, to reach your desired result.
At Keuka Studios, we custom fabricate residential and commercial stairs and railings to fit your style, space, and requirements. To learn more about how each cable railing project moves from vision to reality, take a look at our custom railing design process. We take pride in building craftsman-quality and commercial-grade stairs and railings for interior and exterior applications. Contact us to get started on your project.