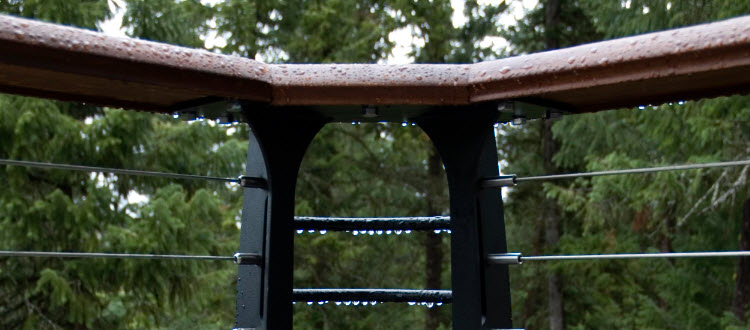 When choosing the right top rail for your railing project, there are many factors you should consider. You will notice that when you look at our company's website, many of our railings are shown with a wood top rail. Many of our customers prefer wood top rails, and here is why you might want to consider a wood top rail for your application as well.
Wood is the easiest material to install since it's the easiest to cut, drill, and miter. This means that any person with basic carpentry skills could install one of our railing systems with ease. Since the top rail is the only section of the railing that you will constantly put your hands on, it is typically softer and smoother to the touch than metal. Wood will also not fluctuate in temperature, while metal rails can get very cold in the wintertime and overly hot in the summertime.
A metal top rail is of course the lowest maintenance selection. But there are many different species of wood these days that require little-to-no maintenance. We typically recommend IPE (Brazilian walnut) for your outdoor application. IPE (pronounced ee-pay) is a very strong wood that is considered to be part of the "iron wood" family. IPE is so dense and heavy that if you toss a piece of it into a lake, it will immediately sink. You can decide to oil IPE once or twice a year or you can always decide to just let it age naturally and it will turn a light grey in color. Also, the combination of IPE with any metal looks great!
Whichever top rail material you choose for your railing applications, please make sure it's a strong one. A cable railing has force factors involved that most railings do not. Therefore, it is imperative that the top rail be very sturdy since it's a key component of the entire railing design.