Pool fence blocking your view?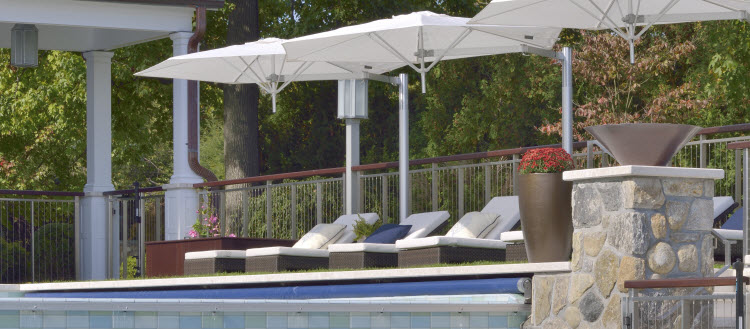 Love the view from your new pool but don't want to block it with a pool fence? Consider cable railings/fences.
If you're looking to open up the view beyond your pool, consider these pool fence ideas. Most local building codes state that pool fences or railing pickets need to be vertical. Vertical cable railings can meet these requirements while preserving your view beyond your pool. Cables are thin compared to larger wood or metal pickets. Cables will disappear and allow you to enjoy the view whether it's the sunset at your beach house, a sweeping mountain vista, or a backyard oasis.
Important requirements to consider for railings and fences around pools:
Pool railings and fences should be at least 48″ high to prevent unintended access by children. See illustration below. Gates should open out from the pool and should be self-closing and self-latching. The height of the gate latch mechanism should be set at 54″ high.
Cost considerations:
-Vertical cable fences are more expensive than other types of fences. There are several reasons for this.
-Since each cable assembly is short, there are many end fittings. These end fittings act as turnbuckles to keep the cables tight. End fittings are high grade (Type 316) stainless steel. Since there are so many of them, the costs can add up.
-Frames must be rigid to be able to handle the combined tension load of the cables.
-Since pool chemicals are corrosive, it is common to use non-ferrous metals for this type of application. Stainless steel, aluminum, and galvanized steel are the best choices. Stainless steel is much more expensive than aluminum and galvanized steel. Steel is stronger than aluminum, so the frame can be more slender.
Conclusion:
If your view from your pool is important, than a vertical cable railing could be for you!
Click here to see more examples.