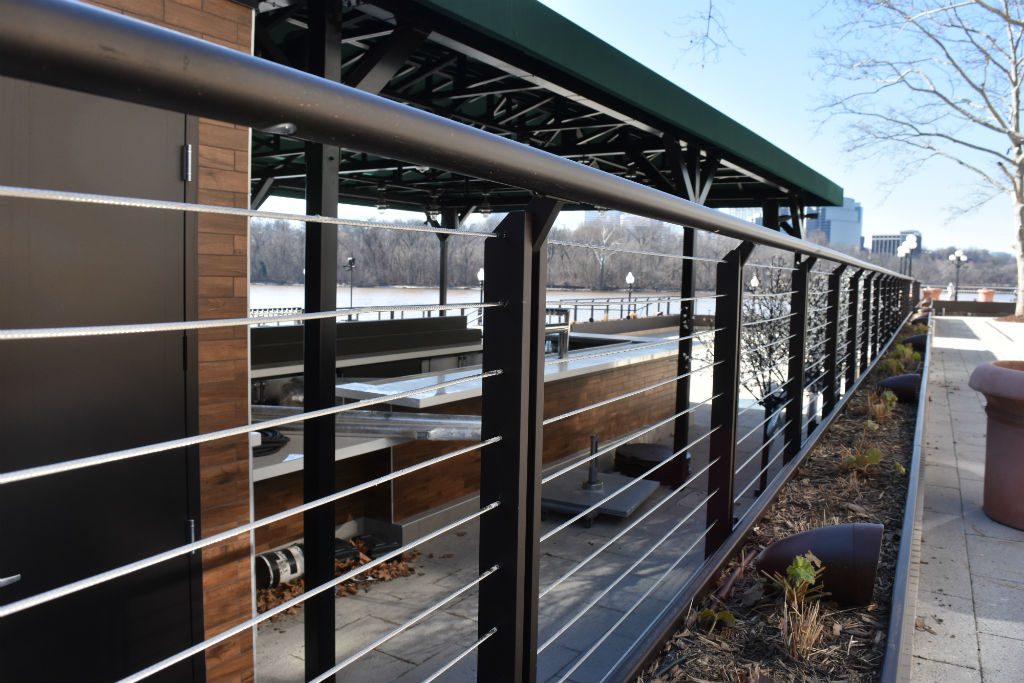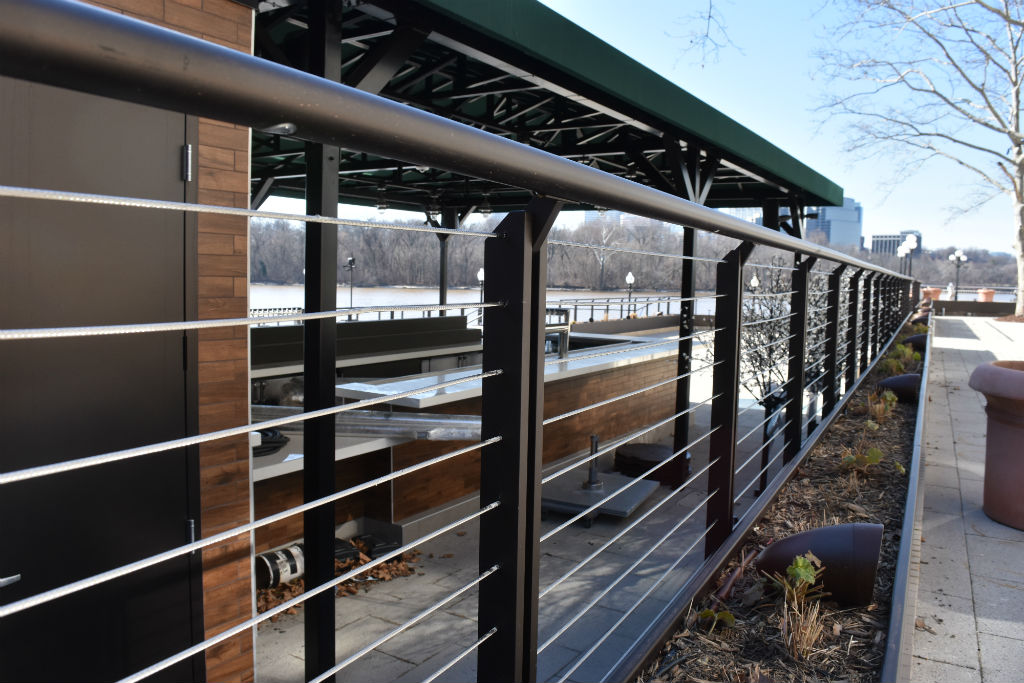 Powder-Coated Steel and Aluminum Railings and Stairs
Powder-coated steel is the most popular and cost-effective option offered at Keuka Studios. Many of our clients choose powder coating because they have a certain color in mind for their railing system. Common powder coat color options include "Raven Black," "Sparkling Silver," "Dazzling Pewter," "Texture White," "Gamblers Gun Gray" and "Oil-Rubbed Bronze." For an additional fee a custom color can be selected to suit your style.

At Keuka Studios, we offer both powder-coated steel and powder-coated aluminum for railing posts and top rails. Adding a powder coat to either of these materials can improve durability and add a stylish finish to complement your building. Steel or aluminum railings with a powder coat are suitable for both indoor and outdoor applications. The process for aluminum involves a different preparation process than steel.
What is powder coat?
Unlike wet paints, powder coat is a dry free-flowing polyester powder. It is applied electrostatically and then cured under heat.

What is the powder coating process for Steel?
It starts with proper preparation of the material to be powder coated.

The first step is to completely sandblast all of the parts to be powder coated. Sandblasting or abrasive blasting is forcibly propelling a stream of abrasive material under high pressure to remove surface contaminants.

Next is a 5-stage cleaning process that includes using an alkaline cleaner to remove dirt and oils, a hot water rinse, an Iron Phosphate wash to help promote adhesion, a cold water rinse, and a non-chrome sealer. The railing posts are then baked in the oven to remove any residual moisture.

The final step is to apply the top coat.
Once the parts are properly cleaned and primed the parts are sprayed with an electrostatically charged powder that adheres to the grounded parts. Once sprayed they are placed in ovens, at this time the curing cycle starts and fuses the powder to the surface creating a high quality finish

For outdoor applications an additional step of a zinc rich primer will be applied followed by a baking cycle to cure the powder to the metal. Then the polyester color will be applied.

Clear coat applications
Some powders like "sparkles" or "metallics" commonly use an additional step of adding a clear coat to reduce oxidation and improve durability.
What is the powder coating process for aluminum?
The preparation process for aluminum includes conversion coating which is an immersion bath process used as a corrosion inhibitor before proceeding with the powder coating of the parts.
Looking for a powder coated railing or interested in a custom color for your railing?
Contact Keuka Studios at www.Keuka-Studios.com or call us at 585-487-6148