Why do we think you'll love our floating stairs and railings?
So lets get started…
1. Inspiration
The first step is the inspiration – peruse our gallery of images, blogs, and stair pages to see what stair style is for you. If you don't see what you're looking for our expert team of designers has the capability to create new custom stair designs around your ideas. Some Before and After stair examples can also help with you decide what type of stairs you would like.
2. Designing Floating Stairs and Railings
We work with your architectural drawings or a sketch to get started on the design process. Using 3D CAD we create detailed drawings and realistic renderings of the finished project to help you visualize your stairs and railings within the existing architecture. If the complexity of the project requires additional measurements we use laser scanning technology to measure the site. This captures the entire space in detail so we can accurately design and fabricate your project to fit the location.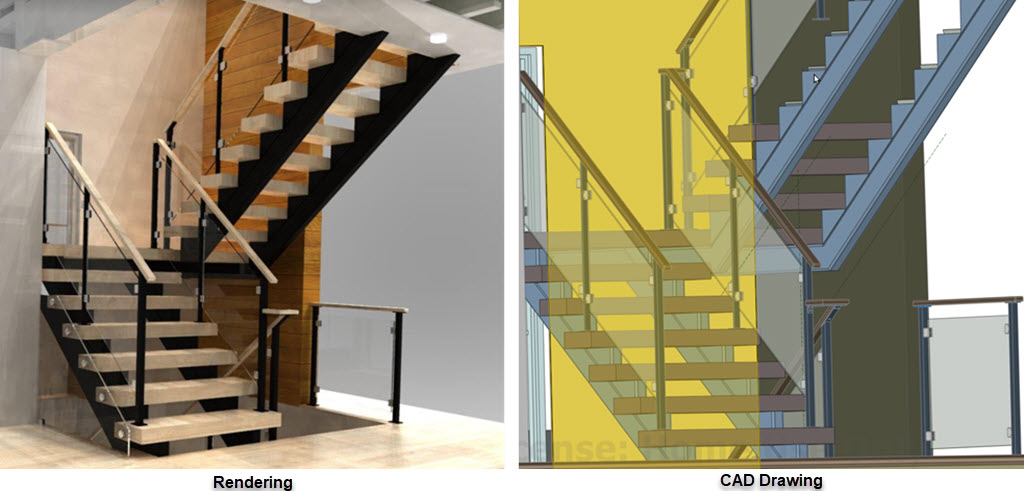 3. Type of Stairs
The size of the stair opening and floor-to-ceiling measurements will usually depict the type of staircase that will be needed, it may be anything from a straight, curved, spiral, L-shaped, or a common U-shaped stair. Understanding the parameters of the space available will determine the type of stairs required. It is essential to meet building codes for stairs and maintain an easy flow while walking up or down. The type of stair may also influence the type of floating stair stringer.
4. Floating Stair Stringers
What type of floating stair stringer do you prefer? Floating stairs are typically open with the treads appearing to float in the air. Deciding on the stringer takes into account two design approaches. The first part is to create a well-functioning stair, and the second part is creating the artistically desired appearance while making sure these two approaches work together. There are a variety of types of stair stringers including Mono stringer, double stringer, and cantilevered. Also, there are a variety of styles of stair stringers such as zig-zag, sawtooth, tubular, square, rectangular, and round tube.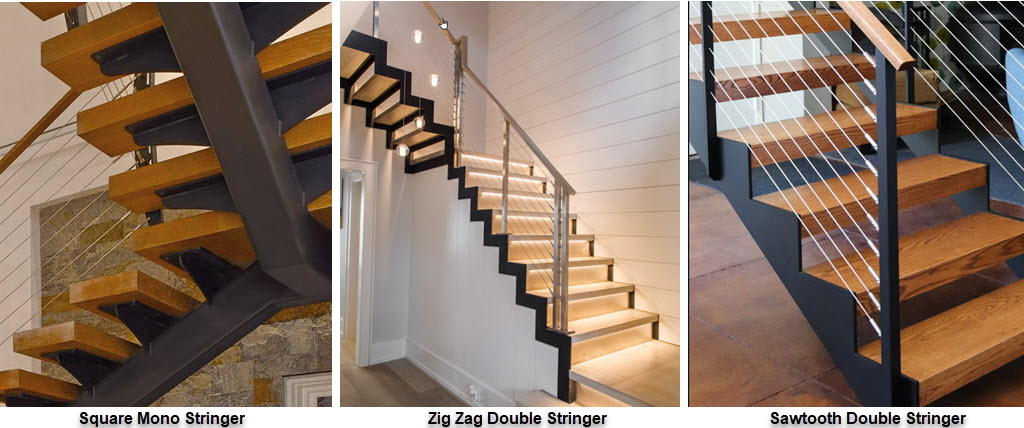 5. Railing Infill for Floating Stairs
The infill available for stair railings consists of Cable, Glass, and Metal each one offers a different aesthetic. Cable railings can have a modern look or an industrial feel and have an advantage that they often trick the eye into appearing invisible. The cable is available in shiny stainless steel or blackened. Glass railings are modern, glamorous, and reflective as well as transparent. It is sometimes used in areas to block prevailing winds. Ornamental metal infill comes in a variety of designs including vertical spindles and horizontal bars. There is a wide selection of materials that can be used to create a modern or traditional look.

6. Floating Stair Railing – Posts Style Choices
Many railing post styles are available and can be designed to work with the infill of choice. A few choices include the Ithaca style posts with its sleek and slim appearance. It is often chosen to complement glass railings although can be used with any infill. The Keuka style posts have a curved styling that can be used for any application. The Keuka Style really makes a statement on a curved or spiral staircase. The Chicago style has an exposed structure appearance with a modern industrial look. In addition, we offer the Prairie, Tokyo, and Kauai styles. If you don't see a style you like we have the capability to create custom styles. All railing design styles can be made at 36 in or 42 in (or any custom size) and have the option Fascia or Surface Mount. Don't see what you're looking for contact us for a unique design.
7. Top Rail Choices
When deciding on the top rail choice there are several factors to consider. These include style, shape, material, color/finish, and Lighting. There is a wide variety of wood species and shapes available. Metal rails are available in a somewhat lesser variety of shapes and sizes. If Led lighting is desired it is important to build this into the top rail and posts early in the design process. It is important to work out the cable routing for LED lights so they are hidden inside the railing structure. We can help with that.
8. ADA Handrails for Stairs
Although ADA handrails are essential on commercial projects they may be desired on residential projects. A continuous handrail on a staircase that is graspable adds an extra level of safety especially for people with disabilities. There are a variety of ways and materials that can be used to accommodate an ADA compliant handrail. In this example, the handrail is continuous, extending beyond the lower step and ends at the ground level.
9. Stair Treads Styles to Consider
-Stair treads are available in a variety of styles and materials. Our stairs are designed to accommodate the tread style you choose. A material such as stone is heavier and requires more structural support than a lighter-weight alternative. Wood treads may be designed to hide the steel supports for a cleaner look or show the supports and hardware for an industrial appeal. Some treads like glass and tile may adhere to the steps using sticky back tapes or glue materials. Each type of tread material can be accommodated through expertly crafted stair design.
10. Railing and Stair Finishes
Each material and finish has its unique advantages and disadvantages. Depending on the type of material used for the floating stairs and railings it may be finished in a variety of ways. All of the metal materials can be powder-coated. Steel has the option to be hot-dipped galvanized for an industrial look, or go through a two-step process and also be powder coated over the galvanized to improve durability. Often times aluminum is clear anodized to maintain the appearance of the shiny metal or powder-coated a color of choice. Stainless Steel finished in a brushed metal appearance creates a beautifully lustrous look. We offer six standard colors however, there are hundreds of custom colors available.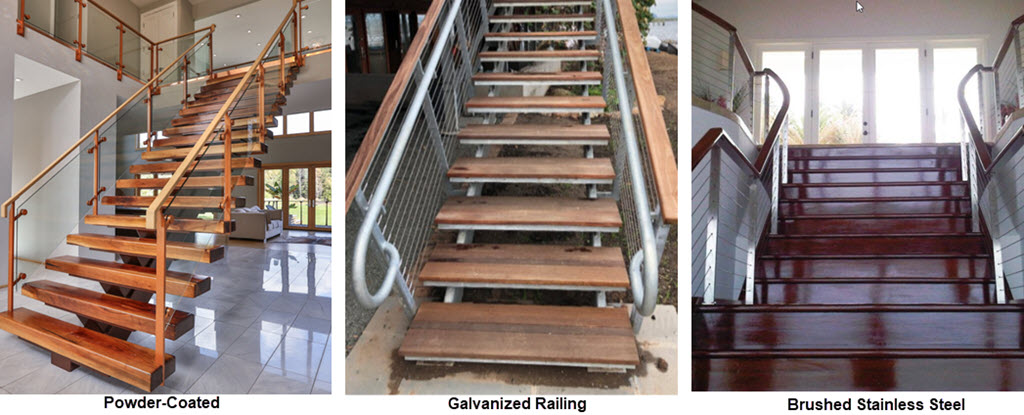 11. Extra Options for Your Stairs
Some options include gates, escutcheon plates, nut caps, and LED lighting among many others. Gates designed for your stairs will look streamlined and fit with the design and finish of your staircase. Escutcheon plates are typically requested to cover the mounting hardware and create a refined appearance on surface mounted railing posts. Nut caps are used on both surface and fascia mounted posts to cover the bolt heads. Designing to accommodate LED lighting on steps or railings makes it possible to hide any wires.
If your not sure how much your new stair and railing will cost contact us to request a quote or review our page on "How much do custom floating stairs cost?"
At Keuka Studios, we custom fabricate residential and commercial stairs and railings to fit your style, space, and requirements. To learn more about how each cable railing project moves from vision to reality, take a look at our custom railing design process. We take pride in building craftsman-quality and commercial-grade stairs and railings for interior and exterior applications. Contact us to get started on your project.