Open Living Space – Mill Valley, California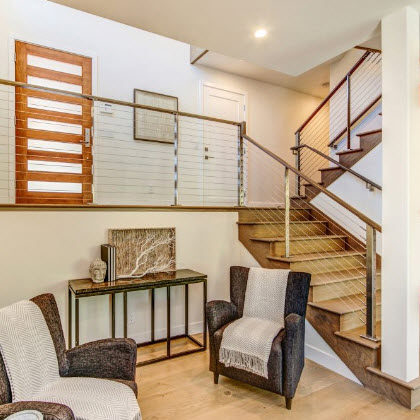 Location: Mill Valley, CA
Builder: Eric Woodhouse and Greg Shaw Construction — Fairfax, CA
Material and Finish: Stainless steel posts with a #4 brushed finish.
Description: Ithaca Style stainless steel cable railing posts and an oak wood top rail.
Notes:
This contemporary new home features our Ithaca Style stainless steel cable railing. The Ithaca Style helps to emphasize the natural lighting and bright, open spaces. Our Ithaca Style cable railing is our sleekest cable railing design.
Rebuilt from the ground up, this home was designed by Eric Woodhouse and Greg Shaw Construction of Fairfax, California. Fifteen minutes north of the Golden Gate Bridge, Mill Valley is known for its mountainous terrain and Mediterranean-like climate.
Our team CNC machined stainless steel cable railing posts and gave them a #4 brushed finish. Our stainless steel comes in a variety of brushed and polished finishes. By CNC machining the posts and screwing them together, we leave no visible welds. For this project, we concealed all of the railing hardware under the wood top rail or under the foot of the post and flooring.
The design also features custom CNC-machined stainless steel escutcheon plates that slide over the posts for a clean, refined look. The plates help to conceal the mounting hardware. The railing features an oak wood top rail and stainless steel wall mount handrail brackets that we custom fabricated to match the posts.
Our engineers designed the stainless steel railing posts to be able to withstand the load required by the international residential building code.  Always check with your local building official for code restrictions in your area before beginning any project.
Stainless steel aircraft cable infill flows gently with the angles of this interior staircase. With a streamlined and modern-looking design, this cable railing system incorporates stainless cable fittings that are small and unobtrusive to the eye. Ithaca Style cable railing has a simple design that works well with practically any type of architecture.
Request A Quote
Ithaca Style Cable Railing