5 Considerations For Choosing Railing Color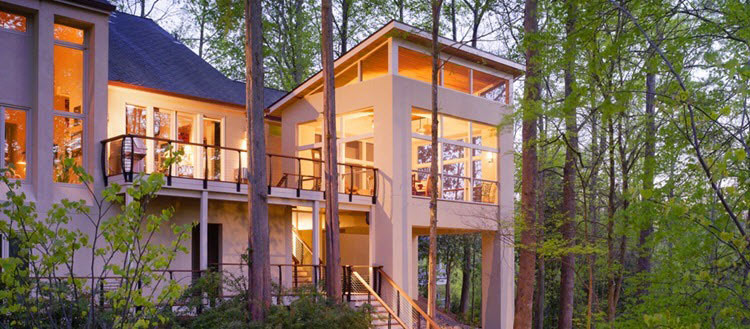 Part of planning your outdoor deck project is thinking about what the railing color should be. This can be perplexing or lots of fun! Your home color is a personal choice, and your railing color will be a personal choice too.
Here are some things to consider when selecting your cable railing colors.
Which is more important to you?
Is it the look of your deck and railing from the outside of your house, or how it will look from the inside of your house?
Which railing color will best blend in with your view?

Dark colors generally blend in better with a forest view and stand out against a water view. Lighter colors blend in better with ocean and lake views.
What type of experience do you want while enjoying your deck?
One way to think about railing color is to establish a theme for your deck space. Should your space provoke a specific feeling or mood? Do you want it to feel Zen-like, nautical, rustic, or modern?
More passive or neutral colors can give a soothing Zen-like feeling to your outdoor space. Silvers, whites, and stainless steel can look more nautical or modern. Browns and greens can feel more rustic and blend in better with a backyard garden space.
Did you know light conditions can greatly affect the appearance of railing color?
It is important to look at color samples in the area where they will be used. Whether you're planning an outdoor deck railing project or an indoor staircase, look at color samples in natural light. Direct sunlight is best. Observe the railing color sample during the daytime and evening. Observe the railing color in the environment that the color will be used. The eye perceives color differently on vertical surfaces than it does on horizontal and curved surfaces. If the color is being applied to a vertical surface, be sure to look at the sample on a vertical surface. This will give you a better perspective on how the color will actually look.
Should the railing color match the outside of the house or accent it?
Many times we are asked by customers, "should the railing color match the house color, window trim, or accent color?" These are important things to consider. Contrasting colors can be used to accent or draw attention to the railing, making the railing a focal point. Similar colors can make the railing posts appear to blend in with the home. See these example images below showing different railing color variations. These images may help you visualize how your completed project will look.
Why choose just one color for your railing?
You can create contrast or similarity depending on the aesthetic and architectural style you are trying to achieve. The top railing can be powder-coated in a contrasting color to the railing posts, or they can be the same color to create more uniformity.
I hope this has helped you to make your railing color choice easier, so have fun with your project! For more color options see this page on our 6 signature colors. There are thousands of custom colors available for metal railings so you can create a style you'll love.
At Keuka Studios, we custom fabricate residential and commercial stairs and railings to fit your style, space, and requirements. To learn more about how each cable railing project moves from vision to reality, take a look at our custom railing design process. We take pride in building craftsman-quality and commercial-grade stairs and railings for interior and exterior applications. Contact us to get started on your project.