6 Popular Cable Railing Color Options
At Keuka Studios, we provide endless options for cable railing customization. We offer five signature railing post styles and an array of post and top rail materials. Once you've selected the design of your railing system and your desired materials, you can also choose your finish. If you opt for a powder coat, you can select one of our standard colors or a customized shade.

When choosing a powder coat for your cable railing system, you should consider a few important factors. You can read more about these considerations here. If you need some design inspiration, take a look at our six most popular cable railing color options: "Raven Black," "Sparkle Silver," "Dazzling Pewter," "Oil-Rubbed Bronze," and "Gamblers Gun Grey", and "Texture White".

1. "Raven Black"
With both interior and exterior applications, many of our clients pick a classic black powder coat for their cable railing system. Our "Raven Black" option matches virtually any natural setting, interior design scheme, and top rail material. In the photo below, the railing features black powder-coated steel posts paired with a maple wood top rail. The dark railing posts create a striking contrast with the home's white walls and Douglas fir exposed beams.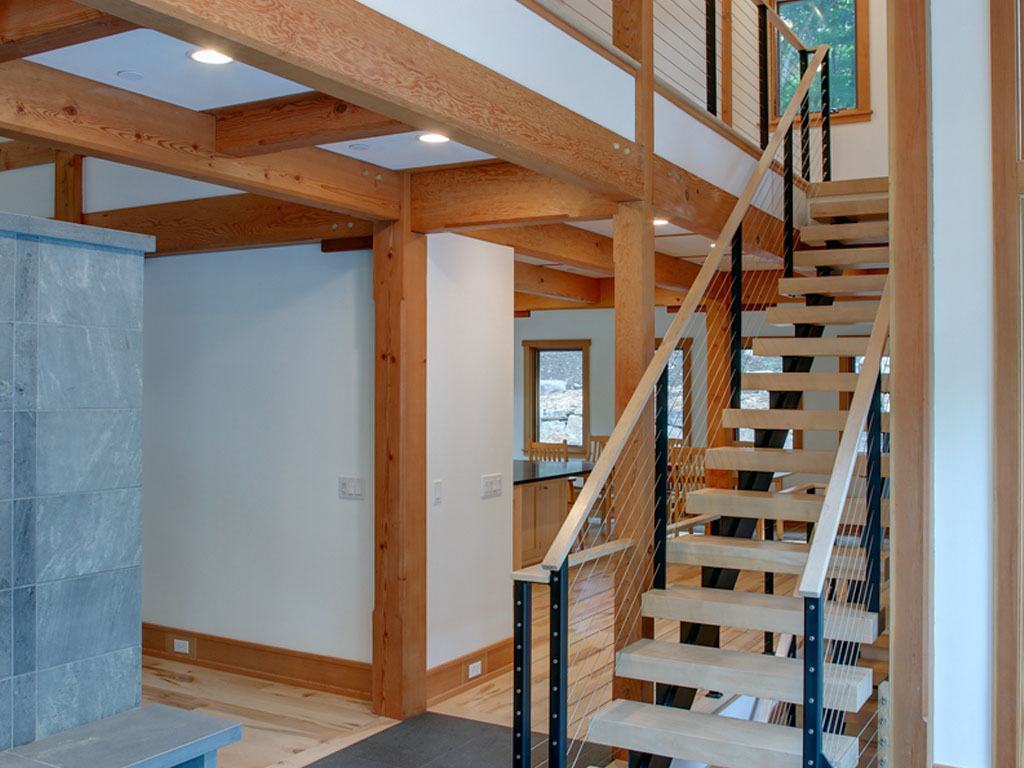 2. "Sparkle Silver" Powder Coat
If you're looking for a cable railing system with a modern edge, consider the "Sparkle Silver" shade. This lustrous, soft silver powder coat adds a reflective and metallic look to any railing and mimics the look of stainless steel without the added cost. The owner of this luxurious home chose a "Sparkle Silver" powder coat for their steel Chicago Style cable railing system. Both the silver posts and light wood top rail contribute to the sleek monochromatic aesthetic of the home exterior.
3. "Dazzling Pewter" Cable Railing Color
"Dazzling Pewter" is a matt dark grey shade with a slight sandpaper-like texture for a more industrial feel. The rustic barn pictured below features a floating staircase and cable railing system with "Dazzling Pewter" powder-coated stair stringers and railing posts. The color contrasts nicely with the antique Oak treads and handrail without being overpowering.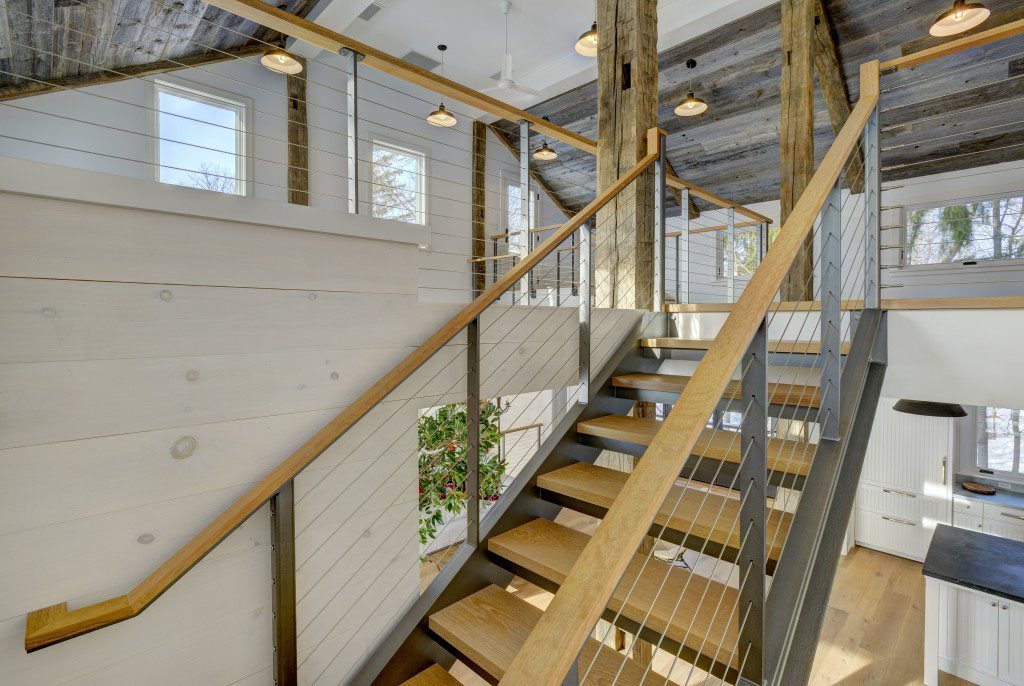 4. Cable Railing Color Option: "Gamblers Gun Grey"
"Gamblers Gun Grey" also has a metallic look but a more muted appearance than "Dazzling Pewter." This powder coat shade is particularly popular among clients who have contemporary taste and want a cable railing system that harmoniously melds with its surroundings. Our clients in Martha's Vineyard chose "Gamblers Gun Grey" powder-coated aluminum posts and a white oak top rail for their rooftop deck cable railing system.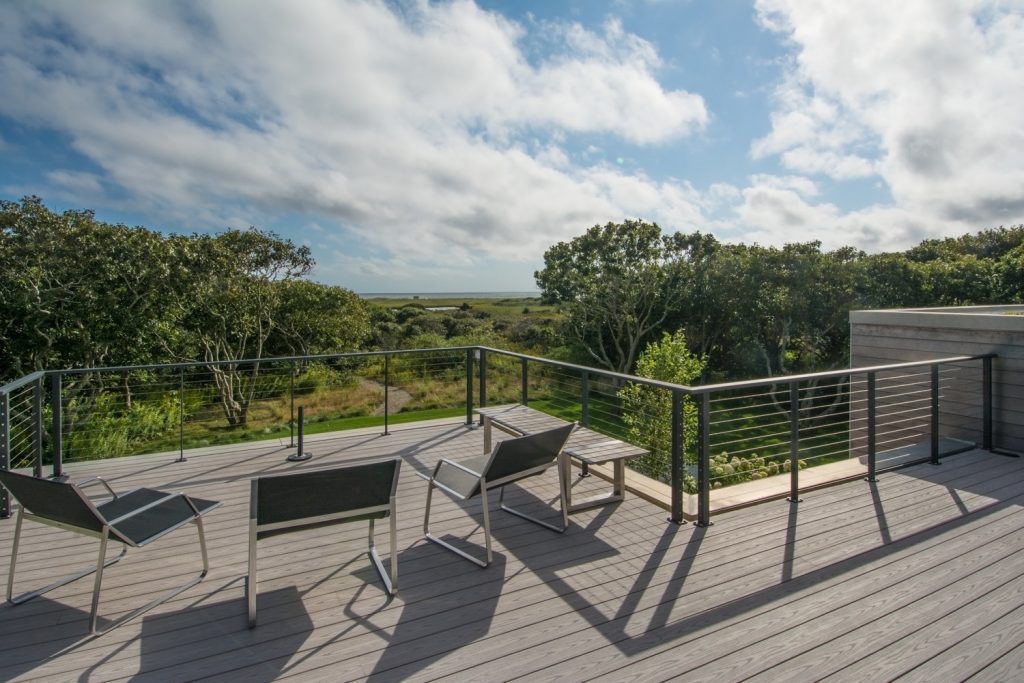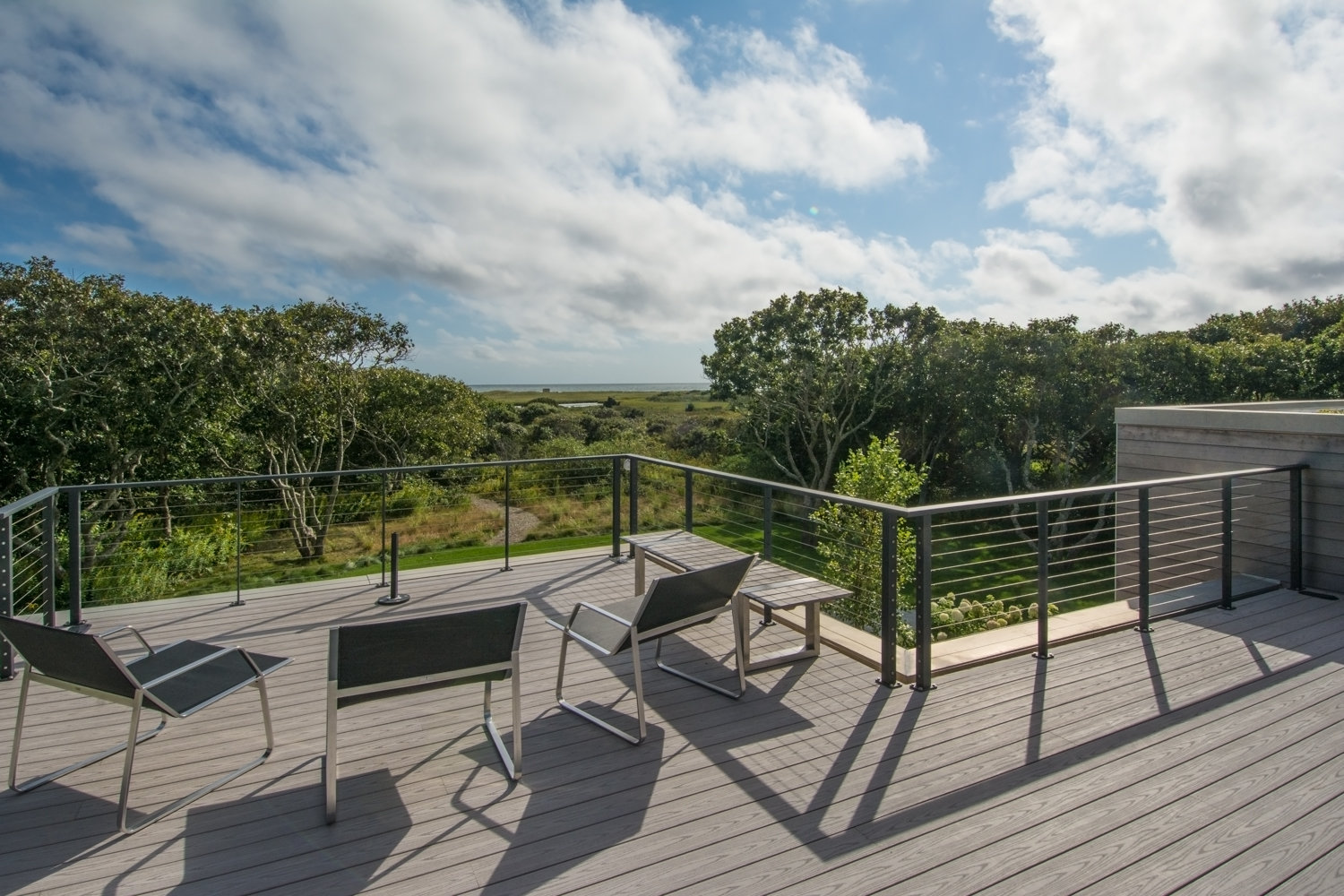 5. "Oil-Rubbed Bronze"
The "Oil-Rubbed Bronze" cable railing color option is particularly popular for exterior applications. The deep brown shade has a natural look that seamlessly blends with natural landscapes. For example, Keuka Studios designed and crafted this cable railing for the observation deck at the Lewis and Clark Interpretive Center. The "Oil-Rubbed Bronze" powder-coated aluminum posts and top rail complement rather than distract from the sprawling natural scenery.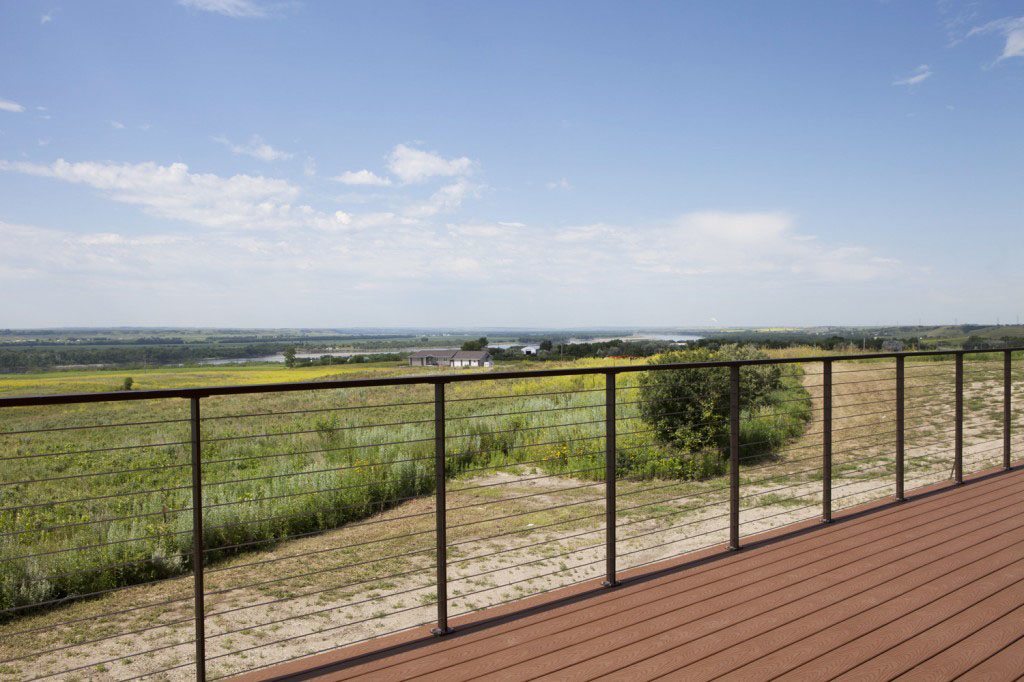 6. "Texture White"
White powder-coated railings have a clean, simple, and sophisticated look. Many of our clients in coastal areas who want to achieve a nautical aesthetic opt for a white powder coat. Keuka Studios crafted the cable railing system shown below for a hotel lobby that was designed to resemble a ship deck. The railing features steel posts, a teak wood top rail, and stainless steel infill cables.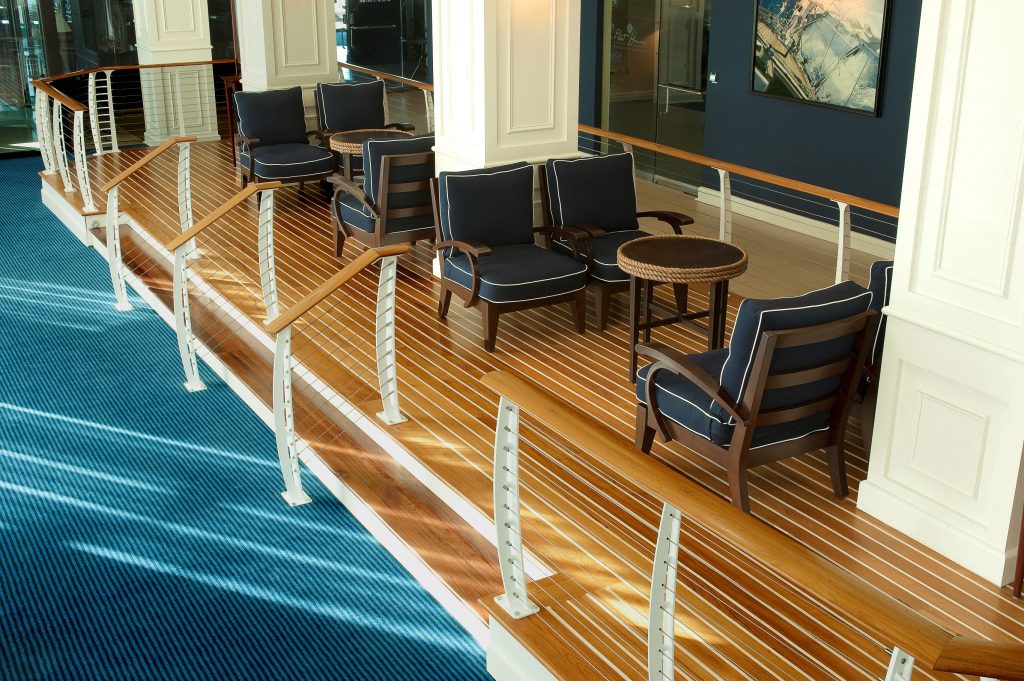 Close Up of Color Chips
An image of the 6 colors is shown below to help you visualize your projects. Since monitors display colors differently these color chips are available upon request for Keuka Studios projects.
Contact us at 585-487-6148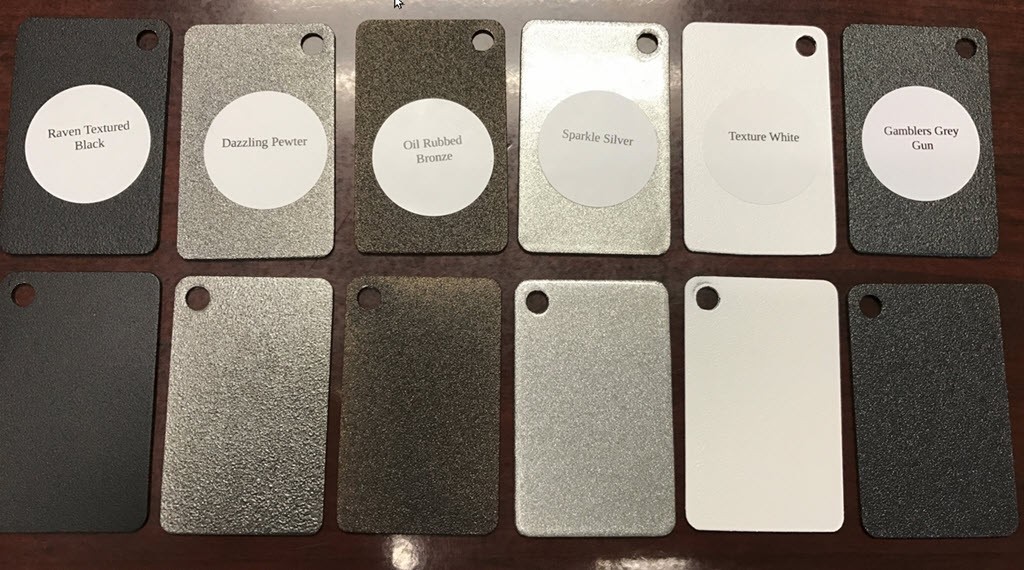 Don't see the cable railing color that's perfect for your project? While these are our most popular powder coat options, we offer a much larger selection than what's shown above. If you don't see exactly what you're looking for in our cable railing gallery, contact us and ask about powder coat color customization.
If you found this helpful, you may also like: