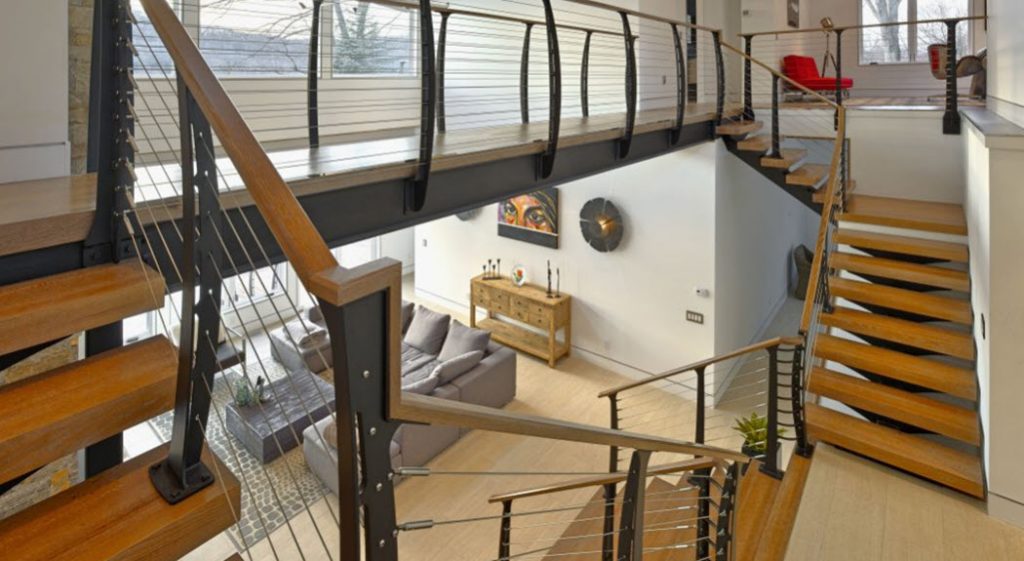 Frequently Asked Questions:
Do you make commercial and residential railings and stairs?
Yes, we provide building code-compliant railings and stairs for both commercial and residential projects. Whether you are a homeowner, builder, contractor, or architect we work with your specifications to create the railings and stairs you desire.

How do you ship your railing and stairs?
We individually box, strap. and wrap up each railing post on a pallet. Then we freight ship the entire pallet right to your location. You will receive a call from the delivery company 24 hours in advance to schedule a drop off. Someone must be available to sign at the time of delivery. We deliver anywhere in the United States, Canada, Bahamas, and the Caribbean. Not sure about your area? Let us know and we can make arrangements.

Can the railing posts be modified to fit my project?
Yes, we are custom metal fabricators and can modify any of our standard cable railing post designs with custom mounting plates, top rails, required heights, special finishes, and much more. We routinely customize our standard cable railing and stair designs and can adapt our products based on the dimensions and specific challenges of your job site. Whether for straight-sided or curved decks our cable railing systems are made to fit. In addition, we can fabricate a custom design to meet your specifications.

Do your railing posts come in fascia mount and surface mount?
We can make surface-mounted or fascia-mounted applications for all of our post designs. There is no difference in price for the two mounting styles. We also have the ability to design for concealed mount or core drilled mount.

What size is the cable used on your railings?
Typically, we use 1/8th inch diameter cable on residential projects and 3/16 in diameter cable on commercial projects.

Do your railings come in different heights?
Our standard heights are 36 in and 42 in.  We can make railings any height to accommodate various situations to meet the building code requirements. 

What type of cable options do you have?
Most often we use 1×19  type 316 stainless steel cable. We also provide blackened or bronze cable upon request. Installation with bronze cable can be a little trickier and it costs more than stainless steel. Stainless steel cable provides more strength than bronze and our engineers must factor this into the design.

What varieties of glass are provided for railings?
Typically, we offer glass with thickness options of 1/2 inch or 3/8 inch. This is accessible in both low iron glass and tempered glass. While low iron glass comes at a higher cost, it provides enhanced clarity compared to standard tempered glass.
Is hardware included with my order?
Yes, we include the hardware to attach the railing to the structure and all the cable and fittings required to complete the railing or stair project. You can order Type 316 stainless steel for coastal environments. Upon request, hardware can be powder coated to match the railing.

Do I need any special tools for the cable railing installation?
Our fittings are specially designed to not require any pre-swaging and can be installed by hand. The fittings use the same tightening system on each end and can be easily adjusted. We provide cable cutters, an Allen wrench, and pliers, the rest can be done by hand.

Can I install the railing myself?
Yes, our railings are designed to fit your site for easy installation. We provide a complete set of custom drawings and have support for questions.

What types of stairs do you fabricate?
We design, build and ship all types of steel floating staircases, including straight stairs, stairs with landings and turns, cantilevered stairs, L-shaped stairs, U-shaped stairs, winder stairs, spiral stairs, curved stairs.  We offer a wide variety of custom styles.

What type of stair railings do you make?
We have the ability to design and fabricate all types of stair railings including cable, glass and all types of ornamental railings.

What colors and finishes are available for my railing and stairs?
Keuka Studios offers railings and stairs in five standard powder coat colors as well as thousands of custom colors are available. While we include our standard colors in our pricing custom colors are an upcharge and the exact price will depend on the color selection. Our common colors are "Raven Black", "Dazzling Pewter" and "Oil Rubbed Bronze", "Gamblers Gun Grey", "Texture White" and "Sparkle Silver" powder coats. In addition, for an upcharge, we offer galvanizing for steel which is a good option for projects in harsh or coastal environments. Another choice is blackened steel in a variety of patinas.

What are the material options for railing posts?
We offer several choices for railing posts materials including stainless steel type 316 or 304, Steel, and anodized aluminum. 

Do you provide the wood top rail and handrail?
Yes, We can provide a number of different wood species and custom milled profiles for use as top rails and handrails. In general, we provide the wood in long lengths and the customer trims and stains the wood to their liking on site. If you prefer, you can provide your own wood.

What other types of top rail and handrail are available?
We can fabricate top rail and handrail from stainless steel, steel or aluminum in a variety of profile shapes.

What are your hours?
Monday-Friday 8 am to 5 pm EST on Saturday by appointment only.

Have additional questions?
Contact us at (855)-454-5678 or Jason@Keuka-Studios.com