For commercial and residential applications our custom floating stairs will add value to your property and also become a beautiful visual work of art. Maybe you are just tired of your old traditional look and are looking for a clean modern aesthetic. Whether it is a new build or an existing property that you plan to renovate. Now is your chance to build a staircase that makes a real statement or, you might be tight on space and an "open concept" floating stair is just what you need to allow light to shine through from adjacent windows or adjoining rooms. Once you have decided on a custom floating staircase there are a number of factors to consider that will affect the design, style, and costs.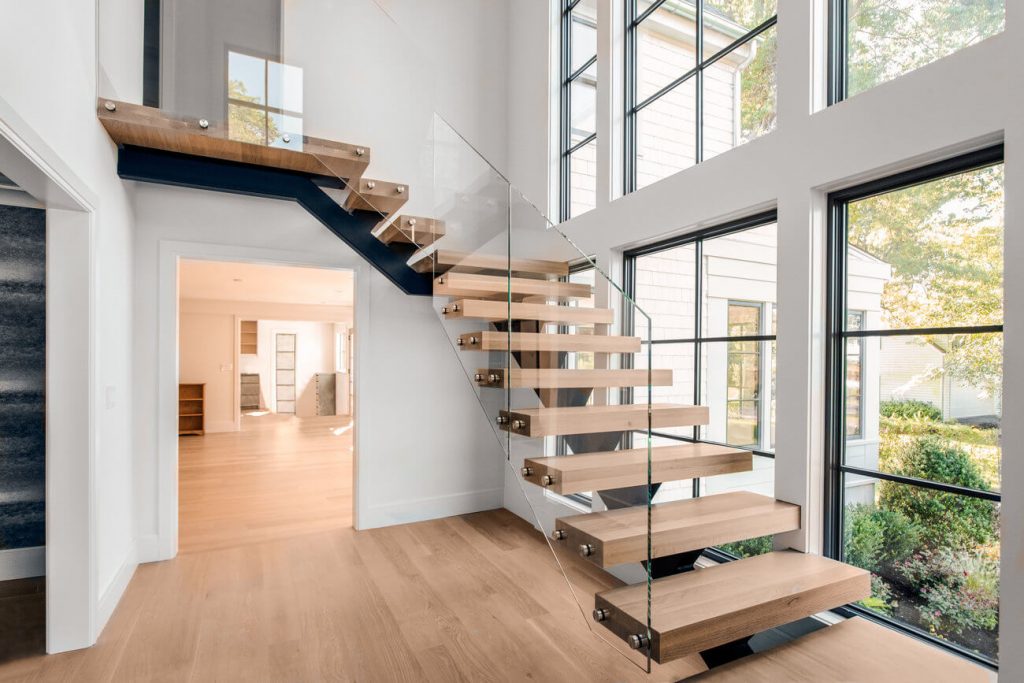 What is a "floating stair"?
The term "floating stairs" is used primarily in the architectural industry to describe a stair with treads that are supported in a way to look as if they "float" in space. This can include a single stringer, double stringer or hidden stringer for supporting the stair treads.

How much do floating steel and wood stairs cost? 
We have outlined several factors to consider when determining the cost of custom floating stairs including shape, size, constructions, materials, style, accessories, engineering, and shipping. You can expect to spend $15,000 – $100,000 for a complete floating stair which includes stringers, treads, and railings. Generally, many of our customers are spending on average $20,000 – $30,000 per flight with railings however, your imagination is the only limitation and pricing can fluctuate dramatically.
Let's break down some of these variables that cause pricing fluctuations to better understand how much custom floating stairs cost.
-Stair Shape
-Stair Size
-Stair Stringer Construction
-Stair Tread Material and Construction
-Railing Design and Materials
-Curving Stairs
Stair Shape:
Stair shape is a big cost driver. The shape of your stairs will have an impact on the cost of the stairs. It also increases the cost of the associated stair treads and railings. "Changes in direction" will add cost. Here is a general rule on how the shape will impact the stair cost…
Straight Stair – $
Straight Stair With Landing – $$
L Shaped Stair With Landing – $$$
U Shaped Stair With 1 or more Landings – $$$$
Winder Stair – $$$$$
Curved Stair – $$$$$$
Stair Size
Your total "floor to floor" (or "grade to floor" for outdoor applications) distance will determine the total height and the length of your stairs. Taller ceilings require longer stringers, more material, more total steps and more linear feet of railing. If the floor to floor distance exceeds 12 feet, a landing will be required to meet code requirements. Basically, the longer and wider the stair is, the more expensive it will be.
Stair Stringer Construction
Metal stairs can be constructed from a variety of structural members.
Rectangular Steel Tubing
Square Steel Tubing
Round Steel Tubing
"C" Channel
"I" Beam
Laser Cut or Waterjet Solid Steel Plates
Custom Fabricated Hollow Form
Examples of Metal Stair Stringer Styles
Note: To see a project case study with the shown style click on any image below.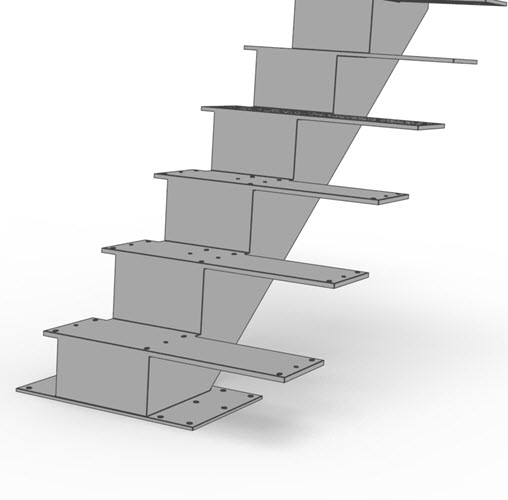 These different metal stringer shapes all vary in price and so does the amount of fabrication work/man-hours required to build your stairs depending on the stringer material you choose. Also, the location of the steel stringer can cause the pricing to go up or down. Mono (single) stringers, double stringers and cantilevered stringers change the amount of labor required for fabrication and they also change the size of the material required for structural rigidity. Steel stair stringers start around $5,000 and go up to as much as $50,000 depending on the material, size, and shape which includes the metal tread supports, however, not the treads themselves.
Curving Floating Stairs
Curves add beauty to any project. There is something about taking a material like steel and bending it into an organic curved shape that draws our eyes to it. Unfortunately, curves add "substantial" costs to stairs and railings. Curved stair stringers, curved stair treads, and curved stair railings will all add a lot of complexity and a lot of cost. Curved stairs are not "curved" (that would be a flat plane) they are actually a "helix" which is curving in a clockwise or counterclockwise direction. Although, "curved stairs" is the most common term used a "helical" stair is actually the correct description. As you make your descent down the stairs it curves in a three-dimensional twist similar to screw threads. Working steel into a helix that looks smooth and also meets building code takes a lot of skill and patience. Most curved stairs start around $25,000 – $50,000 range. Note: "spiral" stairs and "helical" stairs are very different and have a different pricing structure.
Stair Tread Material and Construction
Treads can be made from wood, metal, stone, tile, or glass. Within these options are multiple other options that can also affect the price.
Wood Treads: When doing wood treads the thickness of the wood is the main cost driver, however, if additional custom millwork is also required (for example: creating hidden pockets or the custom shaped nosing) that can affect the price as well. 1-1.5" thick wood treads can be milled from stock lumber however 3.5" + thick wood treads generally need to be glued up from multiple pieces to achieve the total desired thickness. The species of the wood can also increase wood tread pricing. "Red" oak is a common species that is generally readily available while "White" oak is less common and harder to source in thicker material. Custom tread finishes can also be applied in our shop or on-site. The complexity of the stair tread finish can increase the cost as well. In general, allot can be done in the $200-$500 per tread range for custom milled wood treads.
Metal Treads: Metal treads can be made from perforated steel or diamond plate steel with a powder-coated finish. Generally, we recommend something "non slip". Metal treads can be simple bent steel plates or custom fabricated into hollow form box shapes. Used mostly for outdoor applications metal treads generally, range from $100 – $500 each.
Stone Treads: Bluestone treads are a popular choice for outdoor applications. When stone is the desired tread material choice typically customers will go with 2" thick bluestone and a custom metal tread support underneath. The metal tread support is to prevent the stone from cracking under the weight of a person. Stone pricing can vary depending on location and supplier. Note: We do not supply stone. Stone treads would have to be sourced out locally.
Tile Treads: Custom metal stair pans can be fabricated to accept any tile that would be set into a mortar bed. We do not provide tile however, the custom steel fabricated pans can be made for around $200 – $500 each.
Glass Treads: Glass treads will be your most expensive option. Many times we do glass treads with a unique textured surface that is "non-slip". The textured surface of a glass stair tread also helps to hide marks and dust from heavy foot traffic. The edges can be polished or rough cut. Glass treads typically start around $1,000 – $1,500 each.
Railing Design and Material
Railings are available with cable infill, solid bar infill, and glass infill. Pricing will generally be…
Cable Infill Railing – $
Solid Bar Infill Railing – $$
Glass Infill Railing – $$$
Most stair railing systems tend to land in the $150-$300 per linear ft range however depending on the complexity of the design as well as the material selections. The railing can cost up to $1,000 a linear ft. It's really all about the final design details. Those small details can sometimes make all the difference in the look as well as the price. Hiding railing mounting plates and hiding railing hardware to make the stairs look "simpler" generally, makes the stairs more complicated to make.
Other factors that affect the cost
ADA-compliant Handrails – are required on commercial stair projects and sometimes desired for residential staircases. These ADA-compliant handrails are available in a variety of materials (316 ss, 304 ss, aluminum or steel) that have different costs associated with each type. There are several designs and styles to choose from to complement the railing and meet ADA requirements.
Led Lighting: Many LED lighting systems are available and can add as little as just a few thousand dollars for the LED system. However, it is important to note that "how you integrate" that lighting system into the stairs can also add a lot of cost. Creating a wiring diagram, determining the correct hole sizes for the plugs and the mounting for each light will need to be addressed. The complexity of the integration can add hundreds or thousands of dollars sometimes costing as much or more than the led lighting itself.
Shipping: The location of your project will make a difference in the shipping price as well. Our shop is located in Upstate NY and we ship all over the country. On average we can get a "dedicated truck" to just about anywhere in the northeast for approximately $1,500. However, we have shipped stairs as far as the west coast and Carribean islands on a dedicated truck for under $5,000. They can also be broken down and shipped in custom-built wood crates via LTL.
Do you require additional engineering? Rest assured that your floating stairs will be built "rigid" and "safe". Calculations by a professional engineer licensed in your state can be performed on the stair structure for approximately $500-$1,500. This can vary slightly depending on the location of your project, the complexity of your stairs, and the structure it is attached to. We recommend this for high traffic environments like commercial stairs.
Here are some examples to help you understand how much floating stairs cost in relation to the type of materials and style of your project along with rough associated pricing. Note: Rough pricing below includes the stairs, treads, and railings. Installation not included.
Example Projects
1) Example Project: Steel sawtooth double stringer (single flight), thick wood treads, custom cable railing.
Estimated Cost: approx. $ 15,000 per flight including railing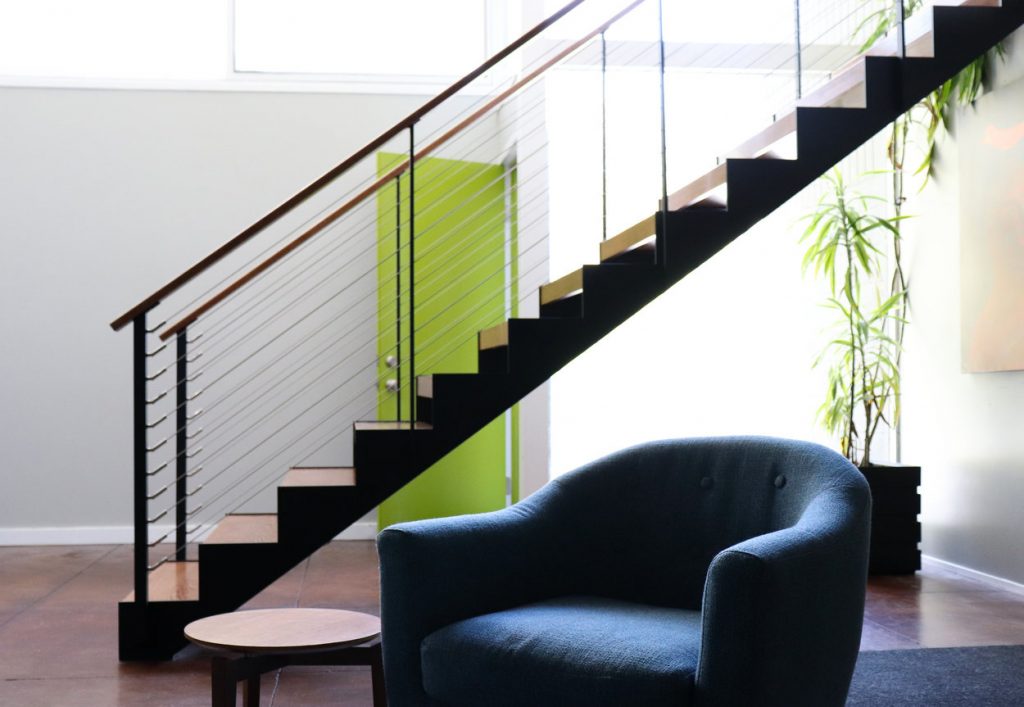 2) Example Project: Steel zig-zag double stringer (single flight), thick wood treads, custom cable railing.
Estimated Cost: approx. $25,000 per flight including railing
3) Example Project: Steel mono stringer, thick wood treads, custom horizontal bar railing, with landings.
Estimated Cost: approx. $ 27,000 per flight with railings.
4) Example Project: Steel mono stringer, thick wood treads, custom vertical spindle bar railing.
Estimated Cost: approx. $ 32,000 per flight with railings.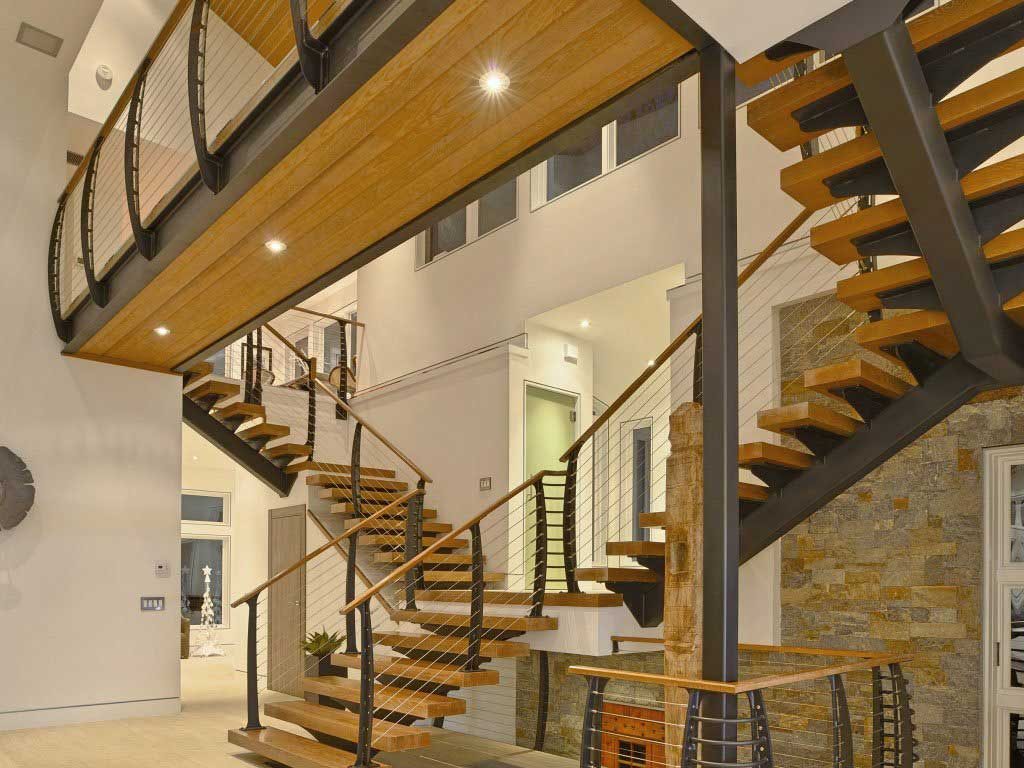 5) Example Project: Steel double zig-zag stringers with stainless steel posts and LED lighting
Estimated Cost: approx. $39,000 per flight including railing
6) Example Project: Steel mono stringer double staircase, thick wood treads, a custom bridge with landings and cable railing.
Estimated Cost: approx. $ 48,000 per flight with railings.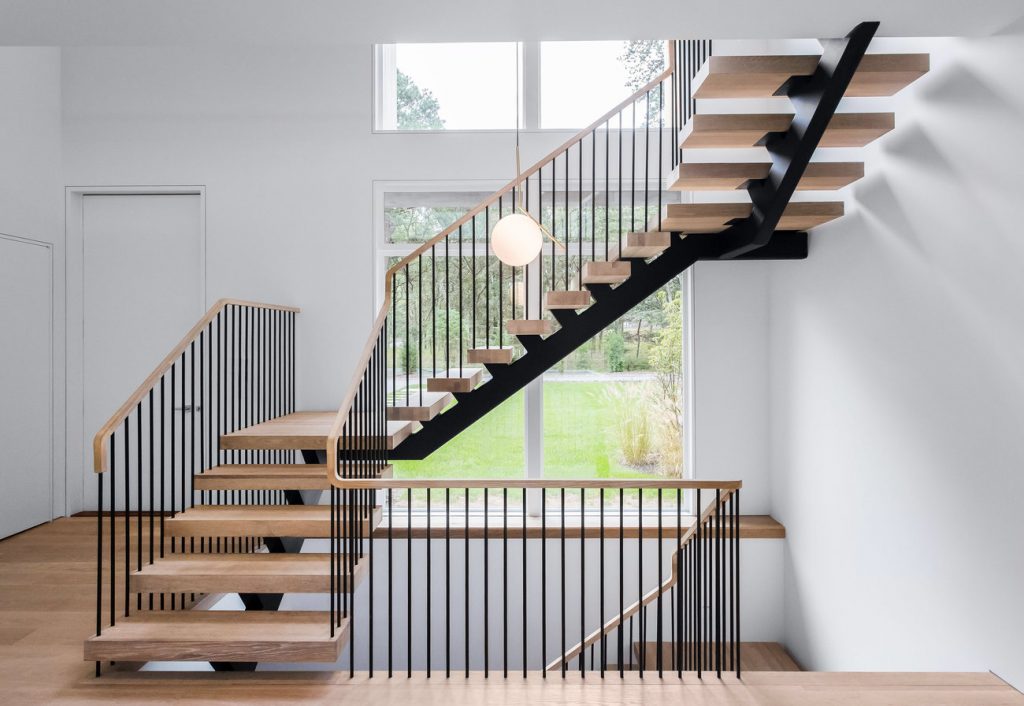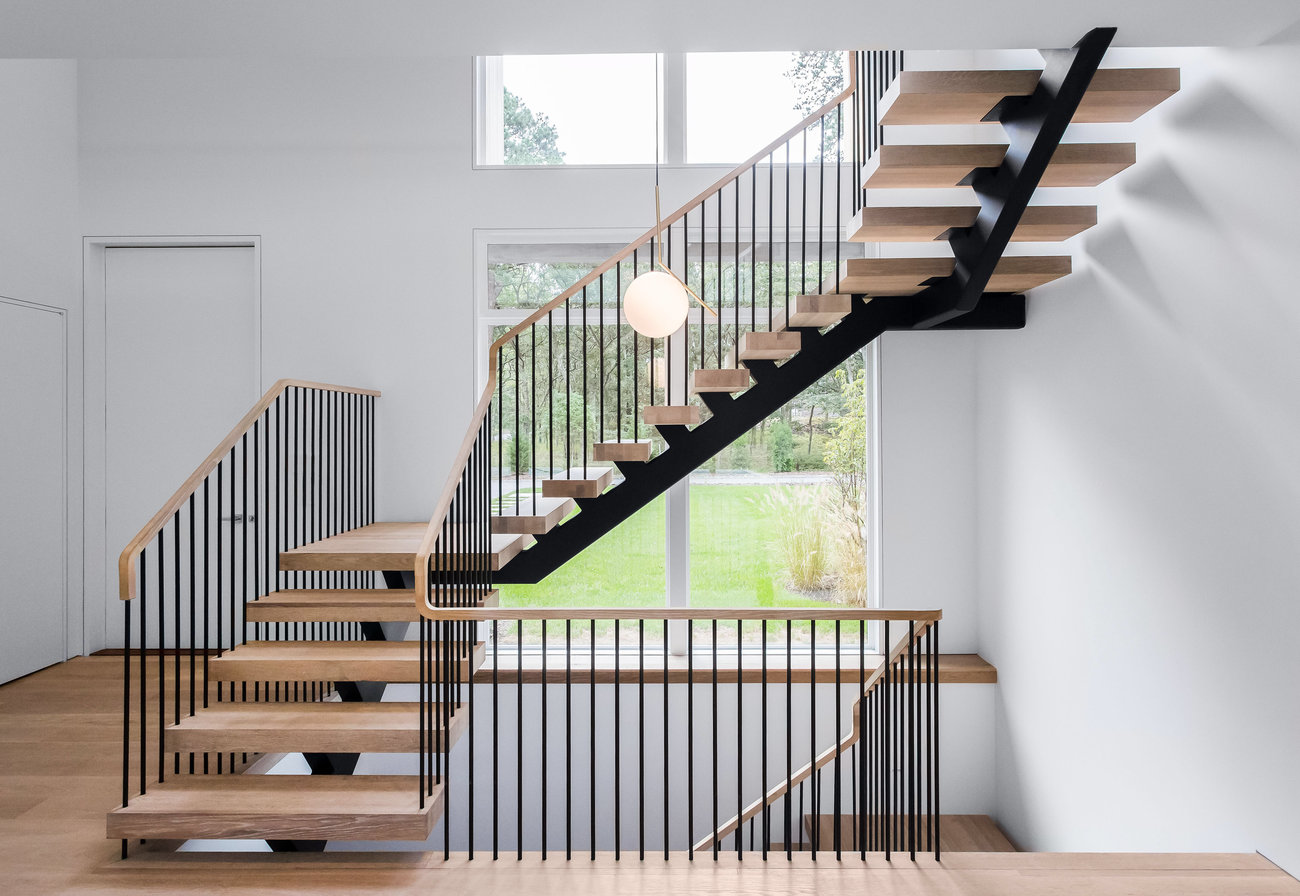 Next Step
The best way to get an accurate price is to e-mail us some info on your project. Whether it's a full set of architectural plans or a rough sketch with some photos we can provide you with a personalized quote for your custom stair project. Let us help you design and fabricate your stairs into a beautiful work of art!