Pool Deck Railing – Loveladies, NJ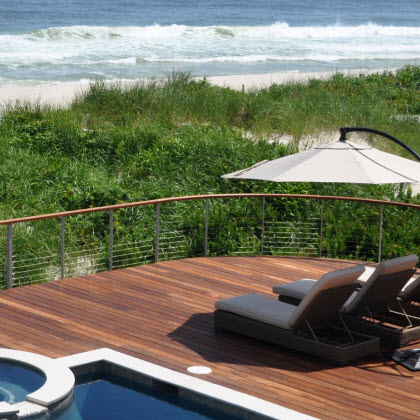 Location: Loveladies, NJ
Architect: Michael Braverman Design Inc. – New York, NY
Material and Finish: Anodized aluminum posts in our Ithaca style with IPE Brazilian walnut wood top rail.
Description: Ithaca Style anodized aluminum cable railing custom made for the curving pool deck and balconies.
Notes:
This Jersey Shore vacation home sat vacant and neglected for several years. When new owners purchased the property, they decided to refurbish the house and update the decks and pool area to create a modern oceanside oasis for their entire family to enjoy.
The owners opted for a minimalist design theme to maximize and accentuate their ocean views. They created beautiful outdoor living spaces including an entertaining area complete with an outdoor bar.
To add a contemporary feel to the home's exterior, the homeowners decided to replace the outdated tubular metal railing with a Keuka Studios Ithaca Style cable railing system. The Ithaca Style has slender posts with clean, simple lines that maintain the ocean view as the focal point of the exterior design.
Our team of craftsmen machined the railing posts from 6061 T6 clear anodized aluminum which holds up nicely in a harsh saltwater environment. The IPE Brazilian walnut wood top rail was curved to match the radius of the deck. For the lower-level decks, we designed the railings posts to be fascia mounted in order to enhance the clean lines of the decking. To work with the existing structure, we designed the railing posts for the upper-level decks to be surface mounted. Shorter railing posts were designed to surface mount above the partial curved wall to bring the barrier height up to regulation code requirements.  The pool deck and balconies combined with our cable railings are a beautiful place to enjoy the ocean views or entertain guests.
Request A Quote
Ithaca Style Cable Railing