My architectural firm recently completed a project with Keuka Studios and we are extremely pleased with their work. The steel stairs and cable railings are works of art. They prepared highly detailed shop drawings for us so there were no surprises when it came time for installation. We're in the process of designing another staircase for Keuka to build, and I'm confident they'll do a superb job.
I am in the construction industry myself and building a boat dock for my personal home, so finding a reputable company with a quality product was important to me. I found Keuka Studios on Houzz and found their cable railing to be exactly what I was looking for. I contacted them and found them to extremely helpful and easy to work with, even though they are in N.Y. and I am in Fl. We sent them what they required in regards to drawings and measurements, I felt the price was reasonable for the product we were looking for.When we received and installed the railing it was beautiful and really was the final piece of the puzzle for the type of dock we were envisioning. Everyone that comes and sees our dock are taken back by the quality of everything we put into it including the railing system, it separates us from the rest of the docks on the lake. If you are looking for a quality product that it a set above the rest, I would highly recommend you give them a look.
I purchased an elaborate rail deck and porch rail system for a very large lake home . The team at Keuka was extraordinary to work with. Completing the design for the system was nothing short amazing. The team at Keuka made the process easy and accurate. The quality of the product was beyond my expectations. The entire experience and the final product makes our lake home truly unique. I will be using the Keuka products again on other projects and I would highly recommend their rail systems and I can't say enough about the great experience working with each of the members at Keuka Studios. They are 5 stars plus in my book.
Kurt Sutterer
Spencer Levine,
Brooklyn, NY
Keuka Studios was an amazing find. As architects and developers we are always looking for talented and trustworthy fabricators and contractors. Keuka's design, engineering and fabrication was some of the highest quality we have ever seen and their attention to detail is unmatched. The project while simple in concept was extremely complicated in the details and they were able to get it right.
These guys did an amazing job!! They delivered on time, as promised, a quality product at a fair price. The railings at our beach house look amazing – they managed to curve the top rail so the entire railing looks like it curves – which was really important to the overall design of our patio space. I would highly recommend this company and these guys. They are really committed to doing a great job. Thank you!!
Keuka Studios folks are passionate about excellence in design and craftsmanship of their handrails. Professionalism and commitment of their crew from planning stages to the finishing touches and delivery is superb. Their principals are great to work with.
Keuka Studios was a joy to work with. My project required custom design work. They listened to my vision for my property, gave me sound advice and made it happen. I was very pleased with the quality of work and the professionalism of the entire staff. I enjoy the railings every day. They have increased the value of my property with the improvement in it's aesthetic appearance. They do not block the view of the water, but they have prevented the children from getting in harm's way. I was totally satisfied and would recommend them to anyone.
The step rail and gate are marvelous! Truly a work of art. I've been passing along your card and phone number to those in awe of your fine workmanship. Thank you for a magnificent job!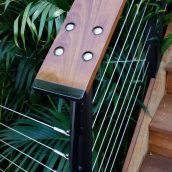 Jean-Paul Muller,
Winter Haven, FL
It was a satisfying job as everything fit quite closely thanks to Dan's painstaking attention to detail. It's rare to find any production in today's business world that is carried out with such devotion to excellence
Bob Kennedy and Anne Broussard,
Durham, NH
We obtained our dream house on the Oyster River in Durham, New Hampshire last November 2009. We started to renovate this house in December and are nearing completion. The property has over 270 of water frontage. Our architect, a personal friend and fellow triathlete, designed the house so that we would have interior and exterior space to take advantage of the view. He designed a narrow deck on our second floor, where we have our living room, kitchen and master bedroom, so that it would not impact the lower level or the view from the upper level. We wanted a rail system that would provide safety for the users of the upper deck but not block any of our spectacular view. We were delighted to locate the Keuka Studios website and to learn of the rail systems that you make. We had envisioned a rail system with narrow metal posts capped with a 1-1 1/2 inch hardwood upper rail, with stainless steel wire rails spaced 4 to 5 inches apart. We were pleasantly surprised to learn about Keuka Studios' Ithaca Style Railing, as this was exactly what we were looking for. The rest is history and we now have installed the most beautiful deck railing in all of Seacoast New Hampshire. Not only do we think this, but everyone from our plumber to our house appraiser has raved about the "Unbelievable Rail System" on our upper deck. Working with Jason White of Keuka Studios has also been a wonderful experience. He worked with our Architect, Rex Ingram, through the design phase of the project, kept us informed about the manufacture of the rail, and has followed up with its installation with our builder, who by the way, commented that the installation was simple and fast. In short, we love our Keuka Ithaca railing, it is everything that we thought it would be and more.