6 Types of Stair Treads – What to know before choosing various types.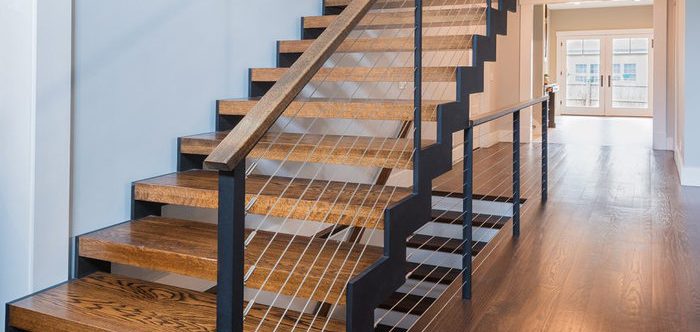 Know your options before selecting the perfect stair tread for your project.

Whether you're building a new home or renovating an existing one, designing a staircase to fit your design style and lifestyle is an important consideration. Once you have decided on a type of stairs it is time to decide what type of stair tread to choose. There are plenty of tread styles and materials to choose from to complement your home's design. Whether your home is modern, contemporary, rustic or traditional there is a style to fit your requirements.

At Keuka Studios, we design our staircases to accommodate your preferred style of stair treads.
What types of stair treads are there?
Various Types of materials are available and include – Wood, Glass, Tile, Composite, Stone, and Steel.
1. Wood Treads
With wood, it is important to consider if your project is for the interior or exterior of your home. Many wood species do not hold up well in the outdoor weather elements so choosing an appropriate type of wood should be carefully considered. In addition, it is important to consider the wood grain, how it is sawn, and the construction of the stair tread.
For interior staircases, there are a variety of woods available to choose from for your project that will add different aesthetics to your decor. Some of the more popular varieties are Red Oak, White Oak, Hard Maple, Walnut, and Distressed Woods.
Red Oak is readily available has a reddish-brown appearance and is considered hard and heavy with medium bending strength. It adds a sense of warmth to the decor.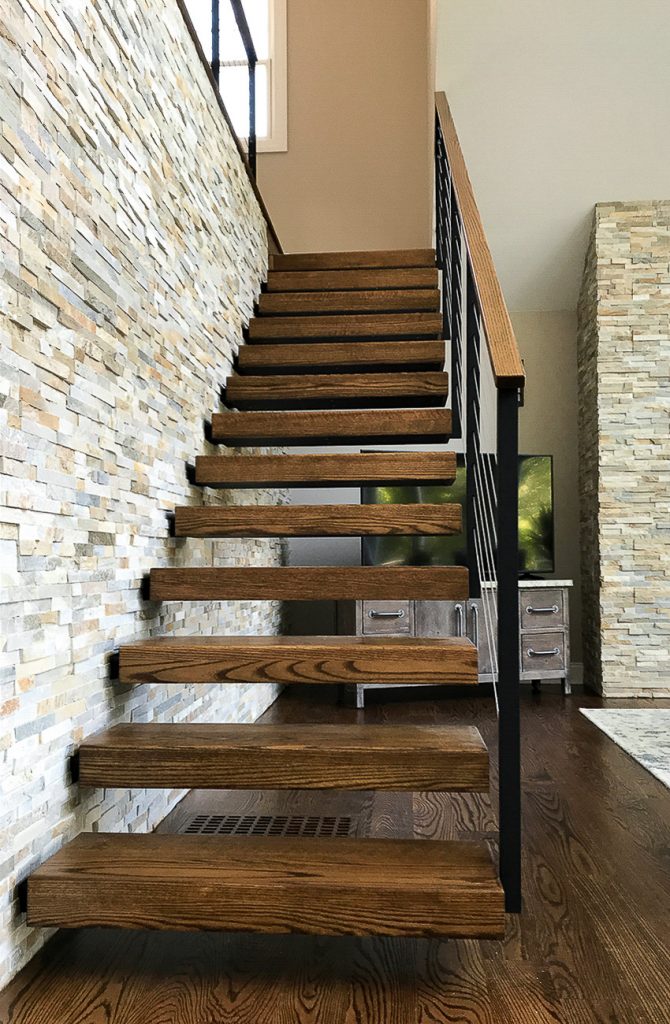 White Oak is slightly lighter in color than red oak and is a heavy hardwood with medium bending strength. White Oak has become very popular in modern design as it tends to have a straighter more linear grain than red oak. Using white oak lightens up a room. It is not recommended for aesthetic outdoor tread applications as it turns black quickly with weather (although it does resist rot quite well).
Hard Maple is a creamy white with a slight reddish-brown tinge and is generally straight-grained it has a high resistance to abrasion and wear making it a good solid choice for stairs and landings.
Walnut is a tough hardwood, the sapwood is creamy white, while the heartwood is light to dark brown. The dark wood is typically the most sought after so expect to pay more as much of the sapwood will be unusable.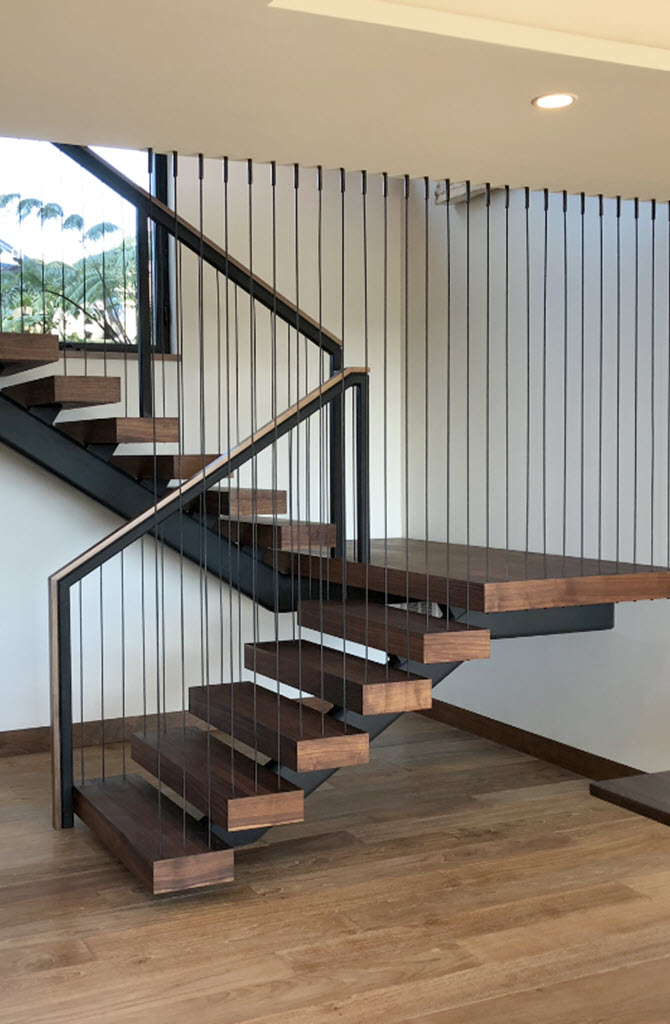 Distressed Wood is often just reclaimed lumber from an old barn or factory where years of heavy use have added some character to the wood. Alternately, it could be newer wood that has been mechanically stressed and finished to give that distressed look. Either way, it can add a textured, rustic appeal. This can be desirable in a high-traffic area as any additional wear over time will just add to the character of the wood.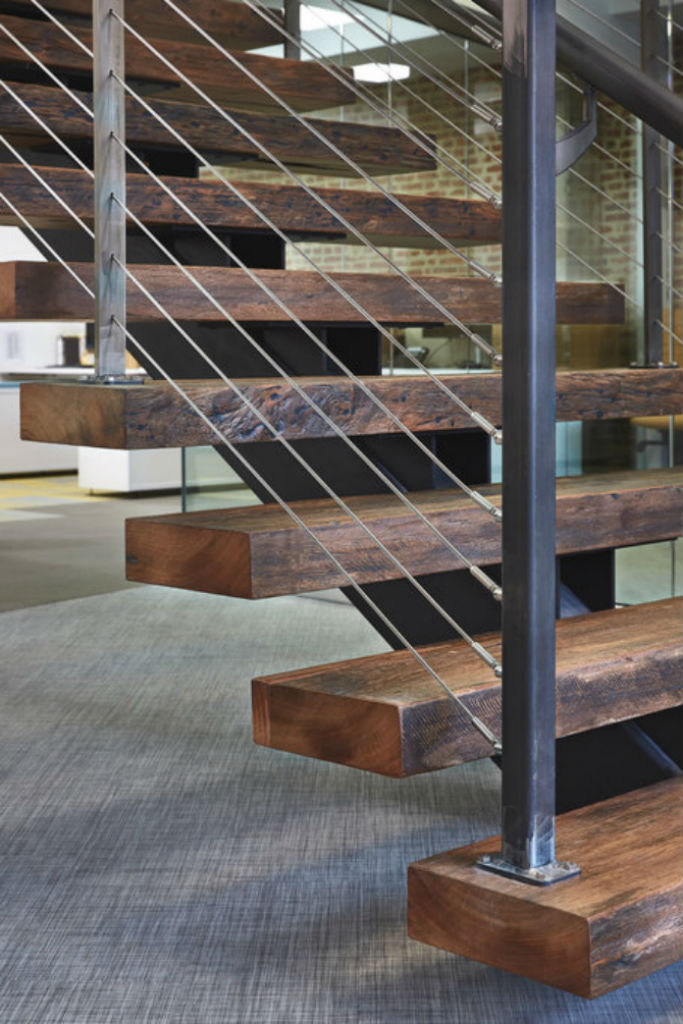 Brazillian Cherry is a very strong hardwood that is considerably harder than most woods. It is a mostly straight-grained hardwood with rich color and reddish undertones that adds warmth and elegance to any room. With time and exposure to light, the wood may darken. It is not recommended for damp or high humidity environments due to the natural ability of the wood to store water.
In addition, it is popular to whitewash or bleach wood to give it an antique distressed look while lightening the surface of the wood. Sometimes pigment is added prior to the finish coat allowing the natural grain to pop more.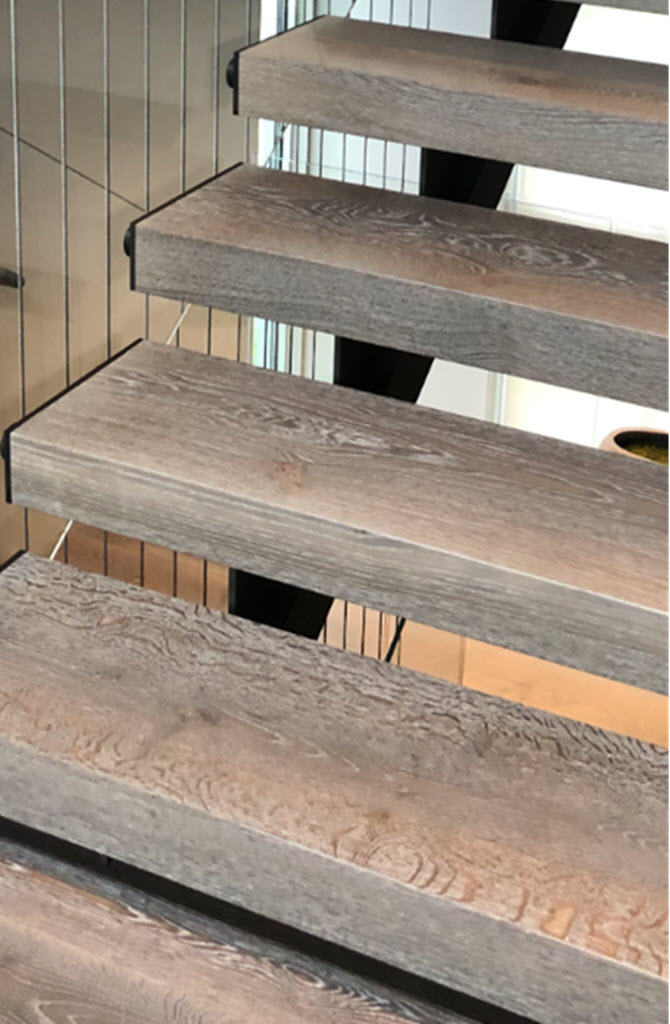 Antiqued knotty pine was selected for the treads on this staircase to complement the wide-aged pine board flooring on this Nantucket home. Pine is a softer wood that will more easily wear over time than hardwoods.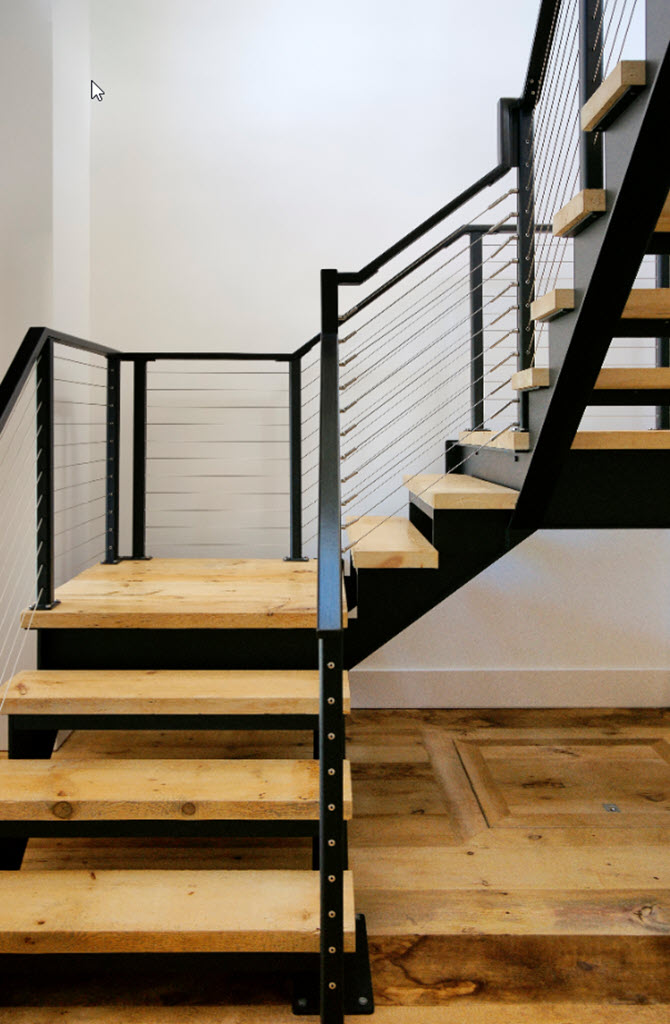 For exterior staircases, ironwoods are recommended such as Ipe or Cumaru. Additionally, although much softer redwood and cedar are good options since they stand up better than other species to the elements. To maintain the natural beauty of these woods they require regular oiling and care, or they can be left exposed to the elements to age to a grayish appearance.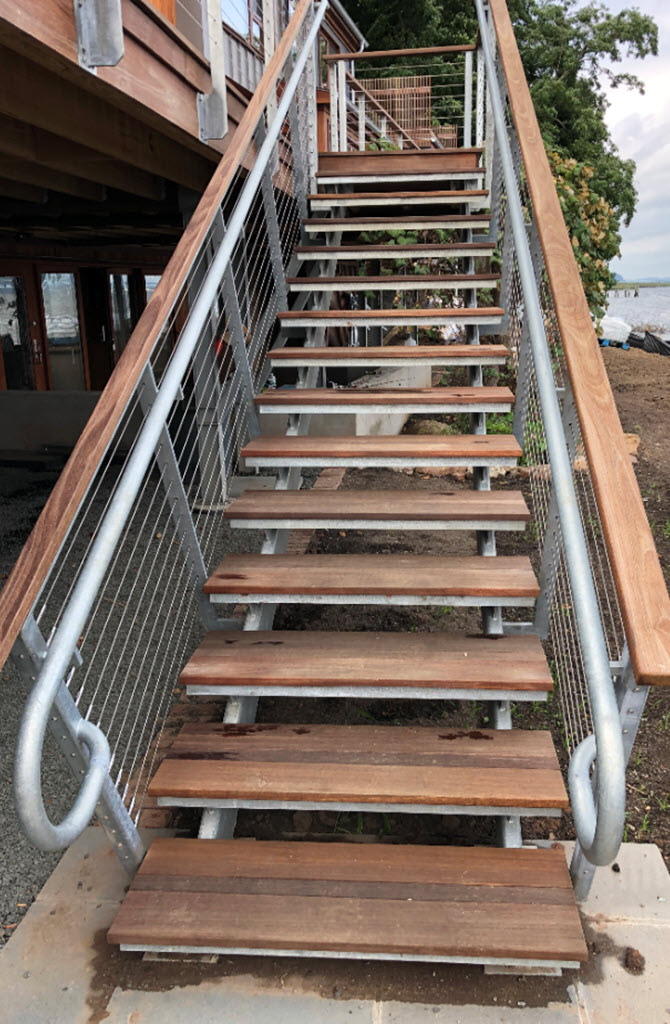 Keuka Studios can provide stair treads and landings in your wood of choice, to be finished on-site by your contractor.
2. Glass Treads
Choosing glass stair treads with a steel floating stair stringer system will create a stunning architectural element in your home. There are dozens of varieties of colors, patterns, textures, and finishes available in glass. One important consideration is to choose a tread that has a non-slip surface. In addition, would you prefer LED lighting for the treads? The combination of glass tread combined with LED lighting can add a dramatic effect to the overall aesthetic of the staircase. At Keuka Studios we have the capability to create steel stair stringers to accommodate glass treads and hide the LED lighting wires.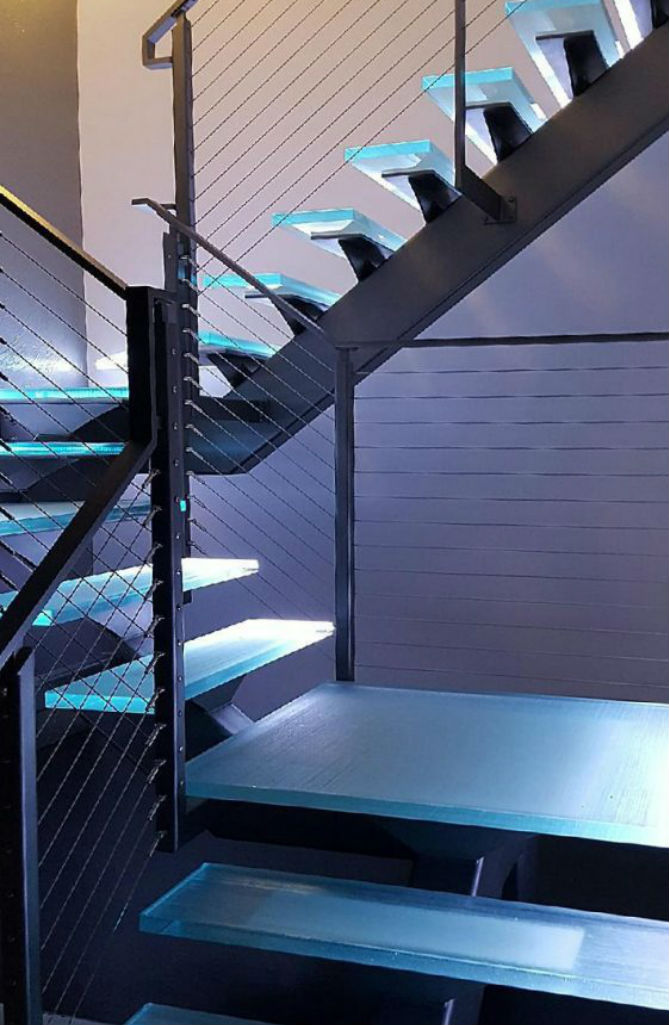 3. Tile Treads
Tile stair treads can be a beautiful and durable alternative to wood. They have the advantage of not needing oiling or ongoing maintenance since they won't decay or attract insects. Many of today's tiles simulate the look of wood. We can design and fabricate steel stair tread pans to accommodate the selected style tile tread or pavers.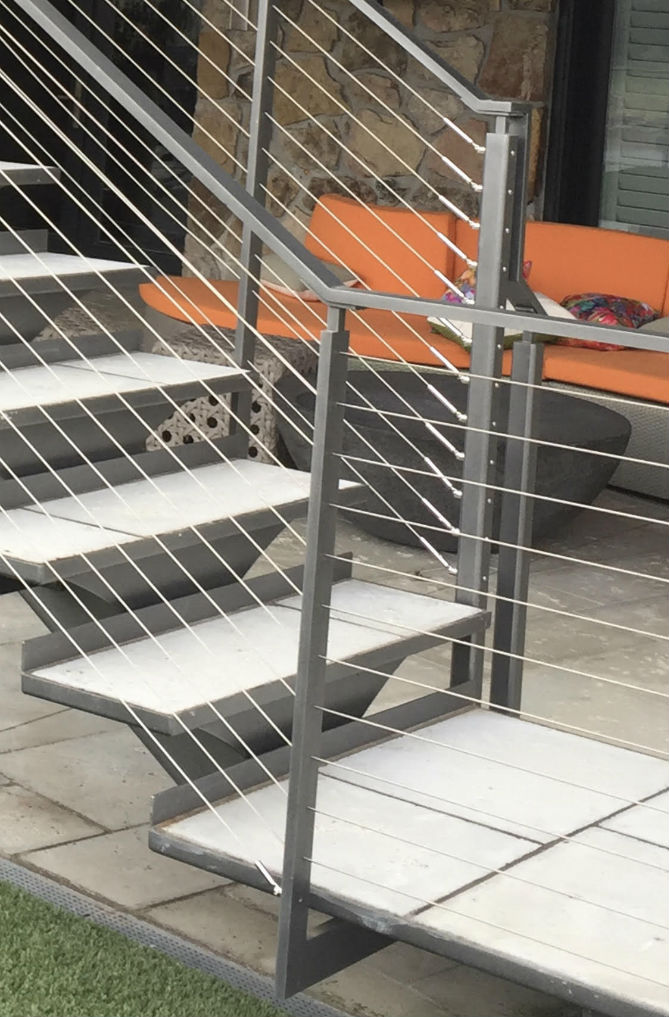 4. Composite Treads
Composite materials resist fading, scratching, and mold, they don't rot, crack, or splinter. They are durable and require minimal maintenance. For this project below to accommodate composite decking on floating stairs, we designed a steel support system for the treads and the railing posts connect to the steel stringer below the steps.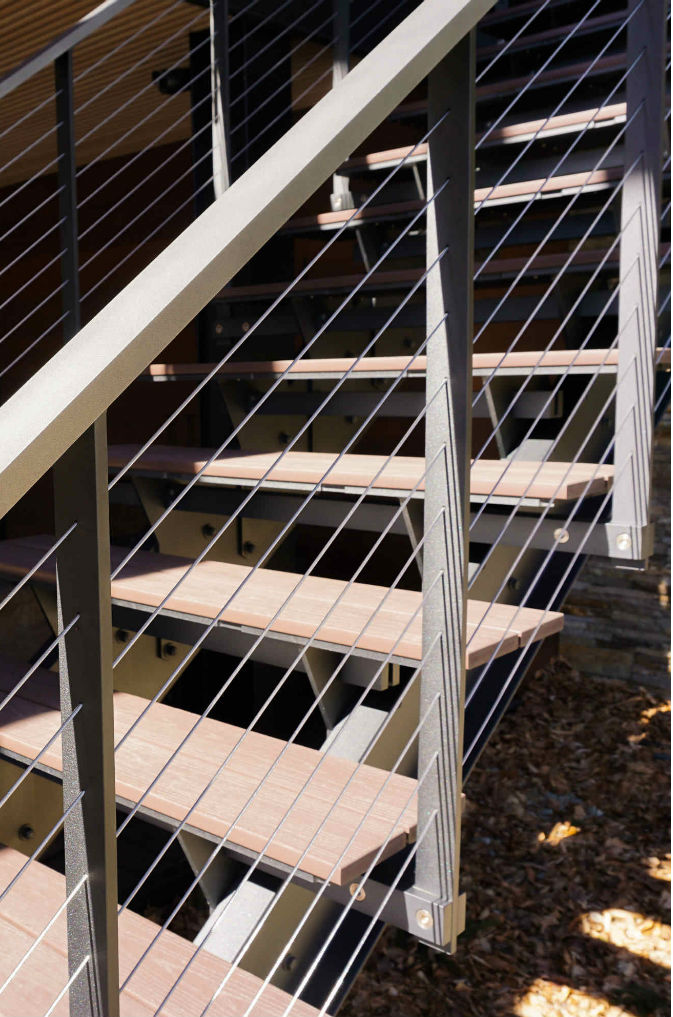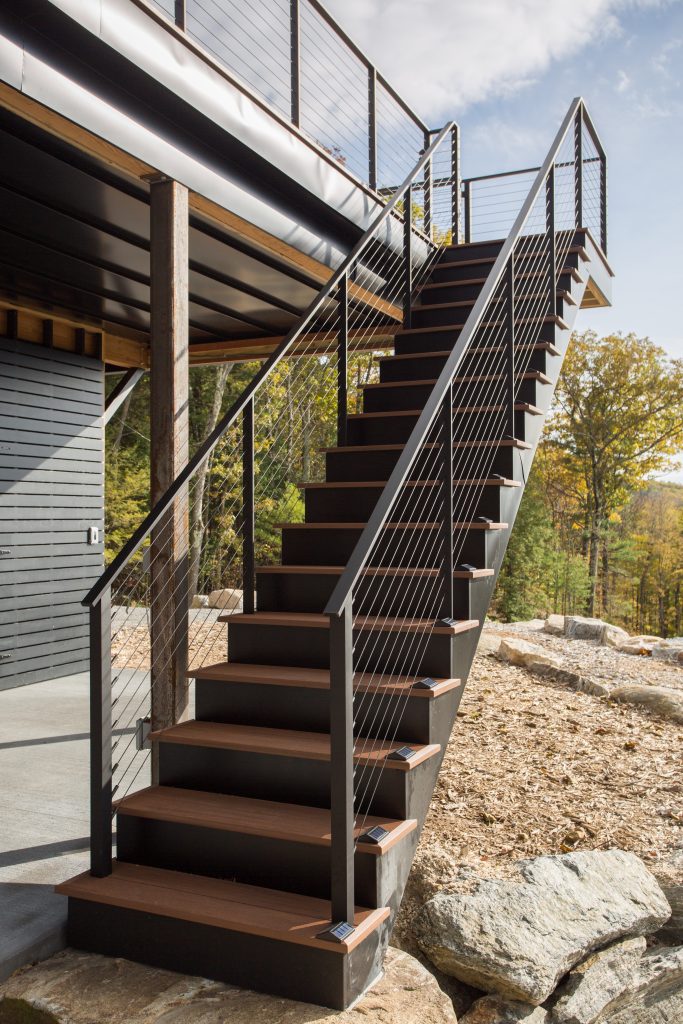 5. Stone Treads
Bluestone Treads are the most common stone tread currently trending for outdoor stair applications. Bluestone treads have a grayish-blue color and are typically 2 inches thick. They add durability and beauty to any outdoor staircase with minimal maintenance required. In addition, they blend naturally with the adjacent landscape.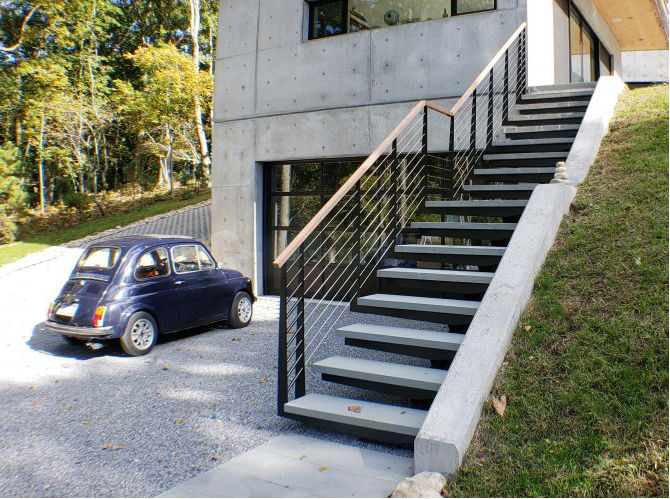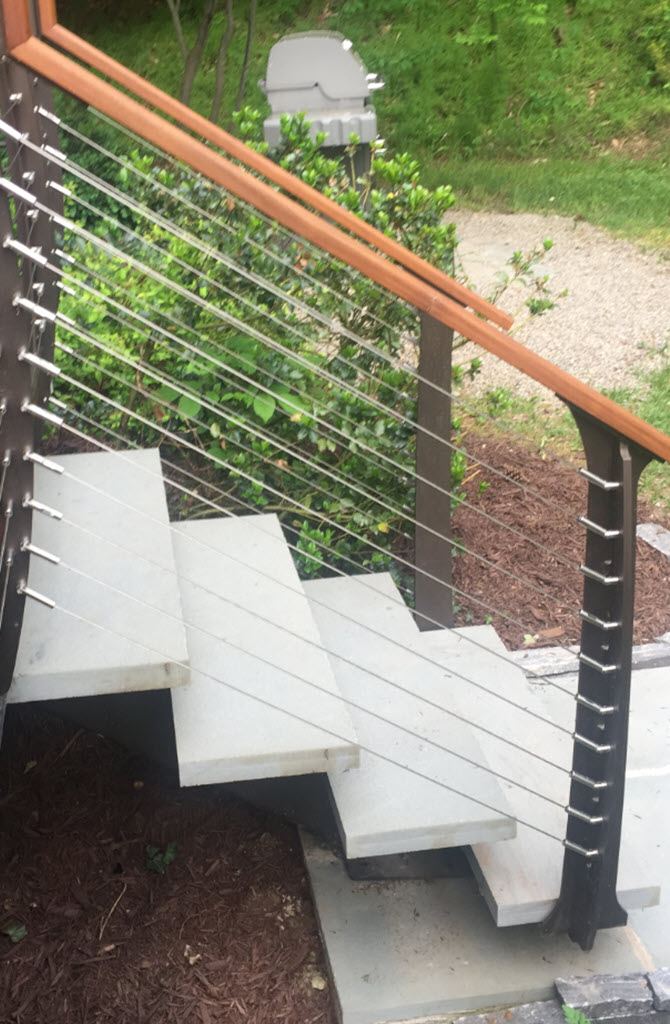 Limestone Treads can be used for interior and exterior stair projects. It is a natural stone that can be easily shaped and cut to any size. Limestone is highly durable and is widely available. It is available in a variety of color variants ranging from honey creams to grays. Limestone can be polished to the desired finish. It is important to seal limestone to prevent staining.
Travertine Stone Treads on the interior floating stairs of this home add a dramatic and beautiful elegance to the decor. Travertine is durable and has a natural non-slip textured surface, making it an excellent choice for stair treads. Travertine is more porous than many other stones, therefore it is important to seal it to resist staining. Paired with a glass railing, brass handrails, clamps, and kick plates result in an exquisite staircase.
6. Steel Treads
Metal stair treads are strong and offer rustic industrial styling. Steel treads pair beautifully with open beam architecture and are often preferred on spiral staircases. With metal treads, it is important to provide some sort of slip protection. This could be in the form of a diamond plate surface, metal grating or a series of hole patterns in the treads.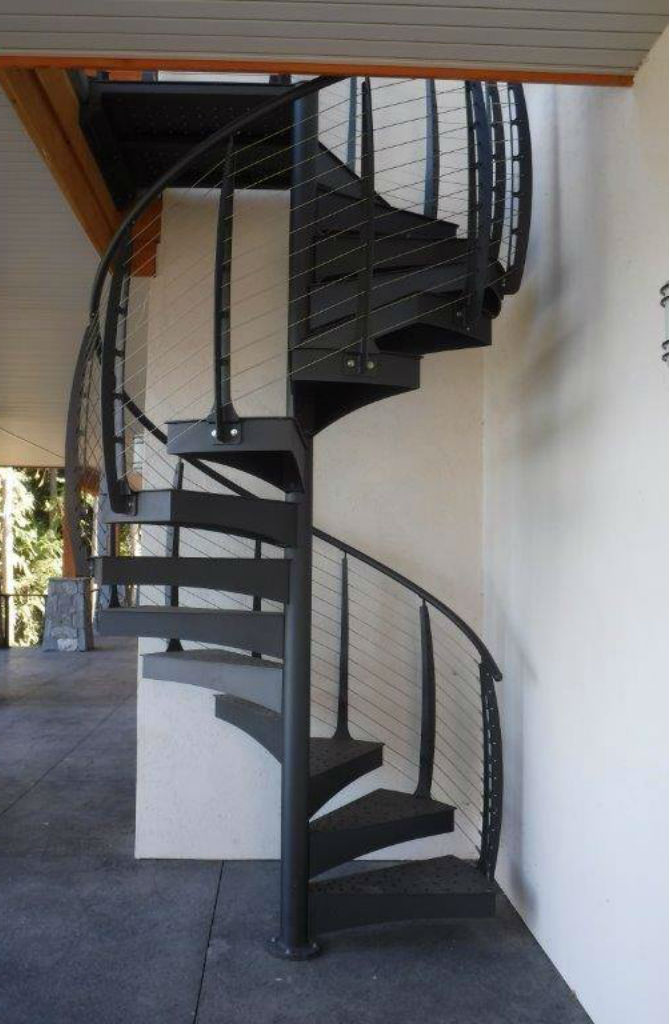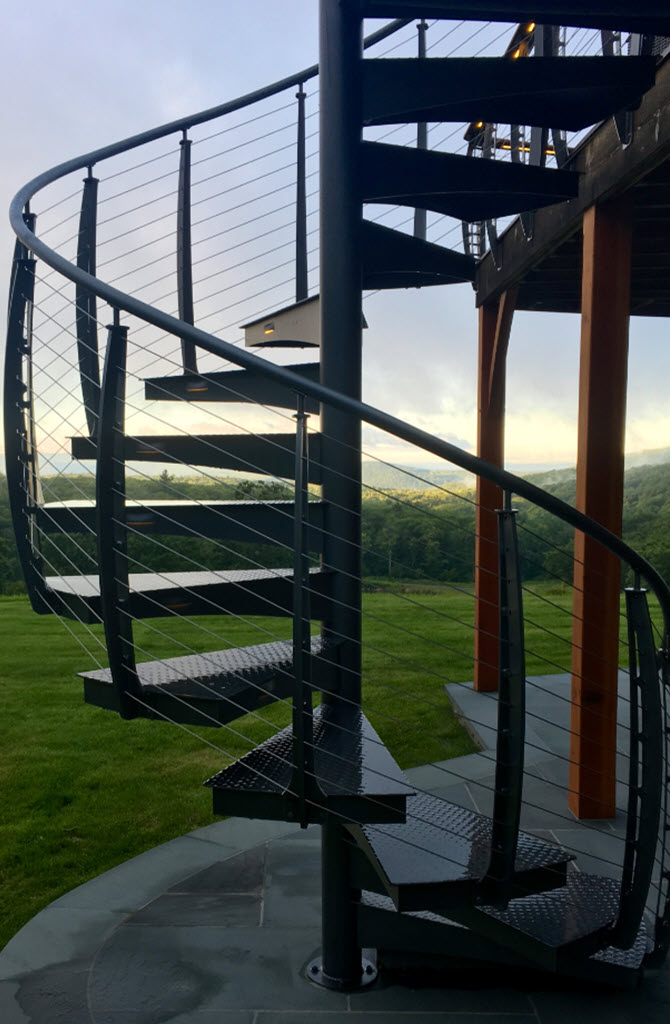 If you like this blog, you may also like these:
At Keuka Studios, we custom-fabricate stairs and railings to fit your style and space. We make our stair stringers to accommodate the type of treads you choose. We can provide you with wood, glass, and steel treads for our staircases. All you have to do is choose your style.