Remarkable Modern Metal Railings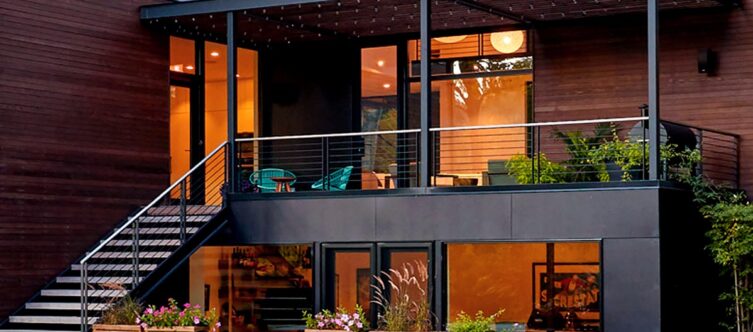 Modern metal railings are trending in home design for interiors, and exteriors. Metal railings that are artfully designed and expertly handcrafted add a streamlined aesthetic, modern flair, and sleek lines to any home. Our bespoke railing systems offer unique solutions that are not available anywhere else. We work with the challenges of each space to create elegant solutions resulting in railings that are sculptural works of art.
You can select from a range of styles, colors, finishes, and base materials that can be mixed and matched to fit your desired aesthetic and functionality.
Styles – There are a variety of styles available for metal railings including horizontal and vertical spindle railings or flat bar railings
Materials – Metal railings can be fabricated from a variety of materials including steel, stainless steel, and aluminum, with a variety of finishes available to choose from.
Finishes – Each type of metal may be finished in a variety of ways. Stainless Steel is usually brushed or polished to achieve a shiny appearance and has the option to also be powder coated. Aluminum is available as clear anodized which gives it a silver-looking appearance and has the option to be powder coated. Steel is available in a variety of powder coat colors, and can also be in galvanized for better weatherability
Get inspired for your next project with these remarkable modern metal railings we've created for our clients.
Horizontal Bar Railings
Modern Metal Floating Stair with Round Bar Railing
The client for a modern cube home chose horizontal round bar railings for the interior and exterior of their new home. The railings wrap the multilevel stairs and balconies on the interior. For the exterior, the same railing style is used on the rooftop deck, covered porch, and stairs. The modern metal railings have a minimalist appearance. The posts are mounted below the flooring to hide the hardware resulting in a streamlined appearance. The lines of the railings beautifully complement the modernist architecture of the home. These railings are made of powder-coated steel with white oak top rails.
Flat Bar Railing on Modern Floating Stairs
Refined and rustic this project remodel was a labor of love for our clients. The objective was to take a tightly closed stairwell and give it a larger, spacious, open feel. To accomplish this, the closed stairwell was removed and replaced with a floating mono stringer stair and a modern metal flat bar railing. The railing is uniquely designed with horizontal flat bars and double bar end posts. The railing top rail and stair treads are made of antique white oak, creating a space with a rustic yet, refined style.
Vertical Bar Railings
Round Bar Railing aka Pencil Rod Railing
Careful engineering and design, and clever solutions were required to achieve the simplicity and clean lines of this modern stair railing. The hardware for the spindles is hidden beneath the floor for an uncluttered appearance. The railing and wood top rail flows seamlessly and elegantly like a ribbon as it ascends from floor to floor. Uniquely designed to achieve rigidity and a slender floating appearance. The stair stringer and spindles are made of powder-coated steel with white oak top rail and treads.
If you found this helpful, you may also like these posts.
At Keuka Studios, we custom fabricate residential and commercial stairs and railings to fit your style, space, and requirements. To learn more about how each cable railing project moves from vision to reality, take a look at our custom railing design process. We take pride in building craftsman-quality and commercial-grade cable railings for interior and exterior applications. Contact us to get started on your project.