Flat Bar Railing on Floating Staircase, Keuka Lake, NY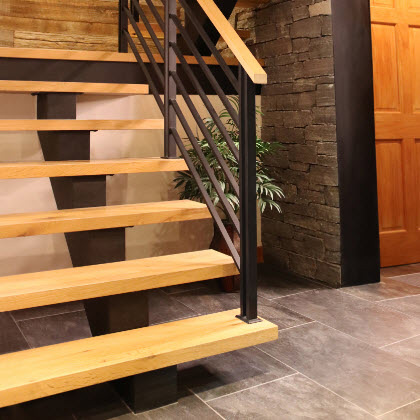 Location: Finger Lakes Region, NY
Material and Finish: "Raven Black" powder-coated steel stringers and railing posts with reclaimed antique white oak treads and top rail.
Description: A mono-stringer floating staircase with a custom horizontal flat bar railing.
Notes:
Our clients built their own lake house in the Finger Lakes region of NY overlooking the scenic Keuka Lake. Located in the middle of New York's wine region, the lake house offers the perfect summer vacation location and weekend retreat. A labor of love, the homeowners have continued to update and finish the home over the years. Most recently, they installed a Keuka Studios custom staircase that connects the main floor with the media room on the lower level, fondly referred to as "the snug."
Custom Mono- Floating Stairs:
To achieve a refined rustic aesthetic, the homeowners opted for a floating staircase with steel flat bar railing. Keuka Studios designed and fabricated a U-shaped staircase with a unique single stringer. Instead of utilizing a steel tube, the single central stringer was constructed from laser-cut steel pieces welded and ground to create an attractive and very sturdy hollow form shape. Furthermore, for a clean, minimalist refined appearance, we concealed the staircase mounting plates inside the floor and walls.
In order to create a rustic, refined and cozy feeling in the lower level the homeowners combined barn board walls and Champlain granite around a floor to ceiling blackened steel fireplace.  Since slate is indigenous to the area, porcelain tile that mimics the look of slate was chosen to complement the stairs and walls.  The powder-coated steel stringer matches the steel frame archway in the adjacent stone wall. For the stair treads, our clients chose reclaimed antique white oak. The stair treads provide a nice contrast to the dark hues of the stone wall and flooring.
We saved the conventionally framed landing structure from the original wood stairs and added oak flooring to the top surface.   We added a thick wood nosing and a black steel trim plate to the front of the landing for a more cohesive look.
Horizontal Flat Bar Railing System:
The railing features steel posts with a custom design. Each post consists of the two separate vertical posts with a slender, rectangular shape. Together, the dual posts create a multi-line appearance. Like the stair stringer, the steel posts have a black powder coat. For the railing infill, our clients chose narrow steel bars that run horizontally. The railing mounting hardware was concealed beneath the floor for a cleaner look. This bar railing matches the open-riser design of the floating stairs and allows for the passage of natural sunlight. In order to match the stair treads, the homeowners also used reclaimed antique white oak for the top rail.
Request A Quote