Steel Spindle Railing on Floating Stairs – Hamptons, NY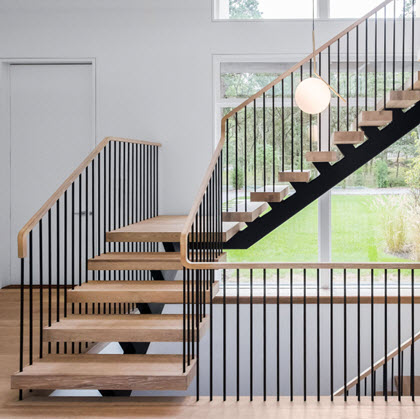 Location: The Hamptons, NY
Builder: MKL Construction – East Hampton, New York
Architect: Diego Petrate – Buenos Aires, Argentina
Material and Finish: "Raven Black" powder-coated steel stair stringer and railing spindles with white oak stair treads and top rail.
Description: Mono-stringer floating U-shaped stairs with steel spindle railing and continuous white oak top rail that traverse 2 levels of the home.
Notes:
Keuka Studios designed and fabricated a floating staircase with steel spindle railing for a client's newly-constructed summer home in the Hamptons. The homeowner chose this design for its simplicity and clean appearance. He says the architectural staircase is now the centerpiece of the home.
Mono-Stringer Floating Staircase:
One glance reveals the simplicity of this clean, uncluttered design. This minimalist design, however, belies the complexity of achieving this result. Careful engineering combined with architectural detailing was required to make the homeowner's and architect's dream a reality. At every turn, clever solutions were needed to ensure the staircase and railing would flow elegantly like a ribbon as it ascends from floor to floor. From the concealed hardware of the mono stringer to the unique methods we employed to achieve rigidity in the slender pencil spindles, the results are quite stunning.
Steel Spindle Railing:
For this floating staircase, our client chose a modern variation of a spindle railing. Instead of using the ornate wood spindles found on more traditional stairs, we crafted simple, slender spindles from steel. All of the spindles are spaced evenly apart and have a 1/2″ diameter.
The slender steel spindles of this pencil rail attach directly to the treads with hidden custom lag screws. On the 1rst floor landing, the spindles run through the treads and landing to create a guard for this area without cluttering the design with additional railings. The square wood handrail with its CNC-machined transitions gives the staircase a cohesive, seamless look. White oak handrails and matching treads provide a stark contrast to the black metal elements.  Other infill options like glass and bar were considered for this project, however, the pencil bar spindles really make this project stand out.
Request A Quote
Custom Metal Stairs