Sleek Stainless Steel Cable and Glass Railing Ideas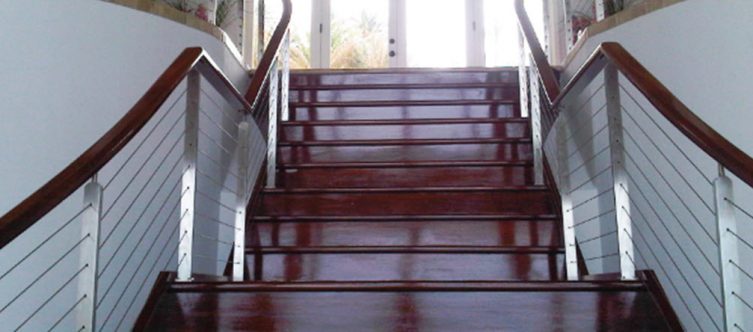 The sleek aesthetic of stainless steel cable and railings makes a beautiful design accent for decks, stairs, and balconies. Stainless steel has a clean modern appearance while being durable with minimal maintenance. Stainless can have a brushed, mirrored, or powder-coated finish to create the desired design effect. Whether for an interior or exterior railing project we customize our stair and railing designs to fit your requirements.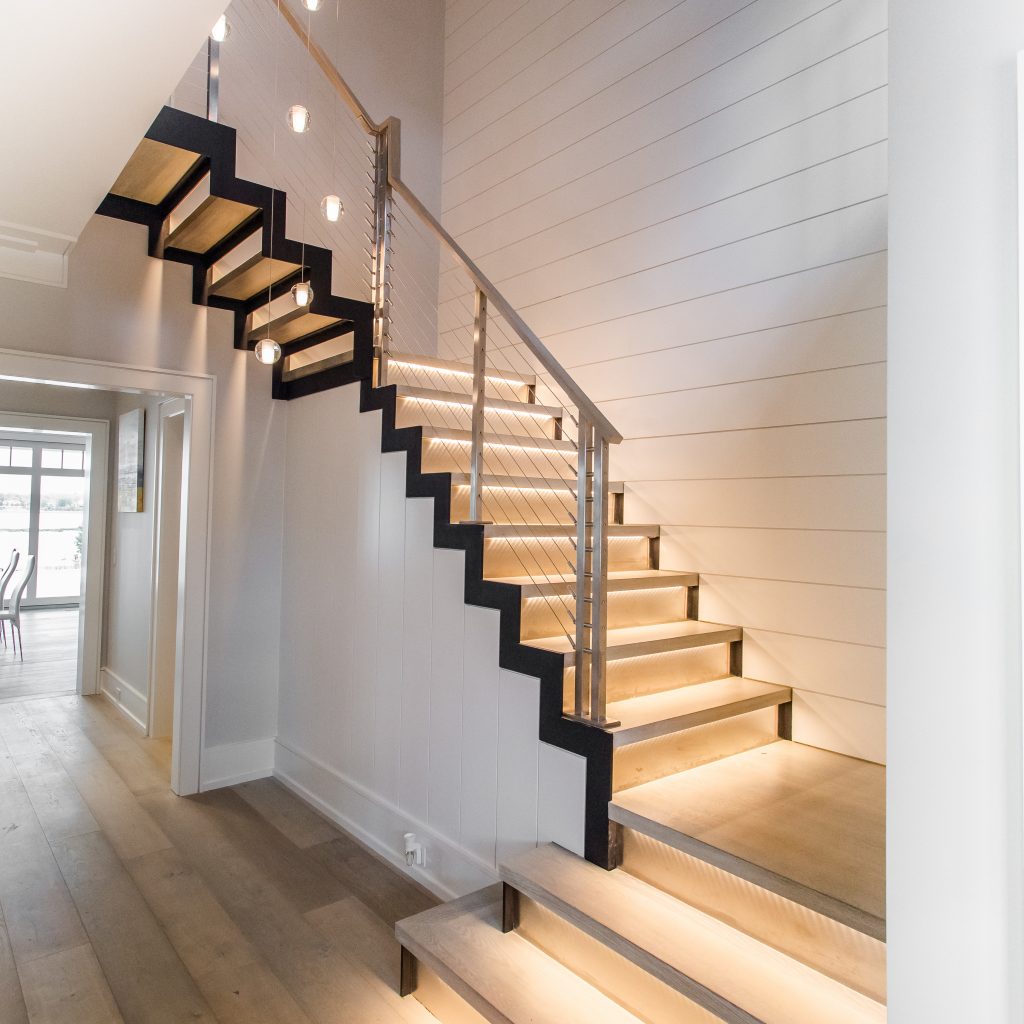 Ultra-modern Stainless Railing and Stairs
To achieve the desired ultra-modern aesthetic for this home we created a floating zig zag stringer staircase with 316 stainless steel cables and railing posts. To accent the steps and create ambiance as well as light the stairway, we included brushed stainless steel risers that reflect the under-mounted LED lighting. These cool design elements resulted in a one-of-a-kind modern staircase.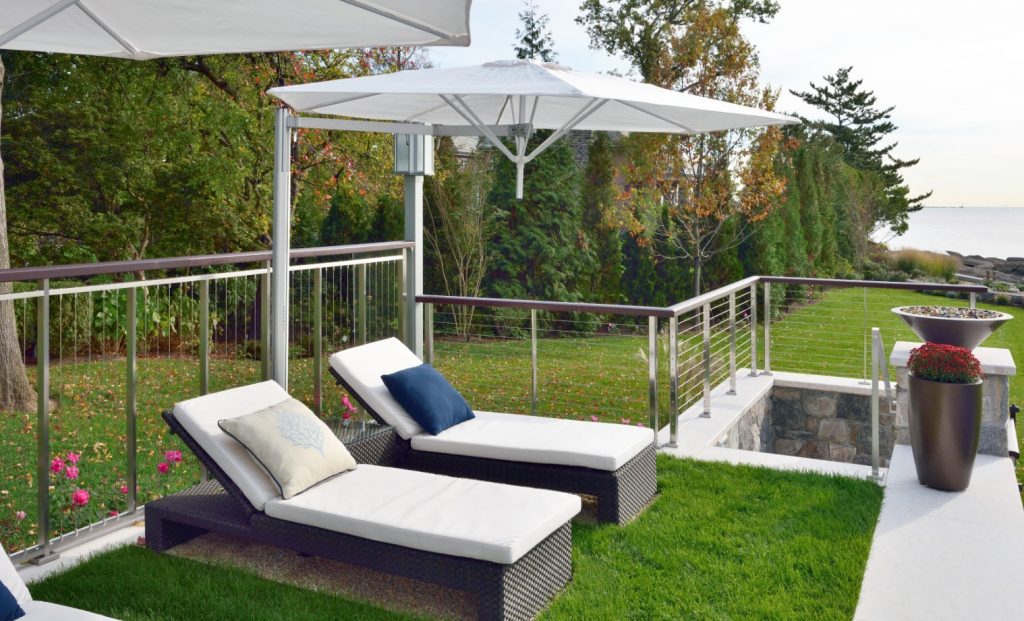 Vertical and Horizontal Stainless Steel Cable Railing
An important design element for this home was to provide a seamless flow between the home to the patio, poolside spaces, and beyond to the ocean beaches. Equally important was to create a serene place to relax without impeding the ocean views. This clever combination of vertical and horizontal cable railings achieves this result while adhering to national pool regulations. The railings have mahogany top rails that conceal strips of LED lights to provide ambiance for nighttime entertaining. The 316 stainless steel railing posts are finished with a number 6 brushed polish. Stainless steel escutcheon plates were CNC machined to perfectly fit the posts and conceal the mounting plates.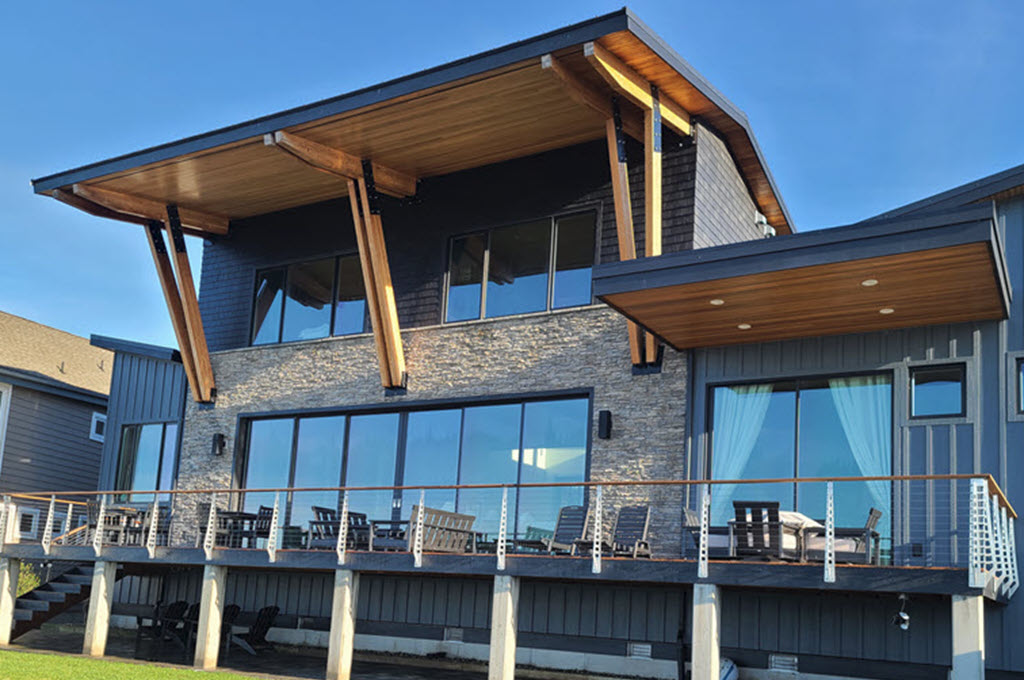 Rustic Industrial Stainless Deck Railings
Chosen for its angular design and open cutouts our Chicago-style cable railing system adds a sleek contemporary look to any home. The industrial elements of the home include an exposed timber beam structure with large metal flanges and bolts. This combination of warm woods, clad siding, and stone create a refined and rustic appeal. Since this is a coastal home the cable railing posts are made of type 316 stainless steel and are designed to be fascia mounted to the deck.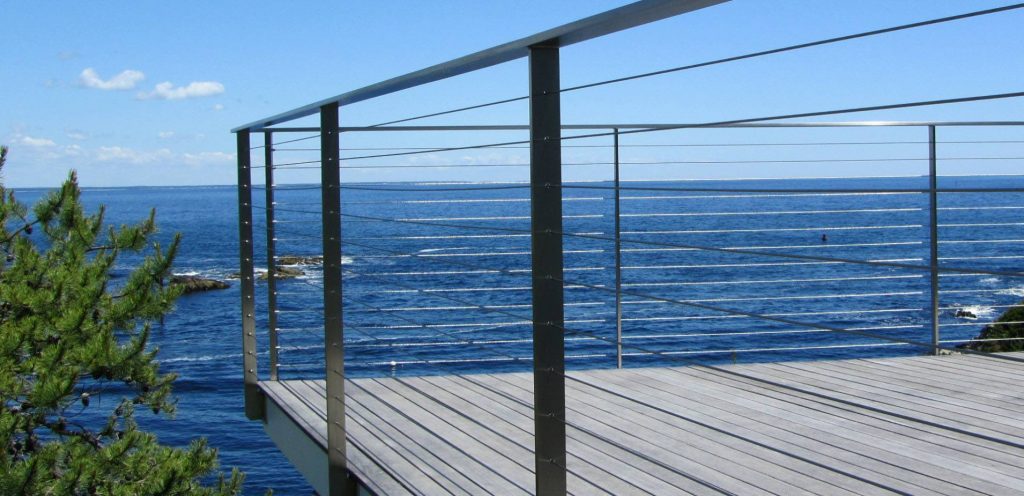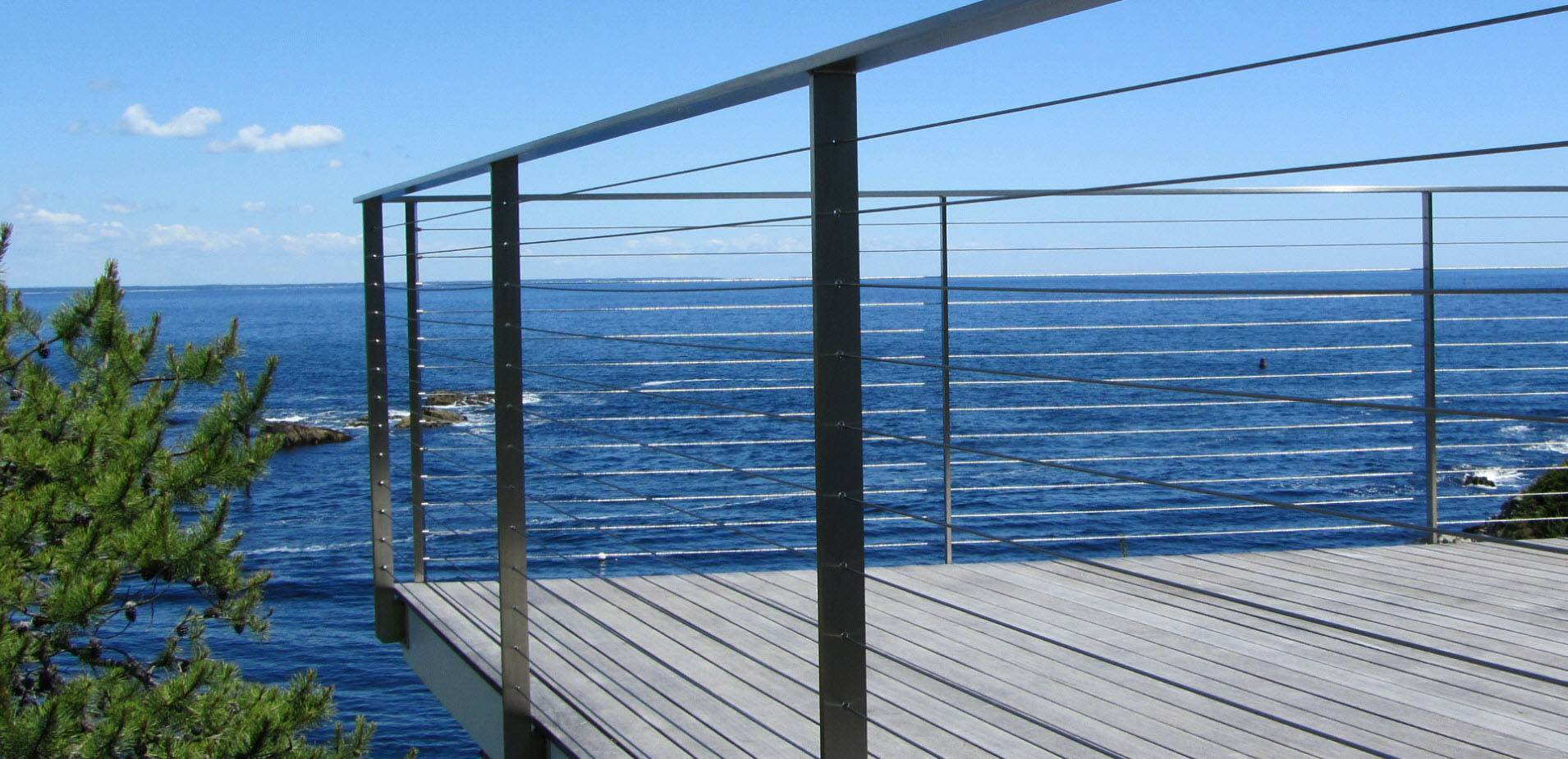 Simply Sleek Stainless Steel Cable and Railing
As a fashion designer, this client has an eye for minimalist design. Her objective was to eliminate the appearance of joints on her railing to create a clean modern aesthetic. We were asked to design and build a stainless steel cable railing that would optimize the view and not distract the eye. She chose our Ithaca Style cable railing system for its thin posts. Since the home is located on the ocean the railing material chosen for this project is solid 316ss for the railing posts and top rail. Paying attention to every detail even the decking was designed without joints.
Nautical Style Stainless Steel with Cable and Glass
Coastal homes featuring a nautical interior design have an inviting and relaxed beachy vibe. This style for a staircase can be achieved in a variety of ways. For a couple of beach houses pictured above, we collaborated with the designers on different approaches. One homeowner preferred to use a combination of stainless steel cable connecting to wide white wood newel posts with brushed stainless round handrails. The other design style uses a glass infill with brushed stainless steel rectangular posts, round handrails, and nautical-style lighting in the stairwell. Both stair railing projects complement the charming shiplap wall paneling.
Before and After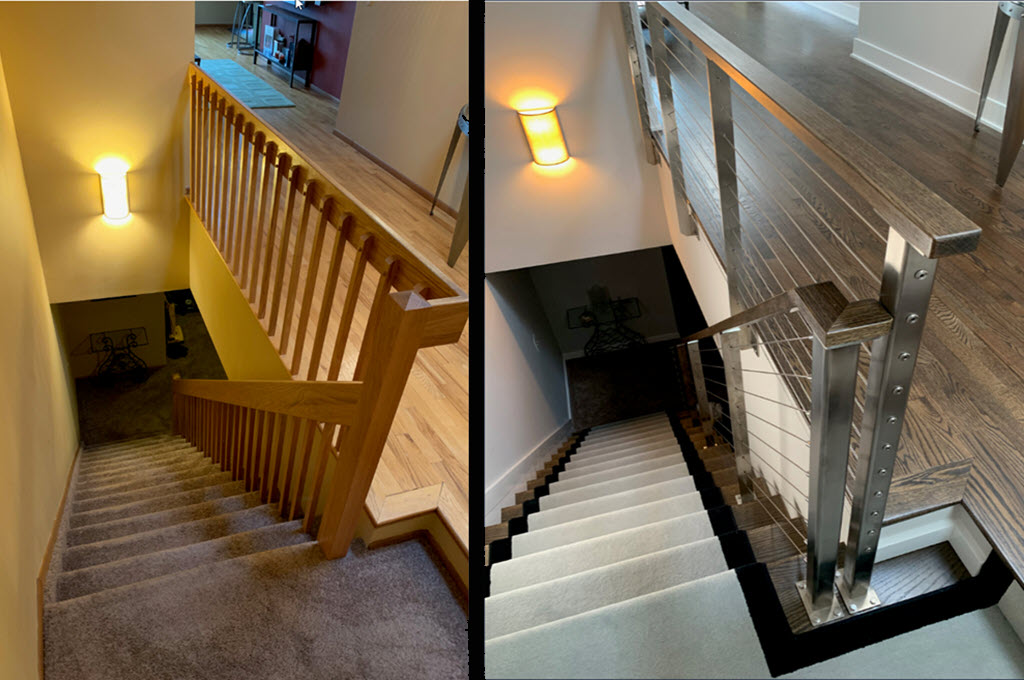 Modern Minimal Transformation
A sleek transformation replaces a dated wood stair railing with slim stainless steel railing posts and cables. The level railing was designed to use fascia-mounted stainless steel posts along the top of the stairwell and surface-mounted posts on the steps. The cable infill creates a more visually pleasing unobstructed view making the overall space feel more open and larger. Also, the new handrail is more easily graspable than the old version.
At Keuka Studios, we custom fabricate residential and commercial stairs and railings to fit your style, space, and requirements. To learn more about how each cable railing project moves from vision to reality, take a look at our custom railing design process. We take pride in building craftsman-quality and commercial-grade cable railings for interior and exterior applications. Contact us to get started on your project.