ADA Handrail Stair Requirements and Ideas
Understanding the requirements for engineering your railing system to comply with ADA handrail standards is essential for commercial projects. ADA handrails do not have to be boring. There are several creative approaches that can be implemented to meet these requirements resulting in an elegant design solution. Keep in mind your project requirements may vary depending on the project purpose and municipality. For instance, designing for a children's school would be considerably different than an adult facility, outlined in this brief summary.
What are ADA requirements for handrails on stairs?
Six key requirements are:

-Handrails for ADA compliance are typically required to be on both sides of a set of stairs.

-Handrailings must be at a consistent height and located a minimum distance of 34 inches to 38 inches from the walking surface.

-Handrails must be continuous and uninterrupted by newel posts or other obstructions along the top or sides.

-A clearance of 1-½ inches is required between the handrail gripping surface and adjacent surfaces for easy access to the rail. 

-At the top and bottom of the stairs, the handrail must continue to slope or extend for a distance of one tread width of 12 inches beyond the bottom riser nosing.

-The handrail at the top or bottom of the stairs must return back into a wall, guard, post, or landing. Making this connection helps to eliminate any protrusion that could catch on clothing, or be sharp.

ADA compliance guidelines should be referenced for more information as it pertains to your project. In addition, another resource for stair building requirements is the Stair Manufacturers Association visual reference.


For commercial projects requiring ADA handrails, Keuka Studios custom manufactures handrails to fit the project's specifications. We offer handrails in Stainless Steel (316ss or 304ss), Aluminum, or Steel. See examples of our projects below.
Ideas for ADA Handrail Returns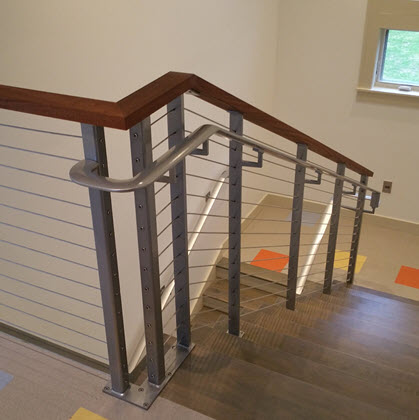 ADA Handrailing Extension Ideas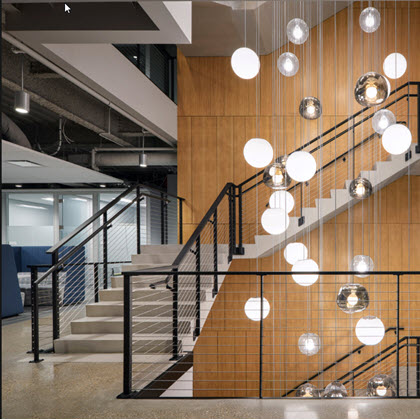 Examples of ADA Handrail Transition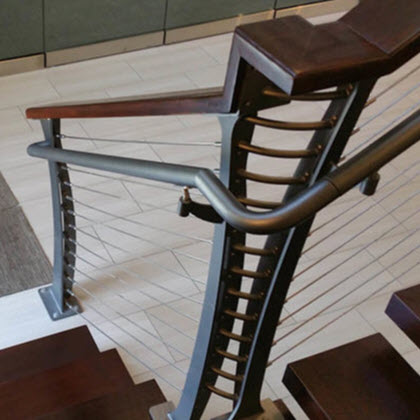 At Keuka Studios, we custom fabricate residential and commercial stairs and railings to fit your style, space, and requirements. To learn more about how each cable railing project moves from vision to reality, take a look at our custom railing design process. We take pride in building craftsman-quality and commercial-grade cable railings for interior and exterior applications. Contact us to get started on your project.