Gorgeous Gate Styles and Ideas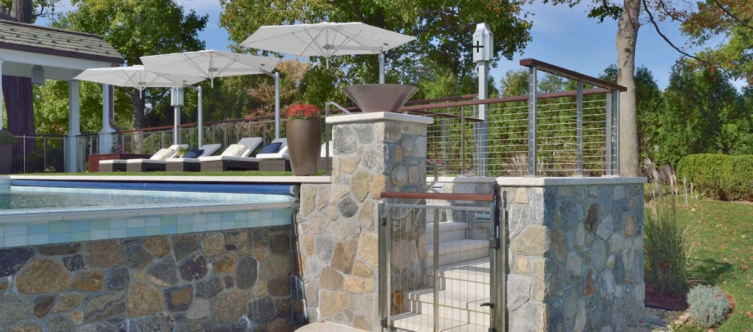 What kind of gate is right for you? There are plenty of reasons to consider adding a gate to your railing project. Gates can perform a variety of functions. They can be used for safety, containment, security, or just decorative. In addition to being functional, your gate should seamlessly integrate with your architecture and the railing design. Whether for a backyard, deck, pool surround, or driveway entrance, the gate is often the first impression your guests encounter. Why not make it special?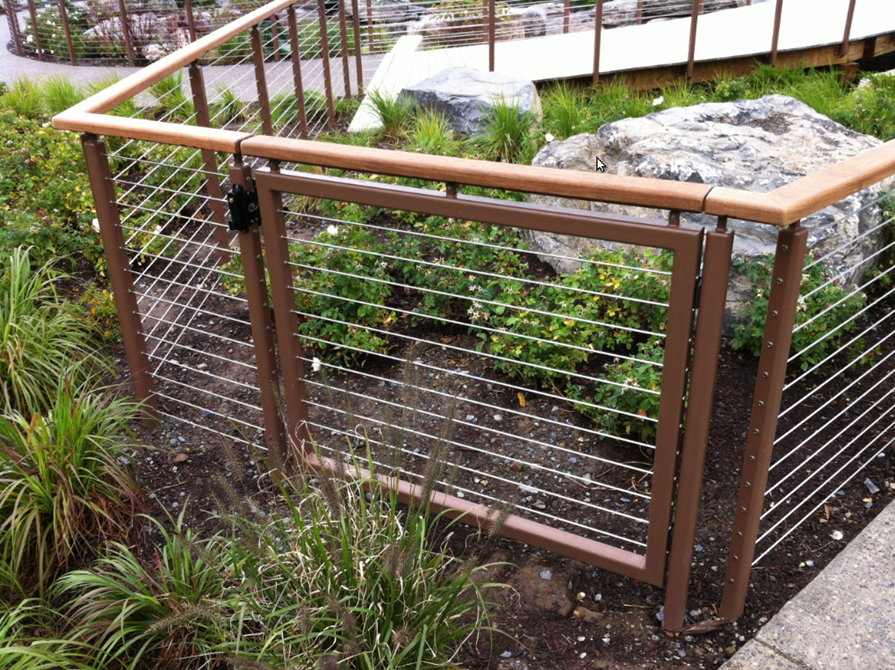 Garden Gate
The Rosamond Gifford Zoo created a gorgeous garden scape entrance featuring a stream and a footbridge, as a natural oasis for zoo visitors to enjoy while waiting to enter the zoo. The curving boardwalks meandering throughout the garden are lined with Keuka cable railings to keep visitors out of unwanted areas. The lockable pedestrian garden gate was made to integrate with the cable railing system. This gate is used as access to the landscape and waterways for routine maintenance.
Double Pool Gate
Considering a pool gate? We design our gates to meet code requirements and match the desired style. There are a number of code requirements that are required to be included in a pool gate design. The gate must be at least 4 ft high, self-closing, self-latching, have a childproof locking mechanism, and open outward away from the pool. There are additional spacing requirements to be considered including distance from grade to the bottom rail, and vertical post spacing. Referencing your local building code pool requirements is recommended as this may vary in different municipalities. This double gate was custom made to fit the size of the stair opening. It is made of 316 stainless steel with vertical cables and a wood top rail. The gate is mounted tight to the stone walls surrounding the lower section of the pool.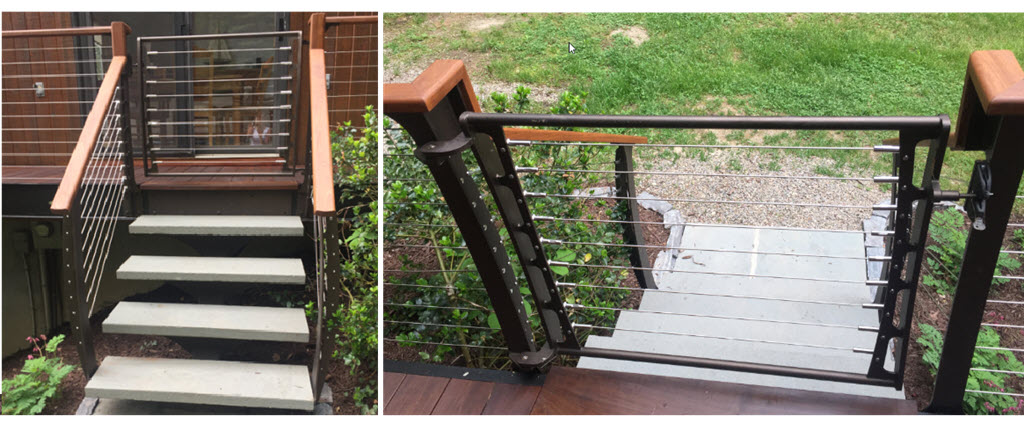 Deck Gate
A gate on a deck entry is frequently used as a way to contain small children or pets. In addition, It can act as a deterrent to keep unwanted people or wild animals from accessing your deck. This deck gate is lockable and designed in the style of our curved Keuka cable railing system. The custom hinge used on this gate makes it possible to swing the gate 180 degrees to keep it open or closed, as desired.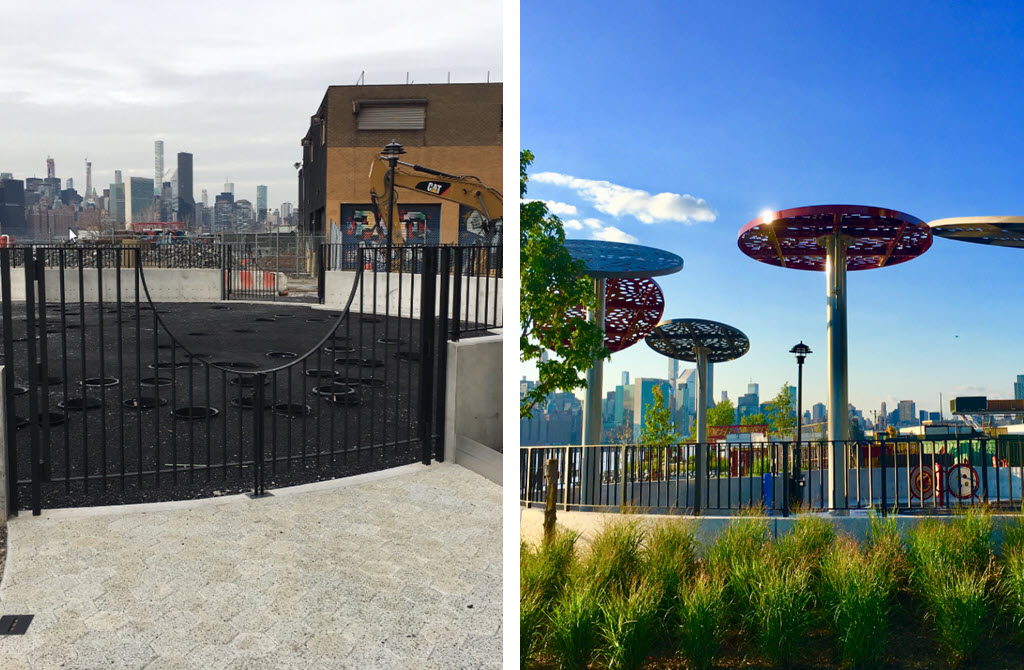 Playground Gate
We fabricated this double gate and matching railing system for a new water park and playground located adjacent to "The Greenpoint" on Brooklyn's East River waterfront. The railing is surface mounted on top of the concrete wall. The gate and railing are used to define the space and allow visitors only while open for use. The gate and railing are made of steel and powder-coated black.
Ornamental Gate Style
Ornamental style gates add beauty and artistry to your entrance and decor. This ornamental gate serves as both an entrance and a barrier for "Amore" an Italian restaurant and wine bar in Rochester NY. The restaurant is located within a retail store, therefore it required customers to have access through the adjoining store. A well-designed gate balances function and beauty with both elements working in sync. This gate is lockable and made of hand-forged steel and powder-coated black with a hand-rubbed patina.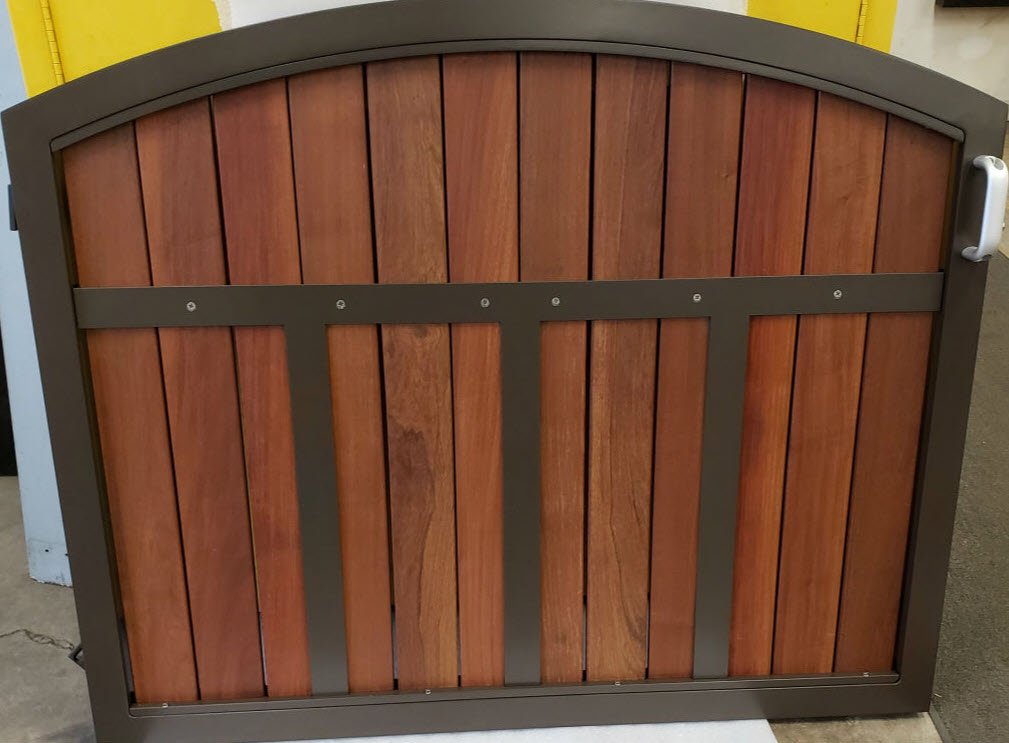 Craftsman Style Wood Panel Gate
A wood-paneled gate adds an element of privacy. The combination of wood slats and steel frame were used to create a rustic aesthetic which complemented the homes craftsman architecture. In addition to the wood-paneled gate, the customer chose to alternate their railing with a combination of cable panels and wood panels.

Driveway Gate
A driveway gate adds a dramatic touch to the entrance of your property and can be designed to reflect your personal style. An artistic horse motif was laser cut from steel and centered on this gate for an equestrian lovers' home. Adding an automated driveway gate to your property is one option to improve your security. Therefore, allowing only individuals you approve of to have access to your property. It can act as a deterrent to unwanted visitors and obstruct the entrance to prevent children and pets from wandering into the streets. This gate is made of steel and powder coated with an automatic opening system.
Modern Cable Driveway Gate
This driveway gate was designed to complement the modern cube style architecture of the home. In addition, a cable fence was made with tapered posts to match the cable railings on the patio and exterior stairs. The objective of the gate and fence was to discourage animals from entering the family's boutique vineyard and gardens that surround the home. This gate is 8 feet tall and includes a man door for easy access to the beach. Made of powder-coated steel with 316 stainless steel cable and includes an automatic opener.
Pedestrian Gate with Cable
We designed a cable railings fence for a new corporate office building in Winter Garden, Florida. The design of the fence provides a decorative complement to the modern design of the building and functions as a deterrent to unwanted visitors. We custom-made a pedestrian gate in the same structural detail and aesthetic to match the fence. This gate is made of steel and powder coated in a custom color to match the building.
More Gates Styles and Ideas – Slider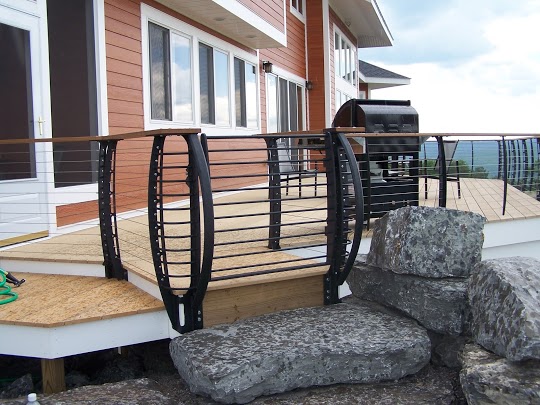 Keuka Curved Cable Railing Gate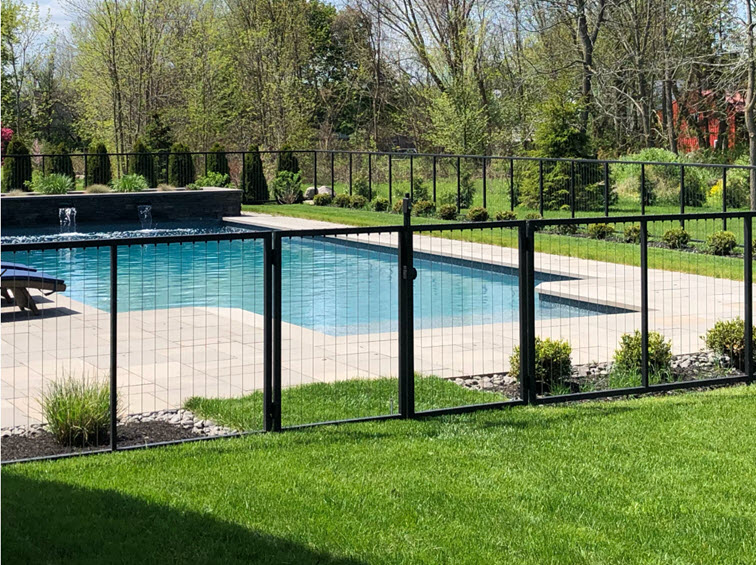 Vertical Cable Railing Pool Gate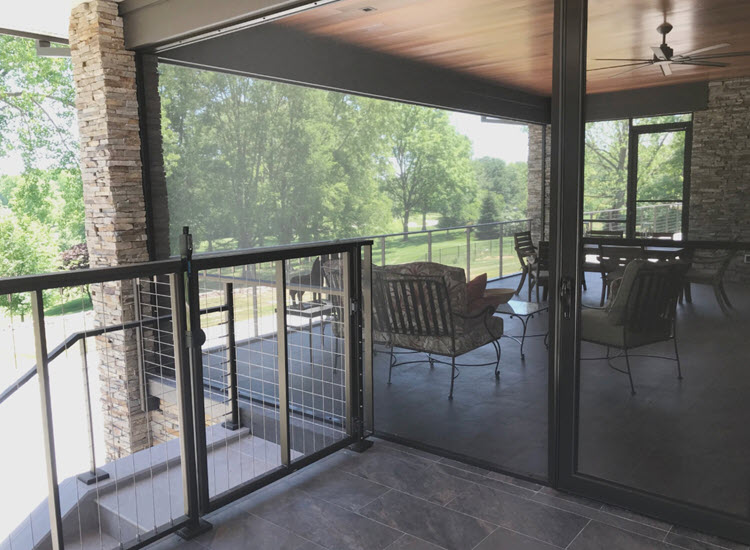 Gate and Screen Porch Cable Railing
Caribbean Cable Railing Gate
Craftsman Style Cable Railing and Gate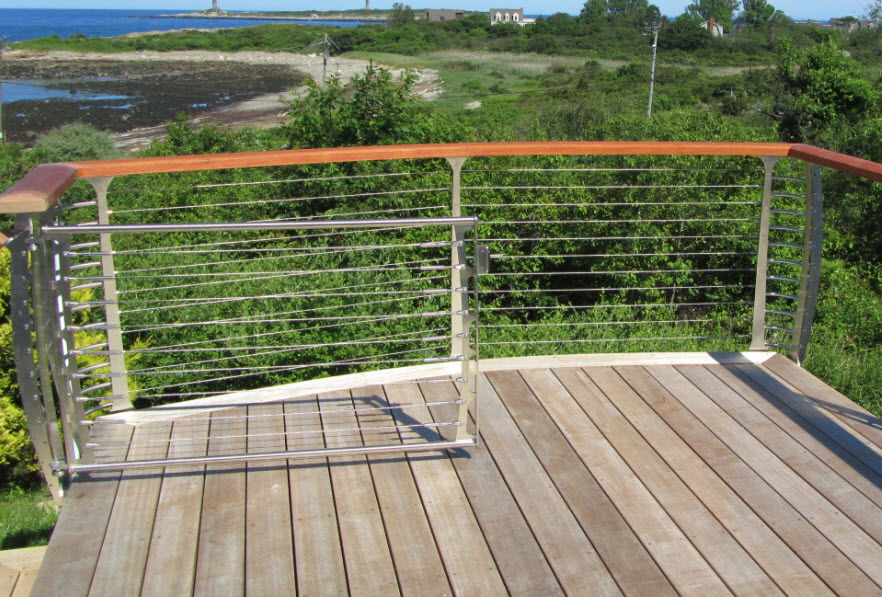 Stainless Steel Cable Railing Gate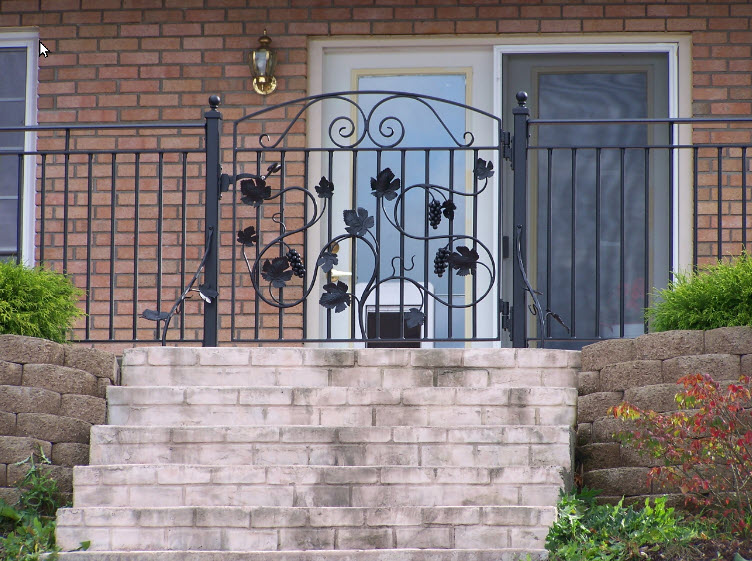 Grape Vine Gate with Spindle Railing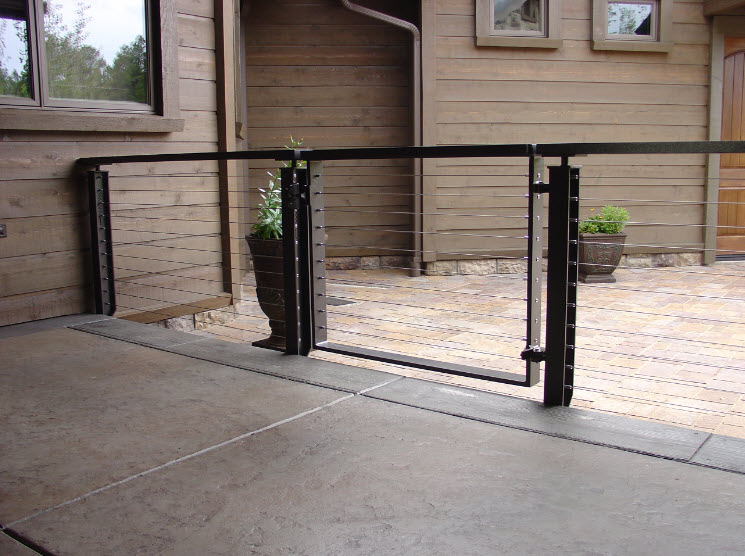 Industrial Cable Railing Gate with Exposed Hardware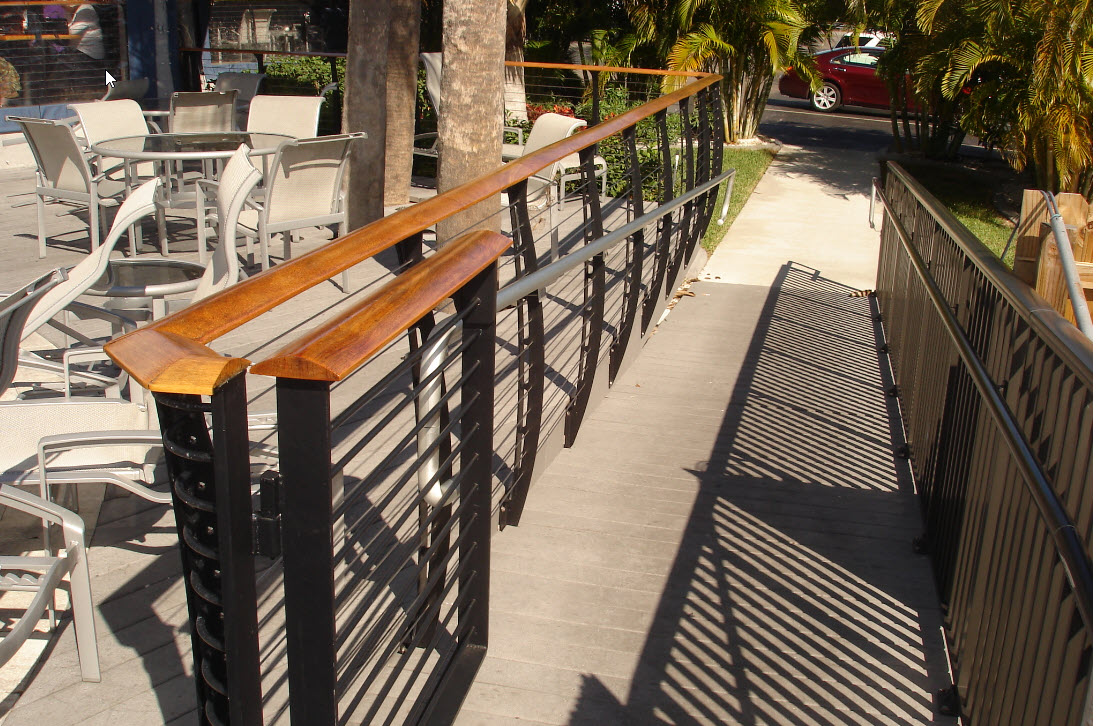 Gate for Disability Access Ramp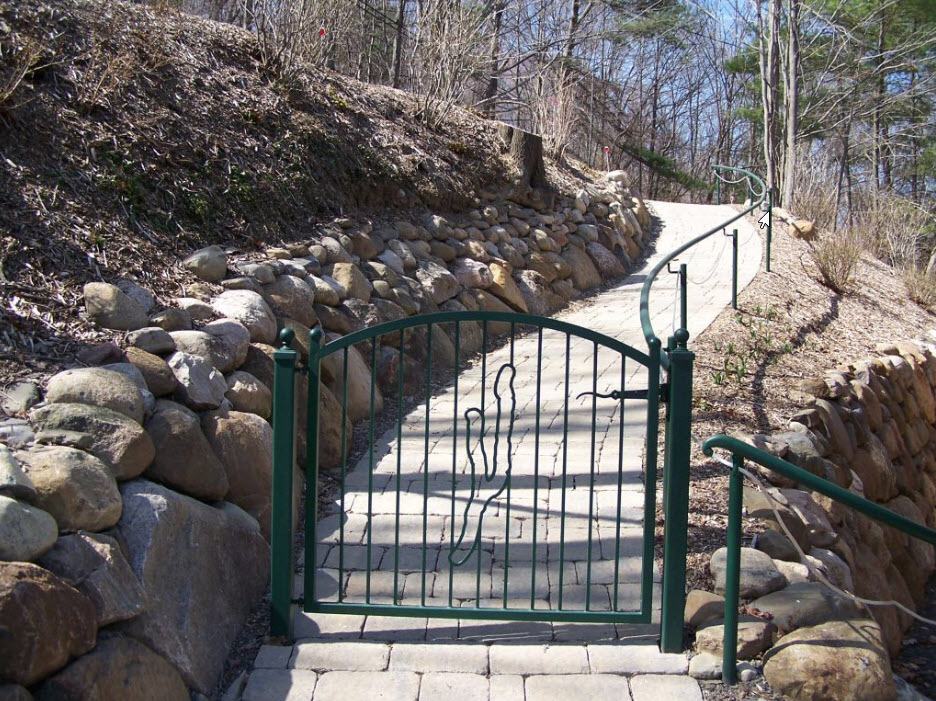 Keuka Lake Gate with Matching Hand Rails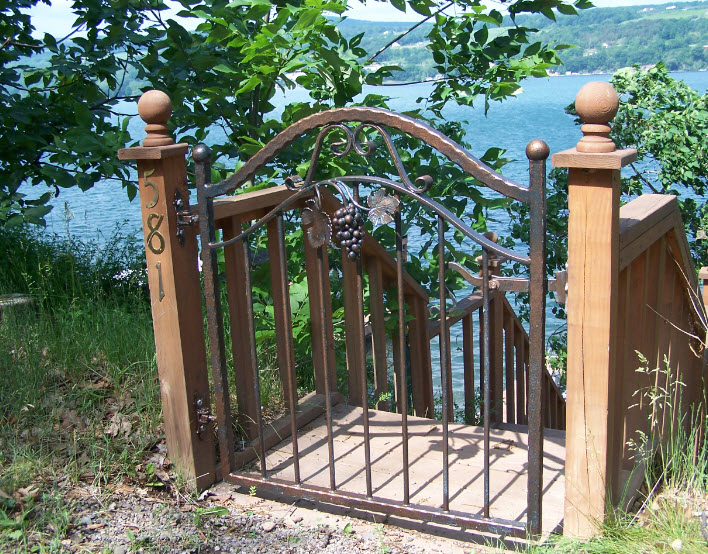 Lake Access Stairs with Patina Grape Gate
Keuka Studios offers a variety of options with our railing systems including gates. Every Keuka Studios designed project is custom-built for your space. To learn more about how each railing project moves from vision to reality, take a look at our custom railing design process. We take pride in building craftsman-quality and commercial-grade railing systems with gates for interior and exterior applications.