Design Trend: Blackened Stainless Steel
If you're looking for cable railing with the durability of stainless steel but aren't a fan of the metal's bright luster, then blackened stainless steel may be the perfect material for your new cable railing. Here at Keuka Studios, we now offer stainless steel cables and fittings with a black patina made from Type 316 marine grade stainless steel.
With the black stainless steel, appliance trend still gaining steam, our product carries this unique look beyond the kitchen. By incorporating black stainless steel cable railing into interior staircases or balconies, you can create a sleek, cohesive look throughout your home. If you want your space to have a minimalist, rustic, or urban-modern interior design, blackened stainless steel will give an understated look to your railing system. Plus, the blackened metal will seamlessly match dark or muted hues on your walls or within your decor.
When it comes to exterior staircases and decks, black stainless steel cable railing can heighten transparency, depending on the location. If your home or business has a naturally dark environment, for example, if your deck overlooks a wooded area, black stainless steel blends into the background and thus doesn't distract from the view.
Interested in black stainless steel cable and fittings for your railing? Buy black cable fittings online.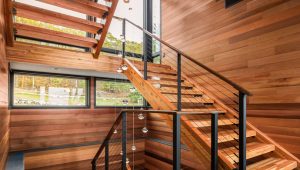 At Keuka Studios, we custom fabricate residential and commercial stairs and railings to fit your style, space, and requirements. To learn more about how each cable railing project moves from vision to reality, take a look at our custom railing design process. We take pride in building craftsman-quality and commercial-grade cable railings for interior and exterior applications. Contact us to get started on your project.