LED Lighted Railings and Stairs
Creative, Custom Solutions
Indoors and outdoors alike, LED lighted railings adds to both the functionality and ambiance of a given space. Whether you're hoping to set a romantic mood for your restaurant patio or are looking to light up your interior staircase for nighttime visibility, architectural LED lighting is a stylish solution.

At Keuka Studios, we understand that every project is different and requires some creative engineering. When it comes to lighting, concealing wires and accessing power sources may present a challenge. However, our designers are committed to coming up with innovative solutions for the unique demands of your project.

Cable Railing LED Lighting
Cable railing systems designed and crafted by Keuka Studios bring a modern, sophisticated look to decks, balconies, terraces, and stairs. Many of our clients, both home and business owners, request LED lighting for their railings so they can make the most of their outdoor spaces. At Keuka Studios, our engineers can incorporate the LED lighting system of your choice into a custom cable railing system. (For example, we worked with a commercial customer who chose the LEDPOD 40 by KLIK Systems.) Most commonly, our clients request under-rail lighting to illuminate the whole perimeter of the space. With this design, light faces down from beneath the top rail and it reflects off the stainless steel cable infill below, illuminating them as well.

How our designers accommodate the lights, wires, and access to a power source will depend on the style and materials you chose for your railing posts and top rail. For example, if you select a wood top rail, we can design a groove in the underside of the railing that accepts rope-style LED lights. For metal top rails, we can adhere a plate in place of the grove that accepts the string of lights.
Alternatively, if you want spotlight-style LED lights, we can use aluminum tubing and run the wires through the top rail. Using this method, we can craft a rail with custom cutouts for spotlight-style LED lights. Once you have selected your lighting system we can custom design our railings to work with the system of choice.

While our engineers create inventive ways to incorporate LED lights into our unique cable railing systems, every project requires custom accommodations. If you're interested in railing with LED lighting, we recommend you call our project developer Jason White to discuss your ideas.

For this terraced patio bar at the Sequoia restaurant in Washington, D.C. we incorporated LEDpod night lighting into the underside of the round handrail. All of the wires are concealed within the posts and the handrails. The LEDpod lighting has the effect of lighting the walkways while adding ambiance to the dining experience.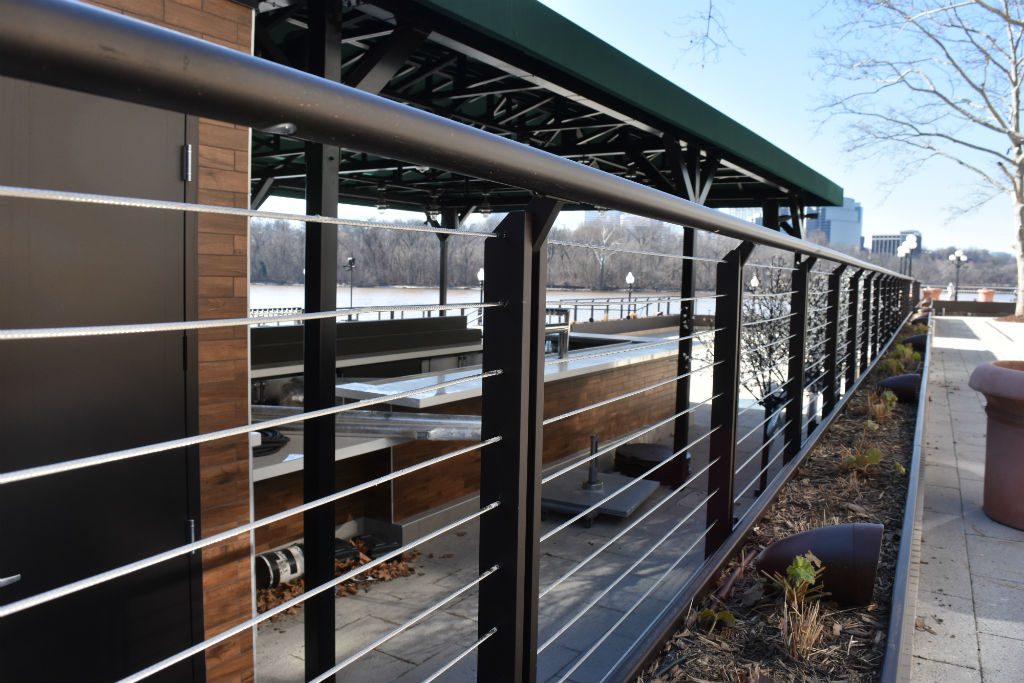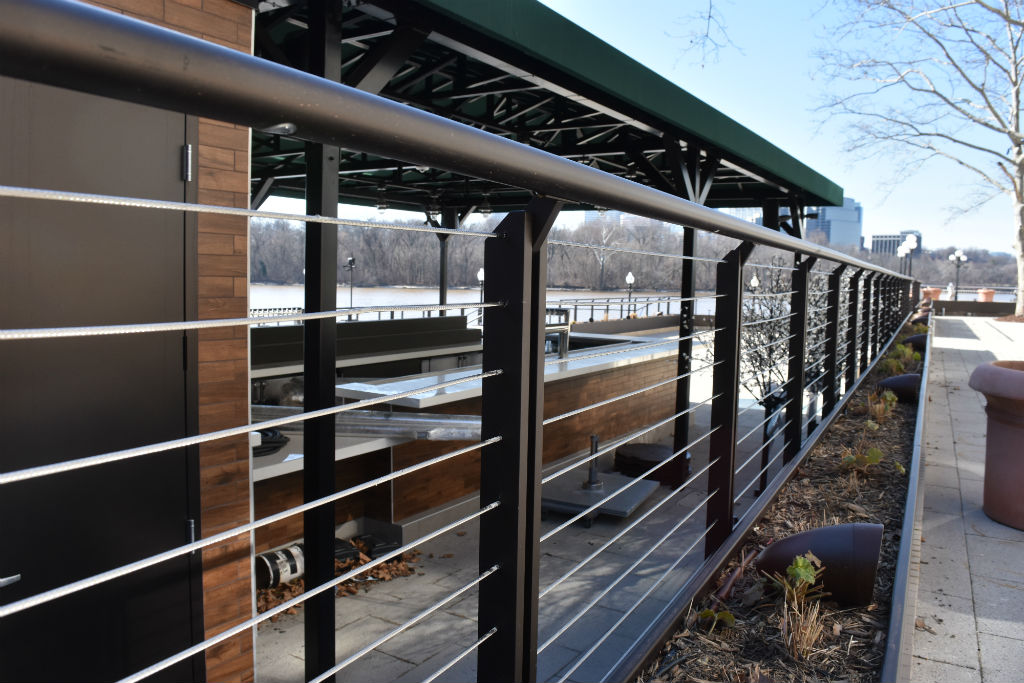 Staircase LED Lighting
LED lighting has also become popular with our custom stair customers. To achieve a modern look and to light the way, clients often request built-in lights for stair treads or risers. Like with cable railing, how we incorporate the lights will depend on the style and materials of your staircase. For ideas, take a look at a couple of our staircases with LED lighting systems:
This exterior spiral staircase features LED lights on each riser and connects to a deck railing system with under-rail lights. As shown in the accompanying drawings, the circuit runs up the center column of the spiral staircases and wires run beneath each tread to connect the LED lights embedded in the risers. Each light has a custom machined metal diffuser that guides the light downward to prevent glare while ascending the steps.
Keuka Studios designed this zigzag staircase and cable railing system for a client in Greenwich, Connecticut. To brighten the walkway and to match the customer's unique hanging light fixture, we added LED light strips to the underside of each stair tread. A brushed stainless steel riser was used to add a bit of dazzle to the project.
We custom created this lighted glass tread, steel stringer stairs and a cable railing system for the interior of a clients home in Knoxville, Tennessee. The lighting system for the glass treads is fed up through the wall and into the end of each treads. This creates a warm glow that transitions across the glass tread.
With LED lighting, the options are unlimited. You can opt for classic white lights or colored lights. You can even purchase diming or pulsing lights. Whatever your style, Keuka Studios can help you create your perfect illuminated space. Interested in LED lighting for your stairs or cable railing? Contact us to discuss your ideas.
---