Amazing Before and After Stair Makeovers
Stair and railing before and after images are a great place to start when trying to do a remodel or create a new project. Some people have an eye for design, however, for those who have difficulty imagining the transformation of a project these pictures will help you see the vision. Not only do stairs function as a way of transitioning between levels, and railings provide safety they also set the tone for the interior design style. Many staircases are located at the entrance of a home and are the first thing guests encounter when entering your home. Your stairs make your home's first impression so why not make it great!
Stair Before and After Creative Ideas
1) Traditional Stair to Modern Glass Floating Stair
BEFORE – The owners of this coastal Connecticut home realized that the location of their large traditional stairs blocked the home's main wall facing the ocean. In addition, the limited amount of windows resulted in a dimly lit entrance. The goal of this project was to create an open and inviting space with lots of natural light and open up the view. They completely gutted the entrance and changed the direction of the stairs to achieve this transformation from traditional style to a modern light and airy aesthetic with a floating staircase.
AFTER – To achieve the objectives of this project, floor-to-ceiling windows were added to allow for the flow of natural light throughout the entrance. When transcending the stairs the glass window wall allows for stunning views of the ocean. To maintain the openness without blocking the views, our engineers designed a mono stringer floating stair with glass railings. The single stringer is made of steel and powder-coated black, the treads are 3-inch thick white oak and we used 3/8 in thick starfire glass panels for the railings. The result is an open, modern, and light-filled room.
What stair and railing is this? Keuka Studios mono-stringer floating stair made of steel with glass railing.
2) Colonial Spindle Baluster to Modern Cable Railing
BEFORE – Located in Webster, NY this couple wanted to add a touch of their own personality to their new home so they opted to replace a colonial spindle baluster railing. The existing stair just wasn't their style, since they were inspired by a modern minimalist style they decided on a cable railing system. Also, because they have small children one of their project requirements included adding matching gates to the stairs.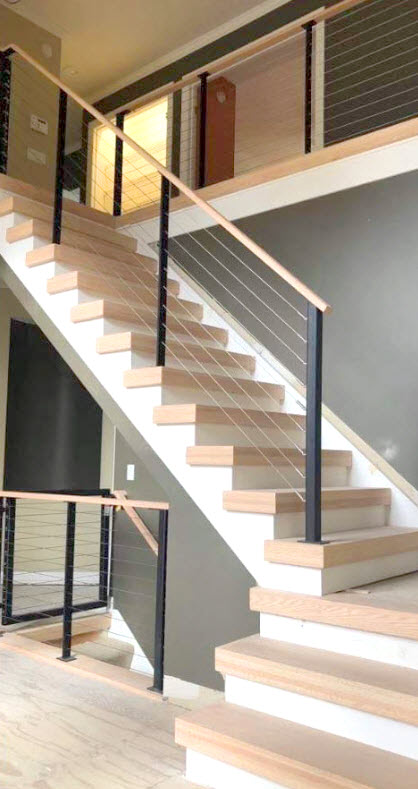 AFTER – Our client selected our Ithaca-style cable railing system with its narrow posts and distinctive modern style to replace the colonial stairs. They added matching gates and modernize the stairs with thick wood treads.
What railing is this? Keuka Studios Ithaca-style cable railing system made of steel with matching gates, wood top rail and stainless steel cables.
3) Contemporary Wood Spindles to Sleek Stainless Steel Railing
BEFORE – This client decided to remodel their outdated heavy wood contemporary, carpeted, and dark, stairs. Their vision for their stairs was to create a modern style that would be open and minimalist. In keeping with today's design trends, they opted for a sleek stainless steel cable railing system.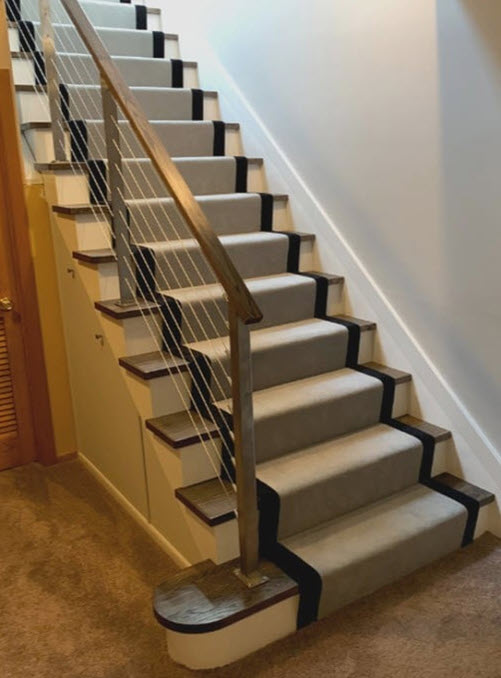 AFTER – Their remodel objectives were realized by updating the carpet and adding a stainless steel cable railing system. This client chose our Ithaca-style railing system for its sleek streamlined design. They also opted for the posts to be made of stainless steel and included our escutcheon plates to cover the post hardware. Exquisitely crafted by our talented team this railing system has an impressive, refined, and sleek appearance.
What Railing Is this? – Keuka Studios Ithaca Style cable railing in stainless steel with stainless steel top rail and escutcheon plates.
4) Shaky Spiral Stair Update to Switchback Stair
BEFORE – This beach house on Fire Island, NY had a shaky spiral stair with narrow winder steps that made it difficult to maneuver up and down the stairs. The objective of this project was to design a stair that would fit into this tight space while eliminating all winder steps to make it a safer transition between floors. It was also important to our client to improve the stability of the steps and keep the stairs open to the rest of the room. We started by measuring the site with a FARO 3D laser scanner to understand the dimensions we were required to work within. This allowed our engineers to create a custom stair that would fit in the allotted space and meet the customer's objectives.
AFTER – We solved our client's dilemma by replacing the rickety spiral stair with a mono-stringer floating switchback staircase. This eliminated all of the winder treads and by adding landings the access to the upper level is much safer and easier. Combined with the cable railing system the stairs maintain an open aesthetic and fit within the available space.
What type of stair is this? Keuka Studios switchback mono-stringer stair made of steel with Ithaca Style cable railing system.
5) Office Space Colonial Stair and Railing to Floating Stair and Curved Cable Railing
BEFORE – Located in Burlington, NJ this office building entry interior design was stuck in the '80s. The staircase boosted colonial wood spindle railings accented with pink and turquoise decor. The objective of this project was to makeover the dated space into today's modern style. It was also important to create an open space by adding floating stairs and include ADA-compliant handrails.
AFTER – To bring this entry into the present and meet the requirements for this project our engineers designed a mono-stringer stair with our curved Keuka style cable railing system. The cable railing seamlessly transcends the stairs and wraps around the upper-level balcony. The stairs have thick treads and include an ADA-compliant handrail. The color palette was changed up using neutral colors with dark accents. The result is a complete modern makeover.
What railing is this? Keuka Studios curved Keuka Style cable railing system with ADA compliant handrails.
6) Enclosed Condo Stairwell to Floating Stairs and Railing
BEFORE – Located in Hartsdale, NY this condominium had an enclosed stairwell with a heavy wood, old-school contemporary railing. The space was dark and dated. With an eye for detail, the vision of this client was to give the space a refresh. The objective included creating a space that would feel larger and more open. This was accomplished by removing the stairwell walls adjacent to the living room and allowing for natural light throughout the space.
At Keuka Studios, we custom fabricate residential and commercial stairs and railings to fit your style, space, and requirements. To learn more about how each cable railing project moves from vision to reality. Take a look at our custom railing design process. We take pride in building craftsman-quality and commercial-grade stairs and railings for interior and exterior applications. Contact us to get started on your project.