10 Cable Railing Interior Design Ideas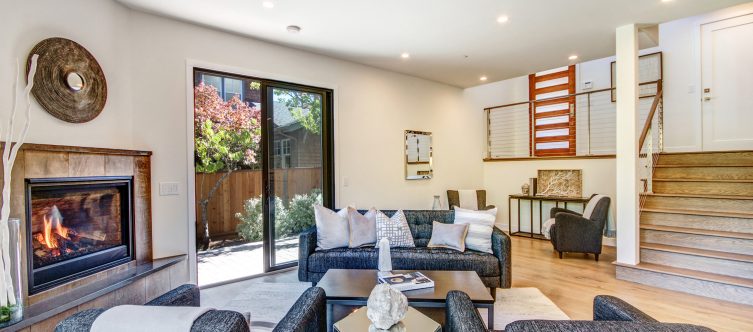 Cable railings sleek, streamlined appearance and minimalist construction is very versatile when it comes to interior design. Over the years, Keuka Studios has worked with hundreds of clients, each with their own taste and style. We're always delighted to see the "after" photos we receive from our customers showing us their new cable railing system and how it fits in with the overall aesthetic of their home. We've seen our cable railing seamlessly integrated with a wide range of interior design styles, for example, industrial, farmhouse, and traditional.
Considering cable railing for your home interior and need some design inspiration? Take a look at the numerous styles we've seen our clients bring to life in their homes:
1. Industrial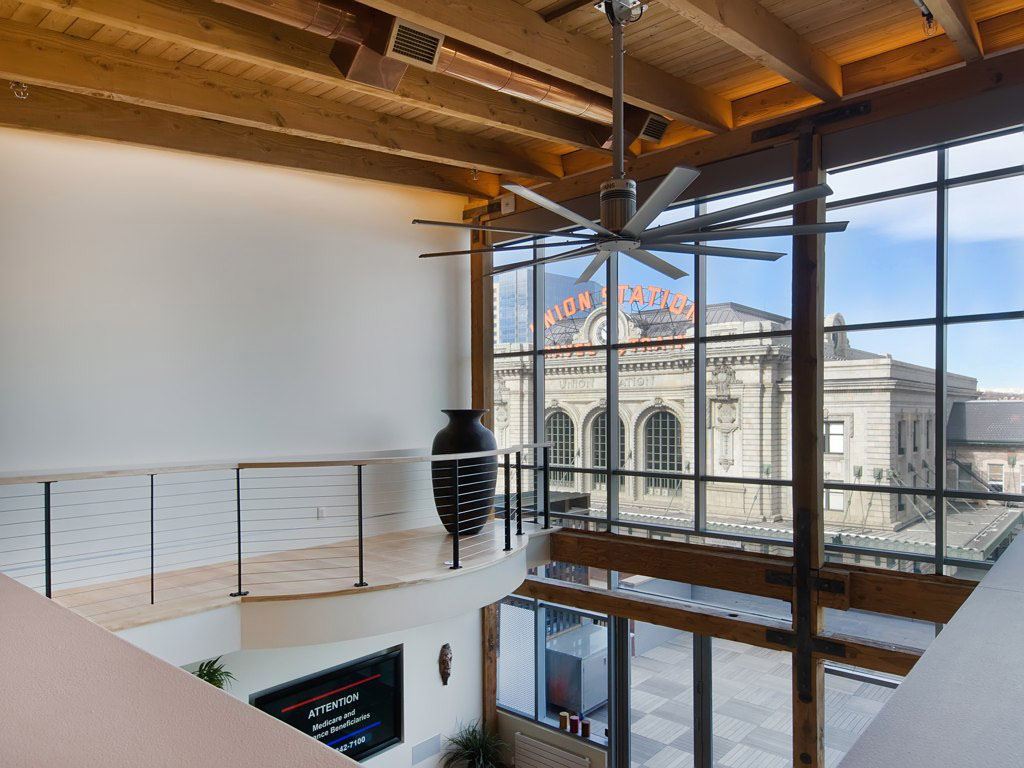 Keuka Studios crafted a railing system for this penthouse loft that overlooks the heart of downtown Denver. With exposed pipes, timber beams, and floor-to-ceiling windows that look out at an urban scene, the apartment naturally has an industrial aesthetic. When the architect renovated the building, constructed in 1882, he wanted to update the space but stay true to its original industrious design and function. In order to achieve this, he opted for a cable railing system with "Raven Black" powder-coated steel posts and a wood top rail for the loft balcony and staircase. The cable railing not only matches the architecture and interior design of the apartment, it also preserves the incredible view.
2. Coastal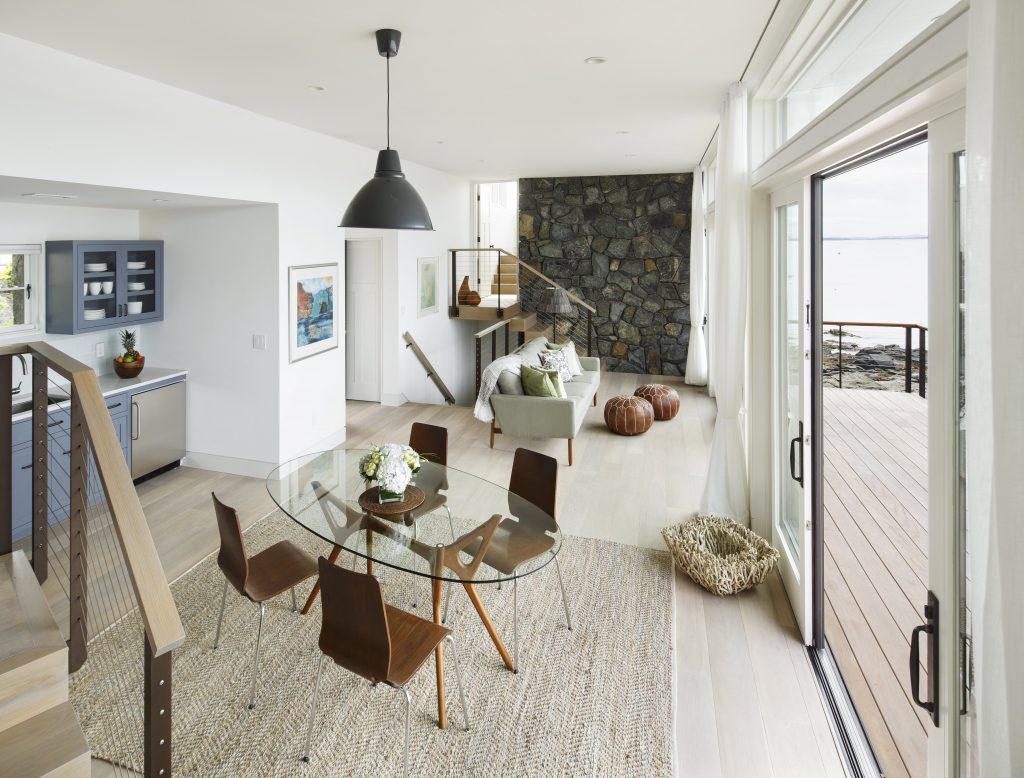 Coastal interior design embraces natural materials, fabrics, and colors. Above all, coastal design maximizes the feeling of relaxation. For example, this beach house on the North Shore of Massachusetts incorporates natural light, stone architecture, wood furniture, and ocean hues. Keuka Studios designed an interior cable railing system to match the natural, open feel of the waterfront home. The Ithaca Style railing features "Oil-Rubbed Bronze" powder-coated solid aluminum posts and a maple top rail.
3. Modern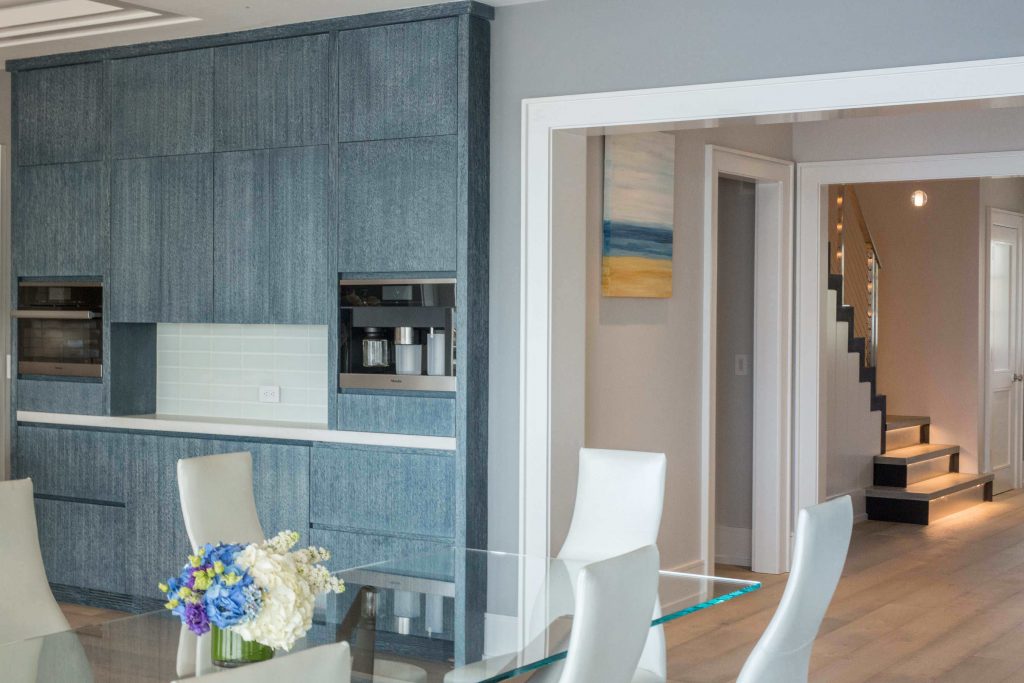 This state-of-the-art residence includes all the essential features of a modern, monochromatic home. As seen in the photo above, the home has a sleek appearance and minimalist feel. All throughout the house, the interior designer incorporated metals, glass, and clean lines. For the foyer, Keuka Studios fabricated a custom zigzag floating staircase with cable railing. The railing features stainless steel posts and a white oak top rail, giving the stairwell a cool, chromatic look. To add another modern touch to the staircase, we integrated an LED lighting system into the stair treads.
4. Modern Farmhouse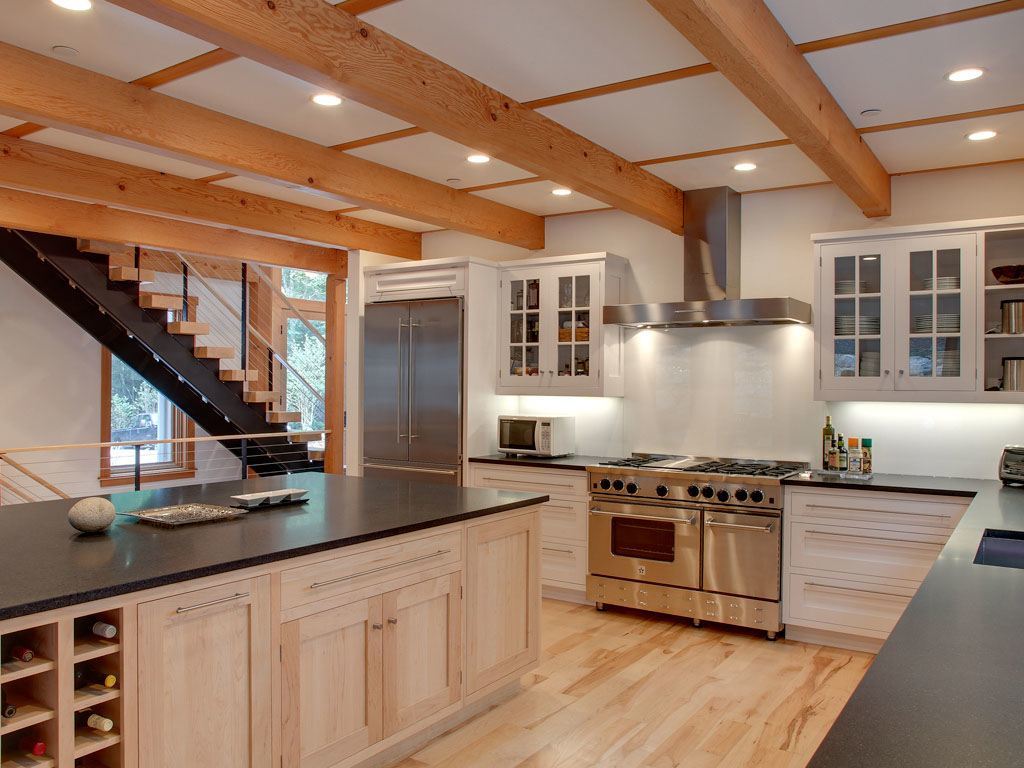 This chic kitchen features exposed Douglas fir beams with wood flooring and island cabinets to match. To complete the room's modern farmhouse look, the homeowner chose simple white walls and cabinets, stainless steel appliances, and black quartz countertops. The kitchen sits adjacent to a floating staircase with cable railing designed and fabricated by Keuka Studios. The homeowners wanted the stairs and railing to perfectly match the kitchen's style and the existing architecture. To achieve this, we designed the cable railing system with "Raven Black" powder-coated steel posts and a maple wood top rail. The staircase features steel stringers and maple treads.
5. Tropical Modern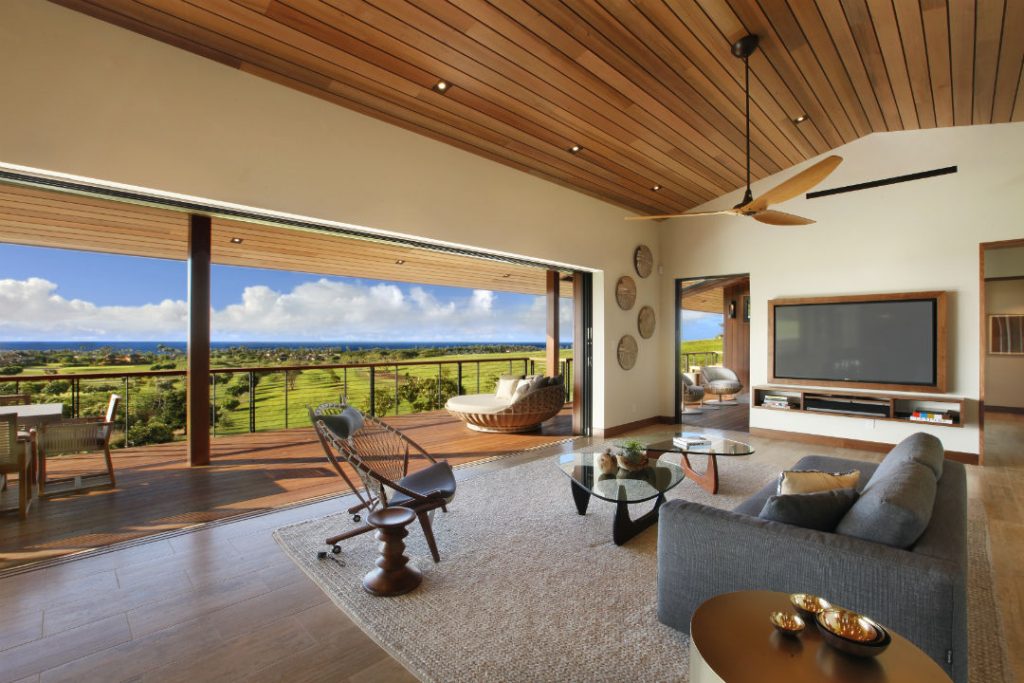 Located on the island of Maui, this luxurious home was designed by the world-renowned architecture firm, Olson Kundig. In order to embrace the home's incredible natural surroundings, the architect designed transitional spaces that blur the lines between the home's interior and outdoor living spaces. The living room pictured above embodies this design and seamlessly transitions into a cable railing deck with a view of the ocean. Our Kauai Style cable railing with black powder-coated posts and a wood top rail melds perfectly with the living room decor that extends out onto the deck. The space features all the hallmarks of tropical modern design including geometric wood furniture, natural fabrics, and rich textures.
6. Contemporary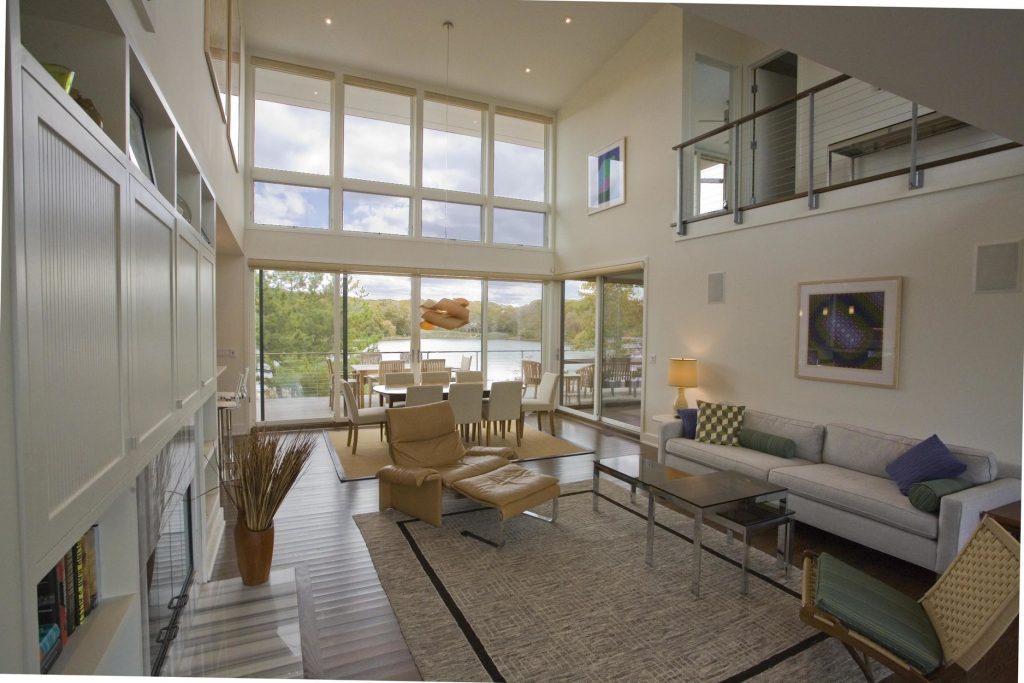 Keuka Studios designed and fabricated a complete cable railing system for this Long Island residence, including a railing for the interior balcony. The second-story balcony overlooks the great room which features high ceilings and large windows that face Great Pond. To match the openness of the space and the streamlined design of cable railing, the homeowners opted for a contemporary interior design scheme. They achieved this look by embracing the natural lighting, choosing neutral colors, and utilizing textured fabrics. Furthermore, the homeowners chose furniture with metal accents that complement the "Sparkle Silver" powder-coated steel posts on the balcony railing.

7. Rustic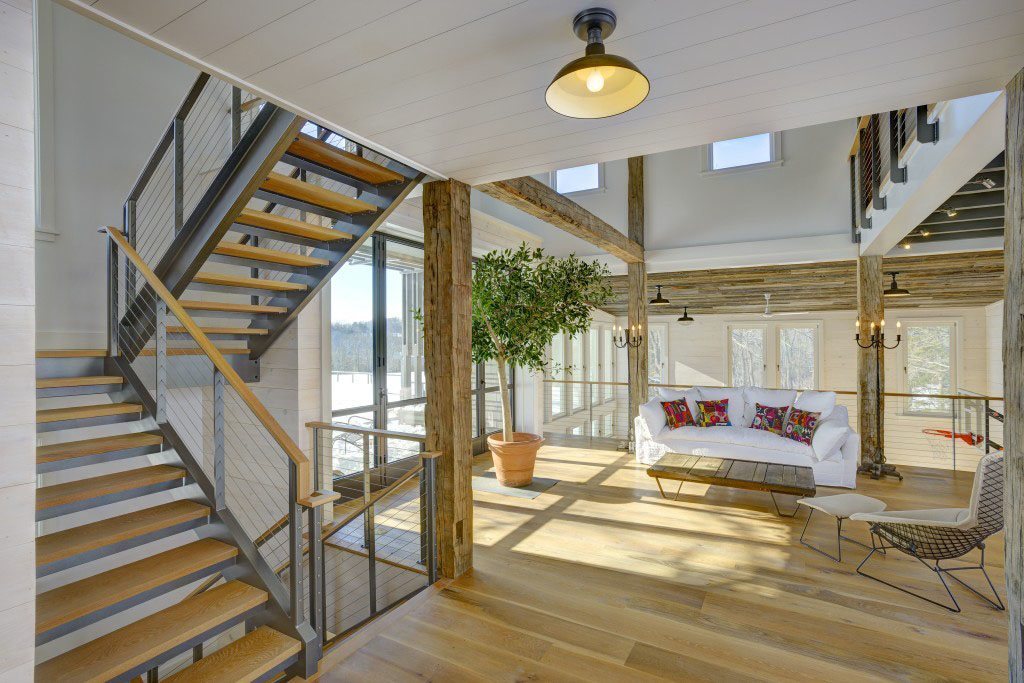 Complete with a half-sized basketball court, this open-concept "party barn" is the ultimate entertainment space. The barn has a luxurious feel and many state-of-the-art features. Nevertheless, the barn maintains a rustic aesthetic. Architect James Dixon achieved this look by incorporating a reclaimed barn board ceiling and exposed timbers. In order to match this worn appearance, we designed a cable railing system with a white oak wood top rail. In addition, we designed and built floating custom staircases with white oak treads.
8. Minimalist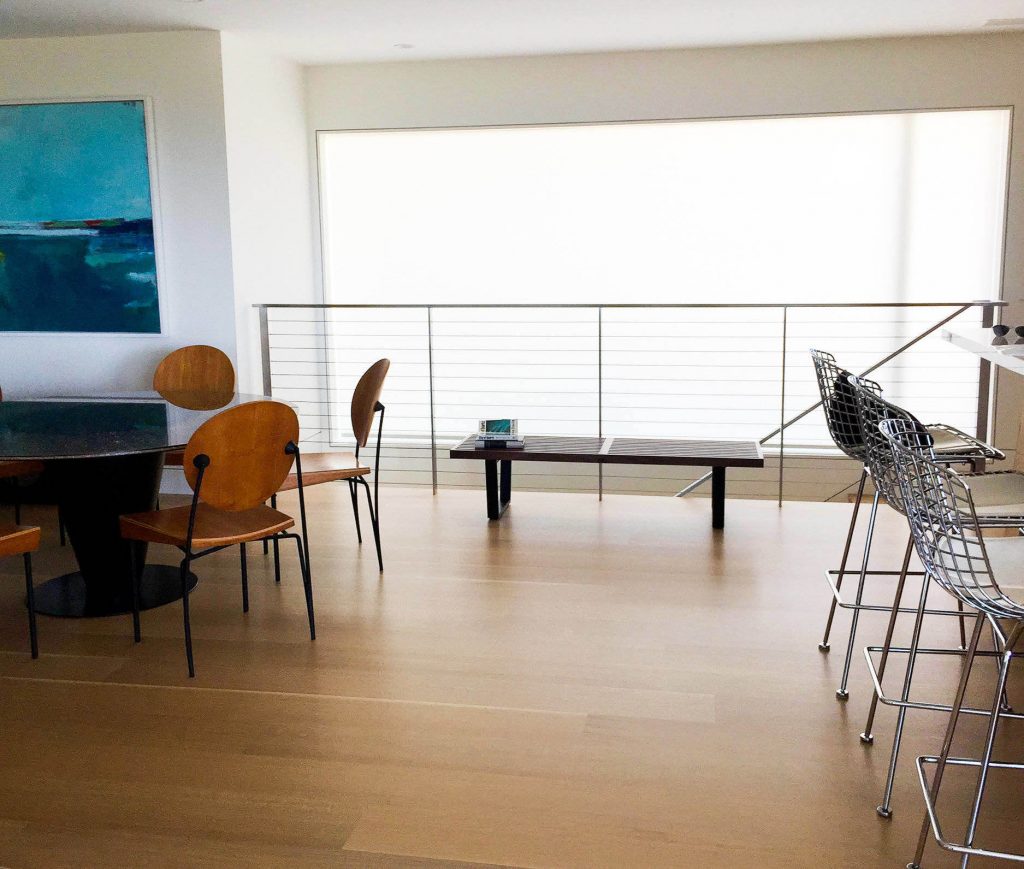 When it comes to minimalist interior design, less is more. The owner of this California home wanted to create a modern, sparsely decorated space that embodies simplicity. In order to achieve this look, they opted for a few statement pieces of art and furniture and left the remaining space open. The kitchen/dining room features white walls and light wood flooring, creating a crisp, airy atmosphere. For the interior staircase, Keuka Studios designed a minimalist Ithaca Style cable railing system with slender end and intermediate posts. The homeowner chose polished stainless steel for the railing to match the sharp, clean look of the room.
9. Traditional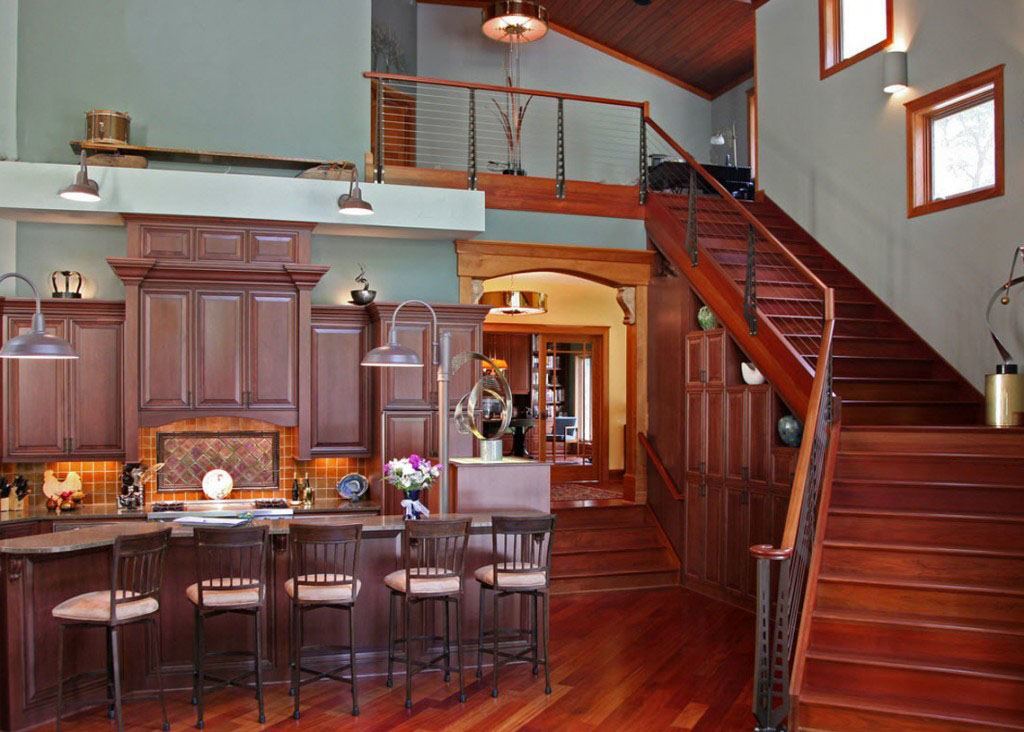 Traditional style has endured the test of time and remains a popular interior design scheme. For example, our clients in Wisconsin created their dream kitchen that embodies sophistication and comfort. The staircase, flooring, and cabinets all have a gorgeous cherry hue that brings warmth to the kitchen and second-story balcony. When the homeowners contacted us about designing a railing for the balcony and stairs, they asked if we could craft a cable railing system with an elegant feel. In order to match the room's traditional decor, we designed a railing with our intricate Chicago Style posts powder-coated bronze, stainless steel cable infill, and a wood top rail. Additionally, for even greater grandeur, we included a custom newel post at the bottom of the railing.
10. Open Concept
Open Concept design refers to a floorplan of a home with a minimal amount of barriers or walls between functional areas of the home. Thus, creating a spacious open great room for families to live and interact with each other. This large open space allows for several activities to take place while keeping families connected in one area. Multiple furniture arrangements and area rugs can make a large room feel cozier and define separate spaces. The open concept design approach is great for people who love to entertain since guests can visit and mingle easily throughout the great room.
Our client desired a floating stair and cable railing for the home's entry that would maintain the open flow and spaciousness. To accomplish this, we designed an open gracefully curved floating mono stringer stair with cable railings that wrap the stair and upper-level balcony. We provided custom machined maple treads made to fit each step.
If you found this inspiring you may also like:
Every Keuka Studios design project is custom-built for your space. To learn more about how each cable railing project moves from vision to reality, take a look at our custom railing design process. We take pride in building craftsman-quality and commercial-grade cable railings for interior and exterior applications.