Rustic Party Barn – Sharon, Connecticut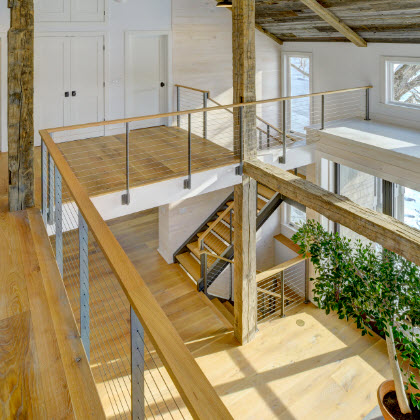 Location: Sharon, CT
Builder: Whetstone Builders – Sharon, CT
Architect: James Dixon Architect – Chatham, NY
Material and Finish: Powder coated "dazzling pewter" steel posts with white oak wood top rail.
Description: Ithaca Style cable railing and custom floating staircase.
Notes:
This certainly was not the first "party barn" that James Dixon Architects has designed, but it may well be the most interesting. We are happy we were selected to provide the cable railings and stairs for this project.
The project was initially conceived as a remodel of an existing barn on the premise. Once the project was underway however it became evident that the structure was to far gone and a complete rebuild would be necessary. Every effort would be taken to preserve as much materials as possible from the old structure. The results we believe are stunning.
Upon entering the space you immediately feel the warm glow of the antique pine floors and barn board ceilings and exposed timbers. This warmth made possible by the ample natural light streaming through the abundant glass and reflecting from the white washed paneling. The lightness of the cable railing does little to intrude on this. A stage for entertaining is to the right of the main great room. The barn contained two sets of stairs, one leading to the upstairs which is ringed by an upper level balcony. Bunk rooms are at the front of the barn while access to an observation deck is at the rear of the structure (which also utilized the Ithaca style railing). The lower level stairs lead to a 1/2 size basket ball court. The stairs would get the industrial look. Welded steel channel stringers seemed the obvious choice with white oak treads about 1.5″ thick. A small steel angle was affixed to the underside of the treads to prevent a 4″ ball from passing through. For all interior railings and stairs "Dazzling Pewter" was selected while "Raven Black" with IPE handrails were selected for the exterior porch and deck railings.
Geoff Haydock from Whetstone Builders was really on top of all the details and was a pleasure to work with. The attention to detail of both Geoff and James really show in the execution of this project. We look forward to working with them more in the future.
Request A Quote
Ithaca Style Cable Railing