5 Cool Catwalk Cable Railings-Interior Design Ideas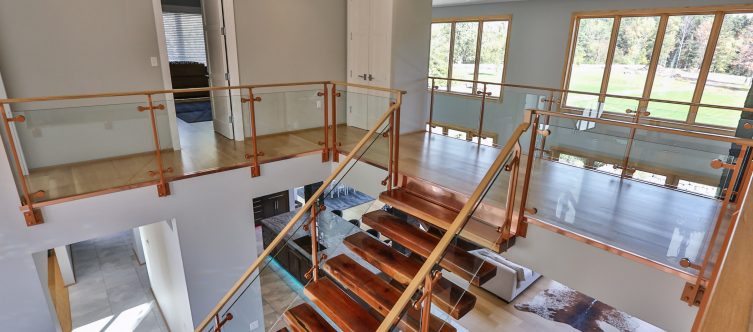 A well-designed open interior can make a small space feel larger or add grandeur to a large space. By adding floor-to-ceiling windows and a catwalk to the design, natural light will easily flow throughout the home. In addition, catwalks create a place to pause and take in the panoramic landscape window views. Whether you are building a new home or renovating an existing one, a catwalk could be just the architectural detail to make your space feel lighter and add a wow factor to your home.

Glass Bridge and Curved Railing Catwalk
To bring the outdoors in, this log home was designed with floor-to-ceiling windows to take advantage of the natural light and picturesque mountain views. This home perfectly combines rustic and modern, by using cable railings and glass block on the narrow bridge connecting the bedroom spaces to the reading loft. Keuka Studios provided the curved cable railing system for the interior and exterior of this home.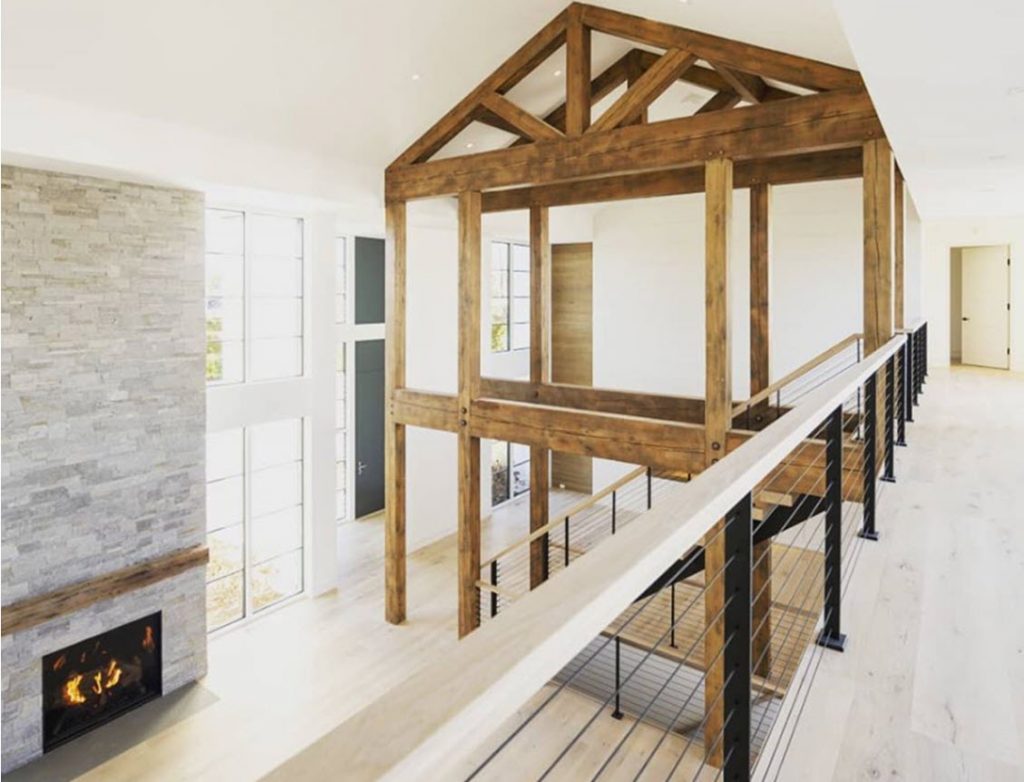 Rustic Timbers and Modern Black Railings
This grand home entry blends rustic timber beams with modern railings resulting in an open space full of light and a minimalist feel. Large walls of windows are located on both sides of the room with an open bridge walkway that was constructed to connect the second-level living spaces. This catwalk and staircase feature our Keuka Studios Ithaca Style cable railing system with black cable and fittings.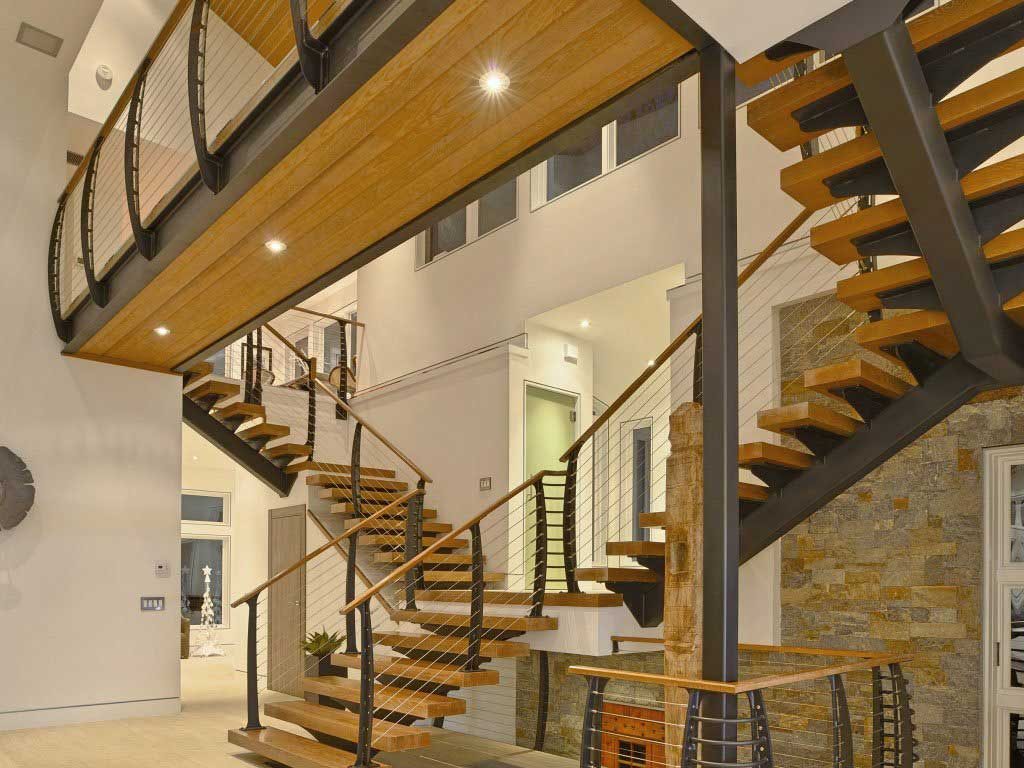 Contemporary Catwalk and Single Stringer Winder Stairs
Stone, Steel, and wood were combined to make this grand entry staircase and catwalk. The curved railing system seamlessly transitions up the winder stairs and across the narrow bridge catwalk. Keuka Studios custom fabricated the single-stringer stairs and railing system for this home. The railing is our curved Keuka Style with stainless steel cables and thick oak treads and top rail.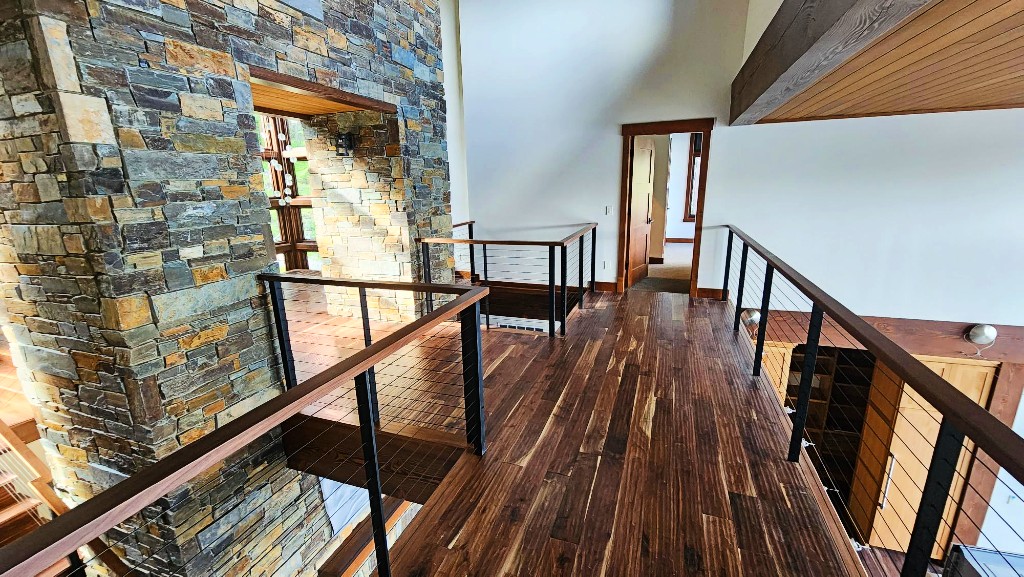 Rustic and Refined Interior Bridge
This open-concept design harmoniously blends the warmth of wood with sturdy stone walls while an abundance of windows infuses the interior space with a seamless connection with nature, Our Ithaca-style cable railing system was chosen for this project. The posts were engineered to be under-mounted preserving the sleek and minimalist appearance.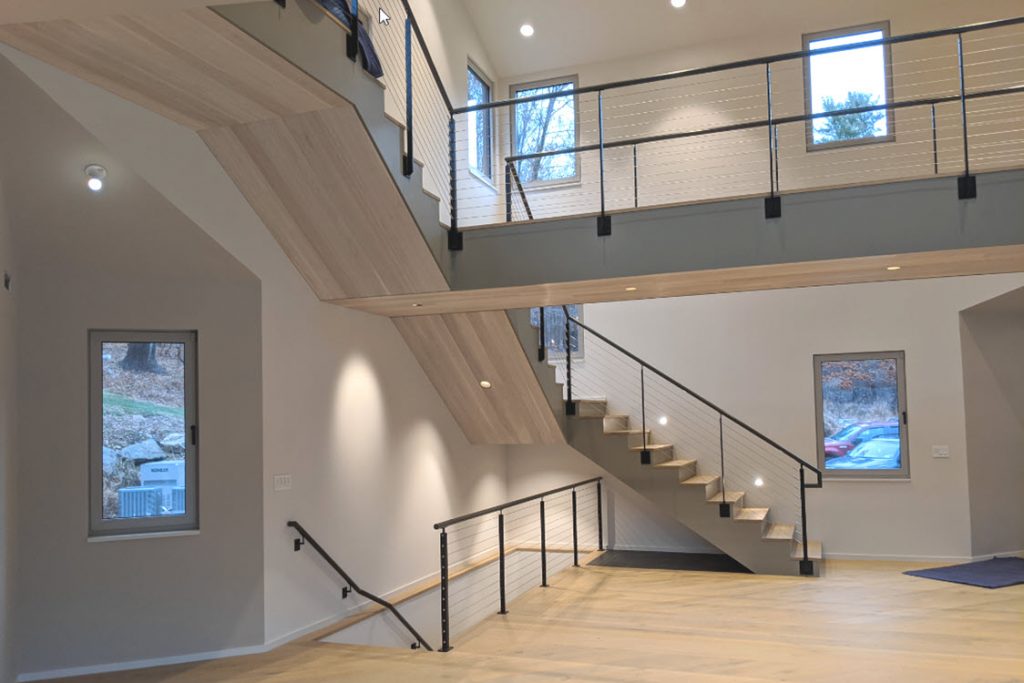 Modern and Minimal Bridge
Keeping to a modern and minimalist style this home is simple, clean and streamlined. This living space was designed to achieve harmony with the use of an open staircase and raised walkway. For this project, our Ithaca Style railing system was chosen for its sleek appearance, thin posts including standoffs for easy adjustment. The top rail is a round tube. The railing posts were made to be fascia mounted on the stairs and catwalk, and surface mounted on the stairwell.
Every Keuka Studios designed project is custom-built for your space. To learn more about how each cable railing project moves from vision to reality, take a look at our custom railing design process. We take pride in building craftsman-quality and commercial-grade cable railings for interior and exterior applications.