Curved Floating Stairs Grand Entry – Andover, MA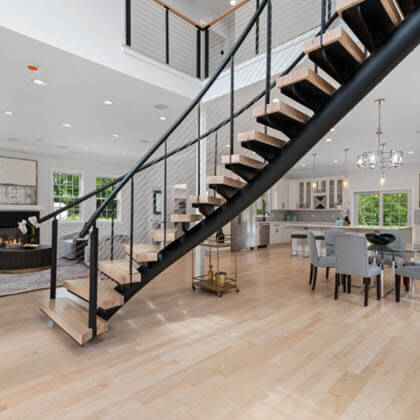 Location: Andover, MA
Builder: James C Erb Construction
Material and Finish: The railings chosen for the interior of this home project are our Ithaca style made with solid steel and utilizing our stainless steel cable railing system. The helical floating stair stringer is made with a 10 inch round steel tube which is gracefully curved towards the entry of the home. We provided custom machined maple treads cut to fit each steel step perfectly. The exterior deck railing is our Chicago Style cable railing system. The entire project is made of steel and powder-coated texture black.
Description: Keuka Studios custom-fabricated this grand entrance floating curved staircase, the cable railing system for both sets of stairs, the loft ladder, and exterior deck railing for this new home project.
Notes:
James C. Erb Construction completely rebuilt this home in Andover, MA from the ground up. Since the home is located in New England, a traditional home styling blended with a modern aesthetic was chosen. To accomplish this style the Erb Construction team set out to source an architectural metal company that could create all the modern interior and exterior stairs and cable railings systems. For this important project, Erb flew his team to visit our manufacturing studio in Rush, NY.
They were impressed with what they saw and were thrilled to find a supplier that could provide a complete package.
The graciously curved floating mono-stringer stairs greet you at the entrance of this home. The stairs are made with a ten-inch round tube stringer with maple stair treads. Maintaining an open spacious living area allows the natural light from the two-story window wall to flow effortlessly throughout the open living space.  In addition to the floating staircase, we fabricated the loft ladder, stairs, and loft cable railing system in our Ithaca style. Take a step out of the back door to enjoy the outdoor dining deck with our Chicago style cable railing wrapping the deck.
Contractor Facebook @JCEconstruction
Photography by Samantha Watson Photography
Request A Quote
Custom Metal Stairs