Modern Cable and Glass Staircase Railing Montauk, NY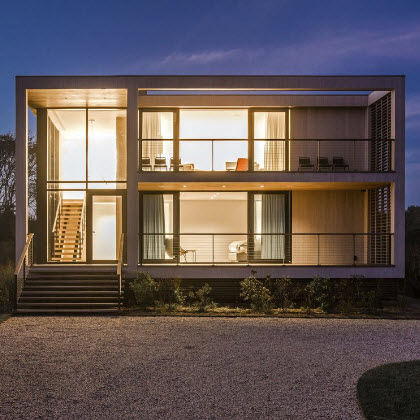 Location: Montauk, NY
Architect: Blaze Makoid Architecture — Bridgehampton, NY
Material and Finish: The interior glass staircase railing features solid aluminum powder-coated posts in our Ithaca Style and the stair treads and top rail are white oak. On the home's exterior, the railing system has black powder-coated solid aluminum posts, stainless steel cable infill, and a wood top rail.

Description: Keuka Studios Ithaca style interior glass staircase railing and exterior deck cable railings. The posts are powder-coated solid aluminum.
Notes:
With floor-to-ceiling glass windows, this modern home in Montauk is an impressive weekend retreat from the big city. Natural light fills the space, creating an easy transition between indoor and outdoor living. Inside and out, the minimalist glass and cable railing function as a barrier without detracting from home's natural views. On the interior, the railing system features our Ithaca Style railing posts in powder-coated solid aluminum. This modern glass staircase has white oak treads and top rail. The exterior railings match the interior post style with an aluminum top rail and stainless steel cables that traverse the deck and exterior stairs.
Request A Quote
Ithaca Style Cable Railing