Vertical and Horizontal Stainless Steel Cable Railings – Old Greenwich, CT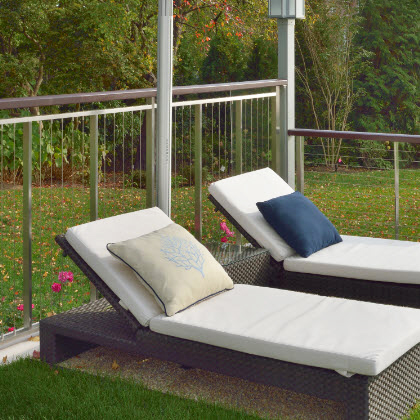 Location: Old Greenwich, CT
Builder: Odell Construction Inc. - Cos Cob, CT
Architect: Louis Fusco Landscape Architects - Pound Ridge, NY
Material and Finish: Stainless steel vertical and horizontal cable railing with stainless steel escutcheon plates.
Description: Ithaca Style pool fence cable railing and vertical cable railing in 316 marine grade stainless steel.
Notes:
This unique project features both vertical and horizontal cable railings. We worked with a team of professionals from Odell Construction Inc. who work fast, stay organized, and value high-quality workmanship.
Our regulation height vertical cable railings enclose the pool area. We designed and built matching self-closing and self-latching stainless steel gates. For the three elevated wood decks, we fabricated railings with horizontal infill. We also used vertical cable railings to top the stone retaining walls that serve as a pool barrier. The railings have mahogany top rails that conceal strips of LED lights to provide ambiance for night time entertaining. We worked with the builder and architect to design a concealed wire routing scheme to keep the hardware neatly out of sight.
For the home's exterior stairs, we provided matching wall-mounted and core-drill stainless steel handrails. We designed escutcheon plates for all of the railing post bases to conceal the base mounting plates and core-drill holes.
This project challenged us to make escutcheon plates for surface-mounted vertical railings for the first time. We devised a two-piece solution so that the escutcheon plates could be installed after the railing sections were set up.
The Keuka Studios team made all of the railing parts with Type 316 stainless steel and CNC machined them for a precise fit. After machining the individual parts, we finished everything with a #6 linear brushed finish. Next, we treated the railing to enhance the corrosion-resistant properties of the stainless steel
Louis Fusco Landscape Architects had a unique vision for this property that incorporated an infinity pool that opens up the view of the Atlantic Ocean. The result is breathtaking and we are proud to have worked with their creative vision.
Request A Quote
Ithaca Style Cable Railing