Infinity-edge pools blur the lines between your pool and the horizon affording spectacular views of the surroundings. While relaxing in the pool, whether located on the ocean or the mountains, your panoramic view is a priority. Why choose a railing that blocks the view? Choose cable or glass railings to maintain that view.
Our cable railings are the perfect choice to wrap the patio or deck around your pool. They provide safety and allow for the best view since the cables seem to trick the eye into thinking they are not there at all. Another option is using glass infill on your railing, and because we offer both we can design a railing that combines these materials in different areas of your deck or patio.

At Keuka Studios we will custom design and build a railing for your infinity-edge pool that will not block your view. We have a variety of materials and finishes for you to choose from, and the result is a tailor-made railing to your specifications. Some of the post materials we offer include aluminum, stainless steel, steel, and galvanized steel, and there are several standard paint colors or custom colors available. Also available are a variety of post styles from straight to curved. By customizing your pool railing to your style the result is a railing you'll love!
Railing inspiration for your infinity-edge pool decks
Open living room with pool view
1)Panoramic oceanfront views and cable railing adjacent to an infinity-edge pool allow for the gentle ocean breezes to flow through the living area of the home. This railing is solid aluminum with a "texture white" powder coat finish and 316 stainless steel cables.
Island Villa Infinity Pool
2) The vanishing edge of this infinity pool on a villa in the Bahamas is complemented by our Ithaca-style slim railing post. The cable railings are solid aluminum posts with silver powder-coated aluminum top rail.
Outdoor lounging patio with infinity edge pool
3) With captivating views of the ocean and a step away from the pool is the outdoor dining and lounging areas. This patio is a perfect location to relax or entertain friends and family. For this project, we made the posts and top rail from solid aircraft aluminum and then powder-coated them white. The posts are fascia mounted on the front of the patio deck accentuating the clean simple lines.

Tropical style pool
4) In the tropical island of Kauai, this client built an infinity-edge pool on their lower-level lanai. Homes in warm island climates are designed to promote an outdoor lifestyle. The pool edge appears to blend into the horizon and ocean beyond. The railing posts are aluminum, powder coated, and fascia mounted to maintain a minimalist appearance.

Terrace with infinity-edge pool
5) From the interior of this home, the azure ocean waters appear to blend with the infinity-edge pool. Keuka Studios custom-made the patio horizontal cable railings, vertical pool fence cable railings, and matching pool gates. The railing is polished 316 Stainless with escutcheon plates on the bottom of the posts to seamlessly cover the hardware used on the railing for a sleek overall look.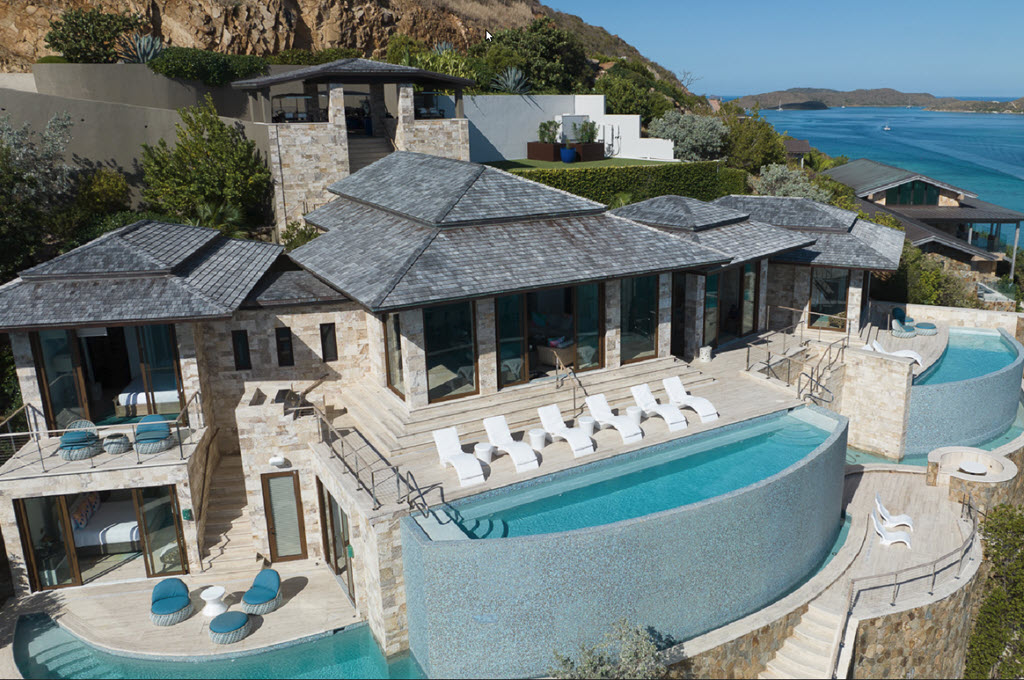 Villa Infinity Edge Pool Patio Railings
6) Oil Nut Bay is a luxurious private community located in Virgin Gorda. This gorgeous island villa boasts 3 infinity edge pools, multiple outdoor entertaining areas, stunning views of the azure ocean waters, and pristine white sand beaches. This client chose our Ithaca-style cable railing system for its slim posts made of mirror-polished 316ss posts and IPE top rails.
When you have an amazing view and a vanishing-edge pool choose a railing that is all about the view!
If you found this helpful you may also like these links
Every Keuka Studios design project is custom-built for your space. To learn more about how each cable railing project moves from vision to reality, take a look at our custom railing design process. We take pride in building craftsman-quality and commercial-grade railings for interior and exterior applications.