Curved Wire Rope Railings – Lake Tahoe, NV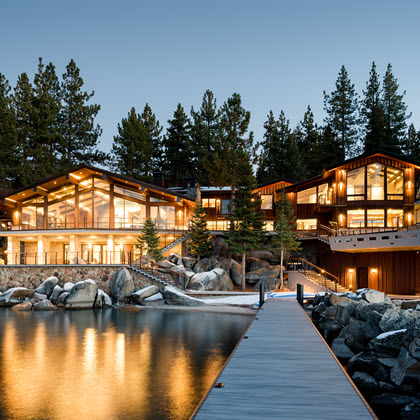 Location: Lake Tahoe, NV
Builder: Plenium Builders
Material and Finish: Our Keuka Style curved wire rope railing system was made of steel for this project and powder coated a custom color to complement the home. The wire cables and fittings are 316ss and the top rail is wood.
Description: Keuka Studios designed and fabricated all of the exterior railings for this project. The curved railing system chosen for this project is our curved Keuka Style cable railing system. We custom crafted the railings for the exterior patios, decks, stairs, and pool surround.
Notes:
Known as Villa Harrah located on the South end of Lake Tahoe, this beautiful sprawling estate was originally built in the 1960s by William Harrah the founder of Harrahs Casinos. The home boasts an amazing history and legend has it that it frequently hosted the "Rat Pack" and other celebrities such as Marilyn Monroe and Judy Garland.  Celebrity guests would attend parties and take time to relax at the secluded cove. This 22,000 square foot home went under a complete renovation to bring it up to date with modern amenities while paying homage to the original aesthetic. The great room has a panoramic view of Lake Tahoe and the Sierra mountains. The renovations include several amenities creating a private resort to rival some of the world's best hotels. The residence includes a bar, lounge, fireplace, salt cave, indoor spa and sauna, theater room, wine cellar, plunge pool, and private beach. There are several outdoor spaces for dining, or lounging by the pool.
The designers at Solanna Design were inspired by the natural location and beautiful surroundings as well as the legendary history of the home. The interior combines a relaxed atmosphere with some of the glamor and glitz of the by-gone era while having modern contemporary updates.
Curved Wire Rope Railings
For the exterior of this project, all of the exterior decks, balconies, patio, and pool railings were updated. To maintain the panoramic views the clients chose our Keuka Style cable railing system. This style of wire rope railing has curved posts that have a nautical aesthetic. The cable infill has a way of tricking the eye and appearing to disappear from view. The railings traverse across the estate up the stairs and around the pool. We custom crafted the railing posts to be fascia mounted or surface mounted in various areas. Also, the height of the posts was modified to accommodate the concrete wall to bring the height up to requirements.
Builder: Plenium Builders
Photographer: William Rittenhouse
Request A Quote
Keuka Style Cable Railing