Solid Aluminum Railing for Turks and Caicos Villa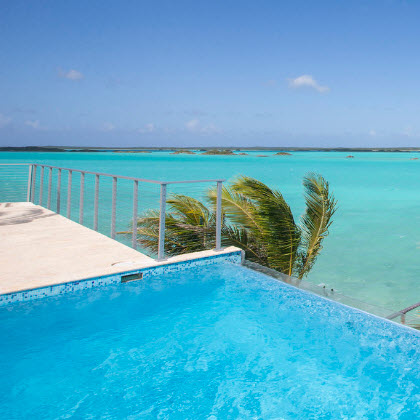 Location: Providenciales, Turks and Caicos
Material and Finish: Solid aluminum railing posts with a silver powder-coated aluminum top rail.
Description: Aluminum Ithaca Style cable railing system for oceanfront patio with an infinity pool.
Notes:
After the devastation of Hurricane Irma, the owners of this vacation villa decided to remodel the waterfront rental home. The villa features an expansive patio with numerous lounge areas, a full outdoor kitchen, and access to a private dock. The patio also encompasses an infinity pool that appears to drop off right into the Atlantic Ocean. You can learn more about this lavish, private vacation rental and book your stay on the Villa Capri website.
Durable, Solid Aluminum Railing:
To enclose the large patio, the villa's owners chose cable railing by Keuka Studios. Cable railing preserves the incredible island views and is more durable than glass under extreme weather conditions. In order to maximize the strength of the railing, we crafted the posts with solid aluminum. The fortitude of solid aluminum allowed us to design a railing that's extremely sturdy yet has slender posts. Furthermore, the tension created by the 316 stainless steel cable infills gives the railing support. When looking at the ocean through the railing, the thin cables seem to disappear into the waves and are barely visible. We also crafted an aluminum top rail for the railing system. The top rail, like the Ithaca Style railing posts, has a slim design that minimizes obstruction of the view from the patio.

For the railing finish, the villa owners selected a "Sparkle Silver" powder coat. The finish protects the railing from normal wear and tear and the expediated corrosion that occurs in salty environments. Moreover, the silver powder coat gives the railing a sleek, lustrous appearance. Overall, the villa has a luxurious feel and a modern look. The solid aluminum railing system adds to this aesthetic and matches the metal accents spread around the outdoor lounge areas.

Interested in a solid aluminum railing system? You can learn more about our cable railing styles here, or contact us for more information.
Request A Quote
Ithaca Style Cable Railing