Modern Log Cabin Cable Railing – Huson, MT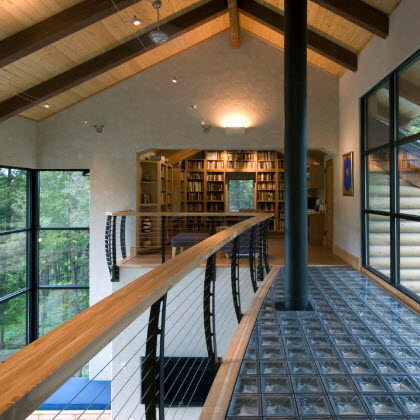 Location: Huson, MT
Builder: Hoyt Homes – Missoula, MT
Material and Finish: "Raven Black" powder-coated steel posts and a wood top rail.
Description: Keuka Style cable railing.
Notes:
With panoramic views of the surrounding mountains and forest, this Montana home is the perfect place for repose and relaxation. Built by Hoyt Homes, the unique residence perfectly blends rustic and contemporary design. Keuka Studios provided cable railing systems for both the interior and exterior of the home.
A One-of-a-Kind Modern Log Cabin:
This home brings numerous modern twists to the traditional log cabin. Most noticeably, the "logs" themselves are actually concrete. And, like many modern homes, the house features wide floor-to-ceiling windows and doors that help bring the outside in. Other contemporary touches include a glass catwalk, open-riser stairs, and an open-concept interior layout.
At the same time, the house has the warm, natural feel of a classic cabin. The lofted ceilings, large stone fireplace, exposed beams, and wood accents throughout the home create a raw and rustic aesthetic.
Exterior Railings:
For their home exterior, the owners wanted railings that would complement the structure's unique fusion of rustic and modern design. Also, they needed railings that wouldn't obstruct the home's natural views. Cable railing proved the perfect option to meet their needs. Our curved Keuka Style railing posts pair nicely with the rounded concrete logs. Furthermore, the stainless steel cable infills create near transparency when looking out at the landscape through the railings.
Our team designed and crafted railings for multiple levels of traditional decks and also a rooftop deck. The rooftop deck sits above the garage and is the perfect outdoor living space. The homeowners use it as a lounge area and also have built-in planters for rooftop gardening.
All of the exterior railings feature "Raven Black" powder-coated steel posts and a wood top rail. Two of the decks have fascia-mounted posts while the others have surface-mounted posts.
Interior Railings:
The home also features cable railings throughout its interior. Keuka Studios fabricated railings to enclose the glass catwalk, multiple balconies, and two sets of floating stairs. Like the exterior railings, the indoor guards have black powder-coated steel posts in our Keuka Style. The interior railings have a light wood top rail with a wide surface. For the stair railings, we crafted custom handrail terminations. At the bottom of the stairs, the top rails curve toward the ground and have a rounded edge.
Similar to the exterior railings, the interior railings have varied mounting styles. While the balcony and catwalk railing posts attach to the fascia, the stair railing posts are surface mounted. All the interior railings have thin stainless steel cable infills. This infill design allows sunlight to pass through the railing and light up the entire main room.
Request A Quote
Keuka Style Cable Railing