Beautiful Before and After Deck Railing Makeovers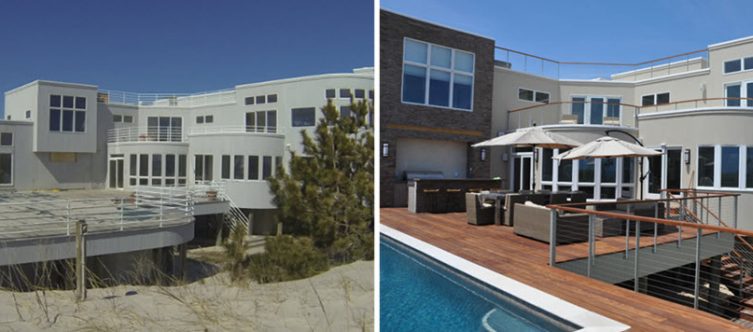 How to decide what type of deck railing is best for you.
Your deck is a great place for various activities including a place to entertain, dine, work or enjoy family time. After a while, your deck will need a refresh. One key component to planning a deck refresh is deciding what type of deck railing to choose. There are a variety of railing styles, materials, and colors to choose from for your dream deck.
One approach to choosing the style of the railing is to complement the architecture of the home's exterior. Some railing designs are more modern, while others may be more traditional. A recent trend is to bridge different styles together which is considered transitional architecture.
Materials for deck railing posts include steel, aluminum, stainless steel and, wood or composite. Some railing infills that are available include cable, glass, or metal spindle. Environment, Cost, and Maintenance are a few considerations to think about when determining the material. Some materials are better for oceanfront or harsh environments like 316 stainless steel or galvanized steel.
Another consideration is the environment, for example, what is the prevailing wind direction. Are you interested in blocking the wind or feeling the natural breezes? A glass railing will block the wind while a cable railing will keep the gentle breezes flowing. When considering cost stainless steel will cost significantly more than steel.
Also, there are hundreds of powder coat colors choices so choosing the best color for your railing may be fun or difficult. Some homeowners prefer to have the railing color complement their home, while others want the posts to disappear into the landscape.
Lastly, you'll want to think about how much maintenance the type of railing you install will require. For instance, a wood railing will need frequent painting or staining, and a glass railing will need to be cleaned to remove fingerprints or water spots, etc.
Below are some Before and After railing images that we hope you will find helpful in choosing your deck railings.
Wedding Venue Redo
Painted wood railing replaced with curved steel cable railing system
Oceanfront Renovation – Cable Railings
White painted tubular railing replaced with anodized aluminum cable railings
Log Cabin – Deck Railing Update
Wood railing replaced with green cable railing
Hudson River Expansion – Glavanized Stairs, and Deck Railings
Deck railings replaced with galvanized steel railings and stairs
Villa Harrah – Deck Railing Modernized
Black metal railings replaced with curved cable railing system
Before: Villa Harrah in Lake Tahoe, NV was built in 1963 by William Harrah founder of Harrah's Hotel and Casinos. Legend has it that he hosted showbiz icons including Judy Garland and the "Rat Pack" at this mega-mansion. The current homeowner decided the residence required a dramatic overhaul to bring it up-to-date. The exterior had several decks wrapping the home and stairs including a pool deck that required a refresh and new railings.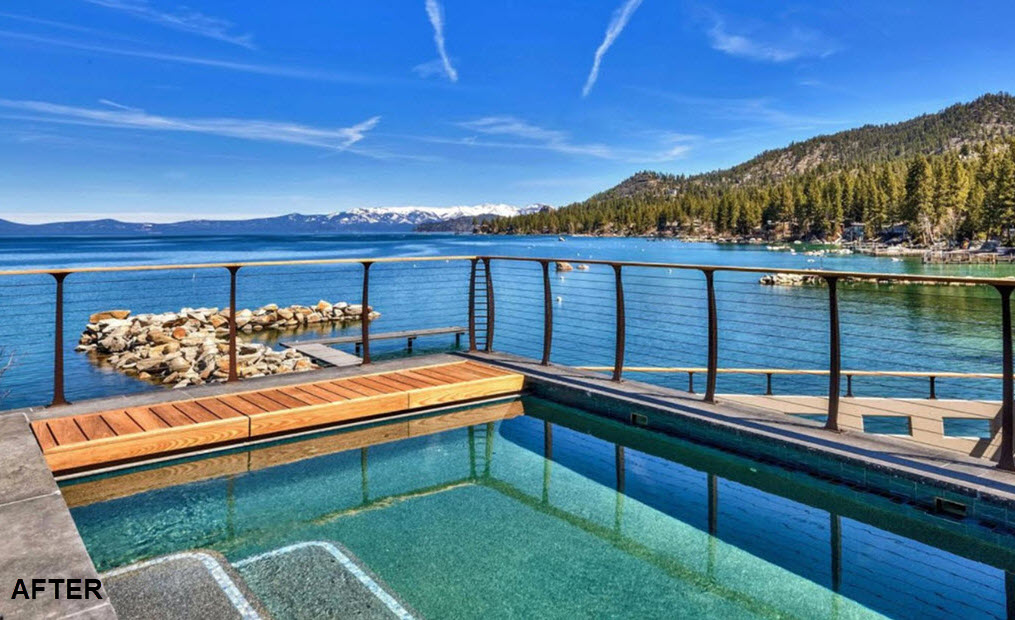 After: Known for its majestic beauty, the owner's objective was to create open views of the lake and surrounding mountainscapes. For this luxury home, they chose our curved Keuka Style railing system for the exterior. The curved railing posts have a nautical aesthetic that perfectly blends with the environment. The railings are custom-crafted to be fascia and surface mounted, including at different heights to accommodate the partial concrete wall.
At Keuka Studios, we custom fabricate residential and commercial stairs and railings to fit your style, space, and requirements. To learn more about how each cable railing project moves from vision to reality. Take a look at our custom railing design process. We take pride in building craftsman-quality and commercial-grade stairs and railings for interior and exterior applications. Contact us to get started on your project.