Observation Deck Railing – Washburn, North Dakota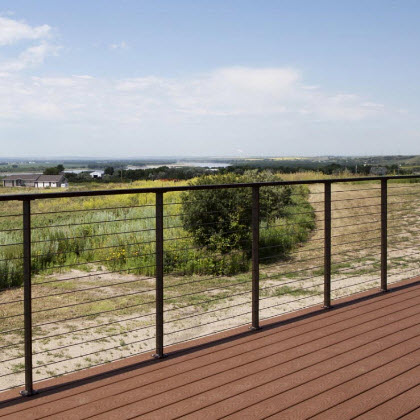 Location: Washburn, ND
Builder: Missouri River Contracting Inc. – Bismark, ND
Architect: UBL Design Group – Bismark, ND
Material and Finish: "Oil-Rubbed Bronze" powder-coated steel posts with aluminum top rail.
Description: Ithaca Style cable railing and ADA-compliant graspable handrails.
Notes:
The new National Lewis and Clark Interpretive Center was designed by UBL Design Group. For the rear observation deck, the architects wanted to showcase the expansive views of the Missouri River. To achieve an unobstructed line of sight from the deck, they chose our Ithaca Style cable railing with an "Oil-Rubbed Bronze" powder coat and a matching aluminum top rail. The observation deck provides ample space for events, allowing visitors to enjoy the wide-open views.
This is a beautifully built facility that incorporates stone, metal, and wood architecture. The composite decking and cable railing create a rustic and low-maintenance observation deck. The Type 316 stainless steel railing cables are 3/16″ in diameter with a 1×19 construction. We used Adjust-a-Body turnbuckles to keep everything tight. Custom graspable handrails were designed to be ADA-compliant. They attach to the stone wall and staircase.
As part of our process, we create renderings for the architects, builders, and stakeholders to review and approve before we begin to fabricate the product. In doing this we can work out the details to accommodate any special requests. It also helps to ensure everyone is on the same page.
Request A Quote
Ithaca Style Cable Railing