7 Mountain View Cable Railing Decks
A home tucked away in the mountains that overlook vast forests and valleys is any nature lover's dream. With an organic mountain vista all around you, the architecture of your home shouldn't stand in the way of the view. Rather, it should enhance it. By installing cable railing on your deck or patio, your mountain home can have both a modern design and a natural, unobstructed view.
Keuka Studios has created cable railing systems for homes in mountain ranges across the U.S. To name a few, we've designed railings for clients in the Adirondack Mountains of New York, the Rocky Mountains of Montana, and the Berkshire Mountains of Massachusetts. Also, we've designed railings for clients in Canada. For example, we crafted a custom railing for a client in the Selkirk Mountains of British Columbia. All of our railing systems arrive at their destination ready for assembly.
If you need design ideas for your future railing system, take a look at these cable railings we've crafted to help maximize aerial views.
Mountain View Cable Railing Inspiration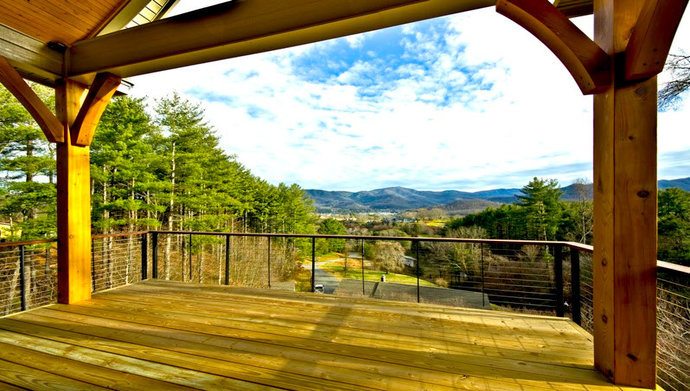 1. The Great Smoky Mountains, North Carolina
Located near Biltmore Lake, this mountain home with a large timber frame incorporates Keuka Studios Ithaca Style railing. The railing has "Raven Black" powder-coated steel posts and a Brazilian walnut top rail.
2. San Francisco, California
For our client in San Francisco, we designed a cable railing that preserves this amazing overlook. When they dine on the deck, the homeowners have a panoramic vista of the whole city. The railing features a wood top rail and steel posts powder-coated in "Raven Black."
3. Bear Mountain, California
Keuka Studios designed cable railing for a California home that looks out on Big Bear Lake. This home near the popular Bear Mountain ski resort features a concrete curved deck with our Keuka Style cable railing. The photo below is a close up of the railing's "Silver Vein" powder-coated steel posts and matching aluminum top rail.
4. Soquel, California

Our Ithaca Style cable railing preserves the view from this slate deck overlooking a California hillside. The railing features "Dazzling Pewter" powder-coated steel posts that match perfectly with the slate. In order to create contrast, the homeowner chose Brazilian Walnut (IPE) for the wood top rail.
5. Central Vermont
Located near one of central Vermont's majestic ski mountains this modern craftsman chalet has our Kauai Style cable railings on the interior and exterior.  The vision for this deck was to have a place to entertain and enjoy a drink and the view after a fun day of skiing. So we integrated an aluminum shelf into the deck railing.
6. Carson Range, Nevada
Located in Clear Creek near the eastern slope of the Carson Range this home is surrounded by millions of acres of forest. The dramatic mountainside setting creates a perfect mountain retreat. Since the objective of the project was to maintain the view, our curved Keuka Style cable railing was chosen to complement the architecture, steel channel structure, and curved rooflines of the home.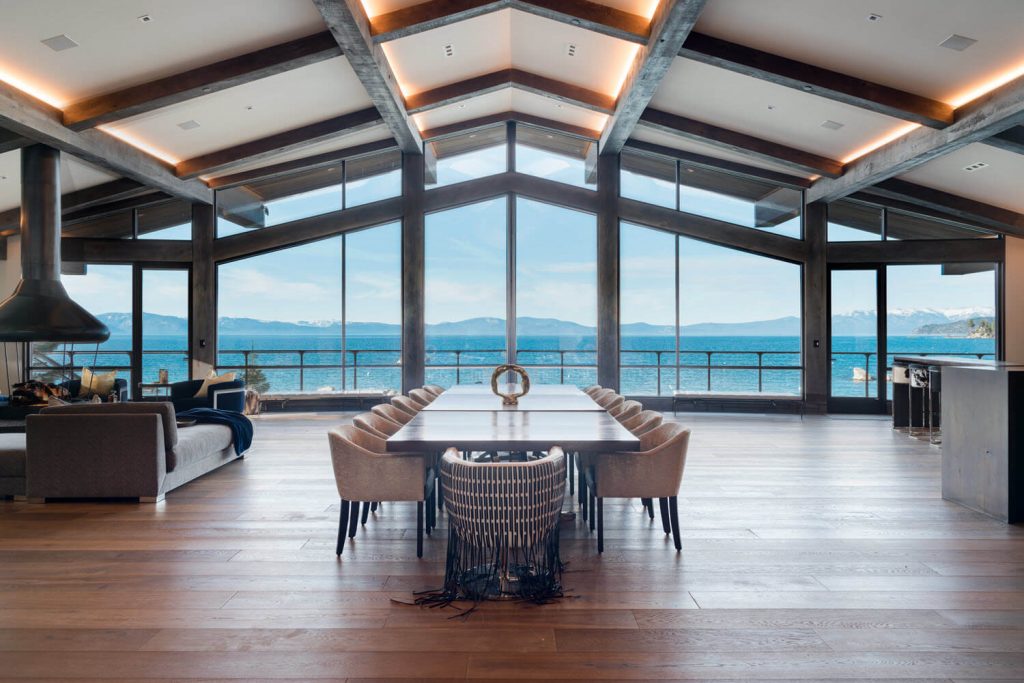 7. Sierra Nevadas
For our client's home in South Lake Tahoe, we crafted a cable railing system that allows for magnificent views of the Sierra Nevadas. Whether relaxing by the fire or dining with friends and family the cable railing system allows for clear lake and mountain views. Solanna Design envisioned our curved Keuka Style cable railing system wrapping the exterior decks, stairs, and pool that perfectly complemented the architecture of the home.
At Keuka Studios, we custom fabricate residential and commercial stairs and railings to fit your style, space, and requirements. To learn more about how each cable railing project moves from vision to reality. Take a look at our custom railing design process. We take pride in building craftsman-quality and commercial-grade stairs and railings for interior and exterior applications. Contact us to get started on your project.