8 Creative Curved Deck Ideas with Cable Railings
Adding curves to your deck and outdoor landscape softens the hard edges of the architecture and creates a zen-like oasis for you to relax and take in the surroundings. Whether your dream deck includes outdoor dining, hot tubs, pools or simply lounging, curved decks combined with cable railings create beautiful spaces for any gathering. Our railing designers have the creativity, talent, and attention to detail to create railing systems that seamlessly transition along curved decks, stairs, and bridges resulting in beautiful entertaining spaces.
Considering cable railings for your curved decks and need some inspiration? Take a look at our clients completed curved deck projects.
1. Curved Raised Deck
What could be better than sitting on your deck and enjoying the view or just soaking up the sun? Our client desired a curved deck with a cable railing to allow for the best-unobstructed views of the patio and distance lake vista. A deck doesn't have to be large to be able to enjoy the outdoors with family and friends. The decking is IPE with our curved Keuka Style railing and stainless steel cables.
2. Contemporary Deck Renovation
This home was renovated to include a large outdoor deck area for dining and relaxing. The upper-level master bedroom deck railing harmoniously curves along with the architecture of the home, creating lounging areas to enjoy the expansive ocean views beyond. The railing style is our Ithaca with its slender posts made of anodized aluminum. We custom fabricated the shorter posts to surface mount on the upper-level wall to meet required railing heights.
3. Curved Deck Timber Style
Exposed timber columns support this partially covered outdoor curved deck creating a rustic, woodsy and peaceful place to relax. The rain chain adds to the ambiance while sitting undercover and listening to the summer rain. Our Keuka Style cable railing was chosen for this deck for its curved styling. The railing is powder-coated steel and fascia mounted to the deck. This combination of wood and steel complements the natural forest surroundings and the cables allow for the best-uninhibited views.
4. Curved Bridge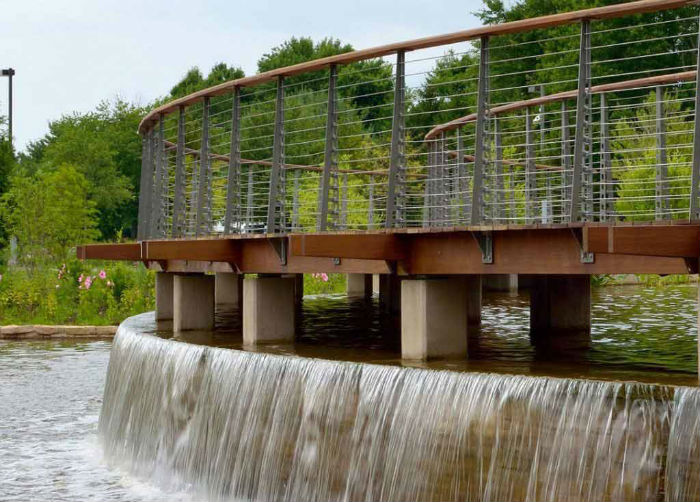 This industrial-style bridge was designed to create a curved walking space to relax and unwind while listening to the sounds of the waterfall. The railing posts are fascia or front-mounted to the structure below the decking, thus creating a streamlined appearance. Our Chicago style railing was chosen for this bridge project since it marries well with the exposed deck structure and concrete supports.
5. Curved Treehouse Raised Deck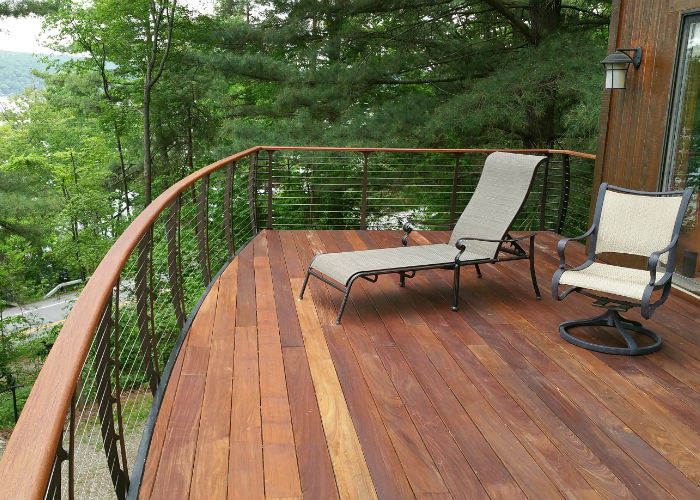 It is absolutely breathtaking to sit on this deck that overlooks a beautiful lake and yet, it is raised to a level that makes you feel like you're in a treehouse. The subtle curve of the deck with the curved cable railing post system blends well with the natural curves found in nature. The Keuka Style railing was chosen for this project with IPE wood top rail and stainless steel cable system.
6. Curved Pool Deck Railing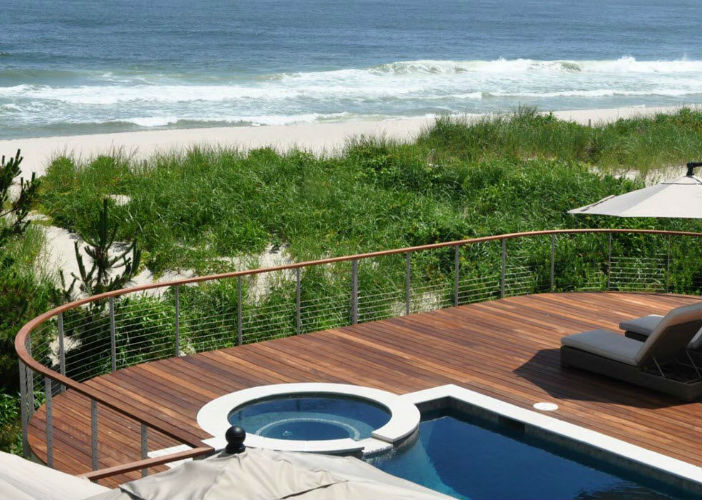 Adjoining a contemporary beach home this oceanside curved pool deck is in sync with the home's architecture. The raised deck allows you to enjoy the view of the ocean surf while swimming, relaxing in the hot tub, or sipping a drink on the chaise lounge. For this project, the homeowners chose our Ithaca style cable railing post for its sleek slender lines that allow for maximum views of the ocean.
7. Curved Commercial Cable Railings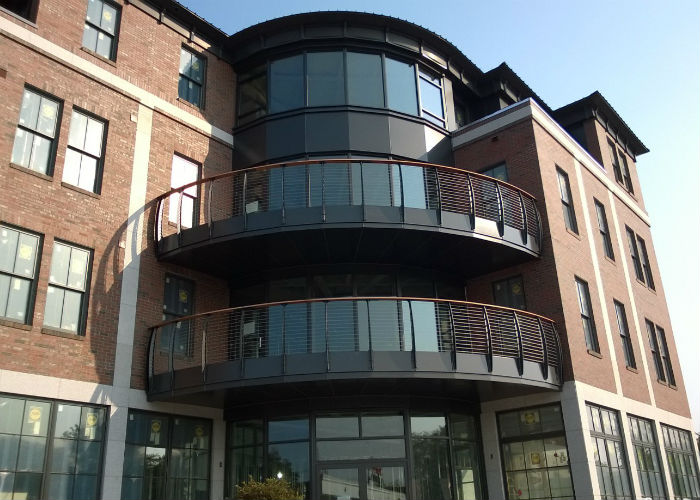 Located in the historic seaport of Portsmouth, NH we fabricated our Keuka style cable railing for this multi-level luxury condominium with curved balconies. The railing was designed to meet commercial railing requirements at a 42-inch height. By Fascia mounting to the curved decks and rooftop pool deck, it allows for more useful deck space. To maximize the views while relaxing on the condominium deck or around the pool our clients chose cable railings.
8. Curved Railing with Stone Pillars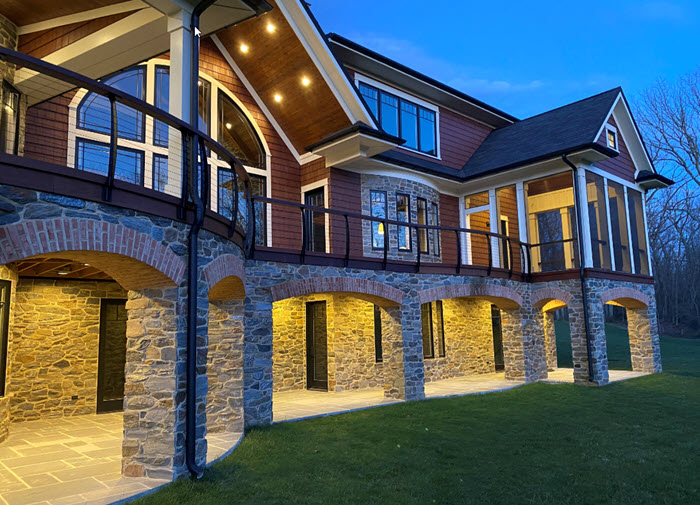 For anyone concerned about whether cable railings can complement traditional architecture, this photo shows how beautifully the styles work together. Combining curved stone archways, curved windows, and curved decks with our curved Keuka cable railing system is absolutely stunning. It is important to select the best cable railing post design to blend with your home's architecture. Keuka Studios has many designs to choose from. Taking cues from this home's design elements, the curvilinear design on the "Keuka Style" cable railing fits perfectly on this expansive deck.