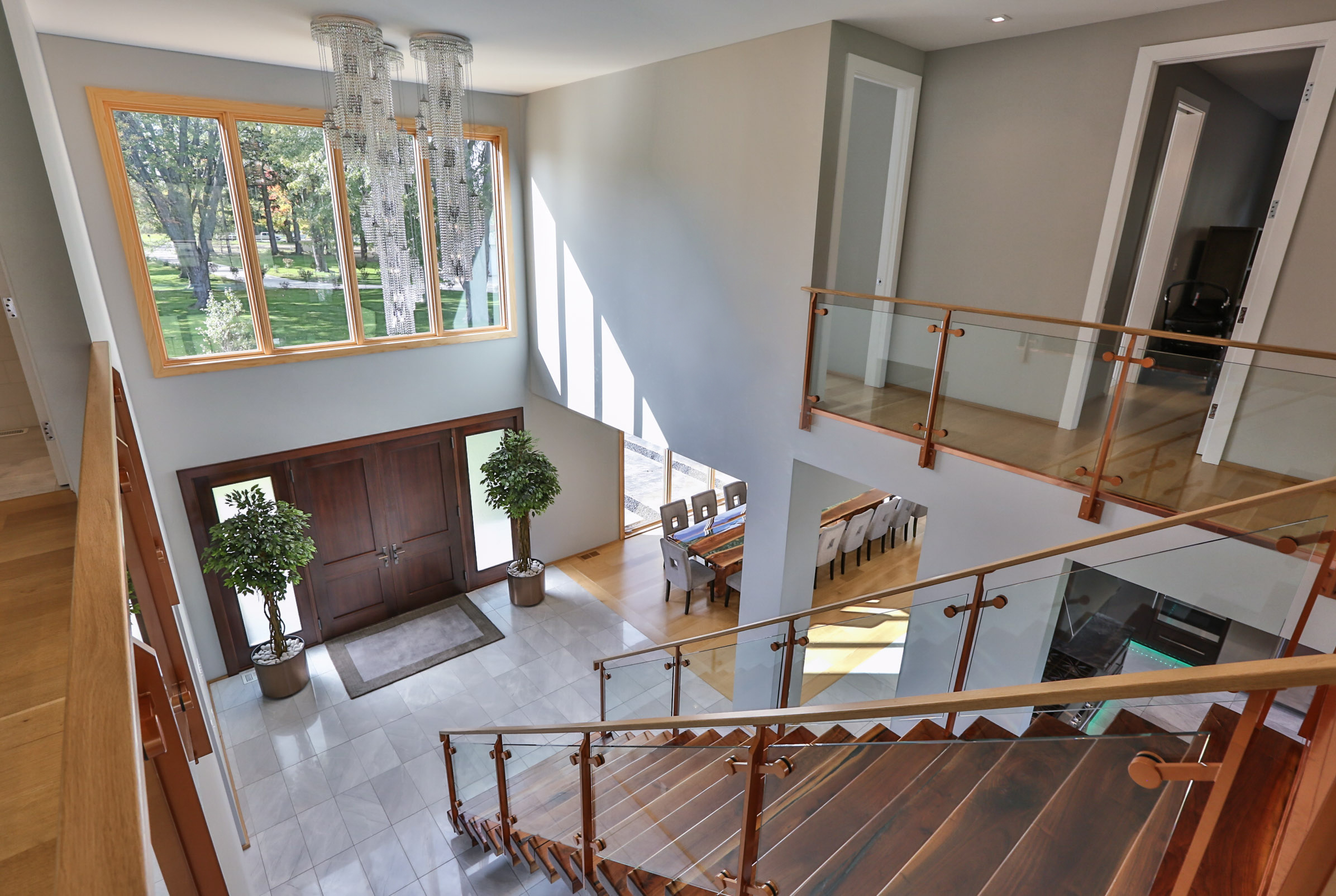 Rochester Custom Stair, Glass Railing, and Cable Railing Projects
Keuka Studios produces custom architectural metalwork for clients in the United States, Canada, and the Caribbean. While we serve customers all across the country, we also enjoy working with our local clientele. It is always a pleasure to meet homeowners, architects, and builders to help make their projects become a reality. Any local clients can stop by our office to discuss their project or to browse our showroom. We're located at 1011 Rush Henrietta Townline Road in Rush, New York, and are open Monday – Friday from 8 a.m. to 5 p.m. We look forward to meeting you! Need some ideas for your home renovation project? Take a look at a few of the Rochester railing and stair projects we've completed in recent years:
1. Custom Floating Stairs with Glass Railing
The owners of this elegant home in Rochester envisioned a staircase that would fit the grandeur of their home's entryway. To maintain the unconfined feel of the open-concept, two-story foyer, the homeowners opted for open-riser stairs. Furthermore, they requested a transparent railing system for the stairs and balcony. Our team at Keuka Studios designed and crafted a mono-stringer staircase with a custom glass railing. The homeowners also requested that the stair and railing match copper accents sprinkled around the home. Accordingly, we used a copper-shaded powder coat for the steel stair stringer, railing posts, and glass standoffs.
2. Sawtooth Staircase with Cable Railing
Keuka Studios designed this staircase and railing system for a client in Pittsford, a suburb of Rochester. After purchasing the house, the owners gradually remodeled it to create their dream home. The last major project was replacing the old staircase in the home's open foyer. Above all, the homeowners wanted a staircase that would preserve the natural light from the floor-to-ceiling windows in the two-story entryway. To achieve this, we recommend an open-riser staircase. For the floating stairs, our team designed and crafted two laser-cut sawtooth stringers. The stringers are "Raven Black" powder-coated steel, which contrasts with the oak stair treads.

In addition to the custom stairs, our team designed and fabricated the cable railing system. In order to create a cohesive look, we crafted railing posts that attach directly to the stair stringer plates. Like the stair stringer, the railing posts are black powder-coated steel. For the railing system's top rail, the homeowners chose oak to match the treads.
3. Glass Staircase Railing System
Our clients in Webster, another suburb of Rochester, wanted to bring their staircase up to date with a new railing system. Their open-concept home features high ceilings and floor-to-ceiling windows that allow sunlight to disseminate across the entire first floor. To embrace this natural lighting and allow it to flow into the basement entertainment space, the homeowners chose a glass railing system for their living room staircase. Keuka Studios designed and fabricated the glass-infill railing with "Raven Black" powder-coated steel posts and a red oak wood top rail. The light hue of the top rail melds perfectly with the living room's wood flooring.
4. Sleek Cable Railing System
This unique home in Rochester features plenty of open space, high ceilings, exposed timber beams, and a large stone fireplace. To enclose the main staircase and multiple interior balconies, the homeowners wanted a custom railing system. Specifically, they requested a railing that wouldn't obstruct the spread of natural light throughout the home's first and second floors. To this end, our team crafted a cable railing system with thin 316 stainless steel cable infills. Furthermore, our clients asked for their railing to match the wood accents throughout the home. We took our signature Ithaca Style railing and made the end posts thicker to complement the home's hefty timber frame. The homeowners chose anodized aluminum for the railing posts and wood for the top rail to fit the home's bright color scheme.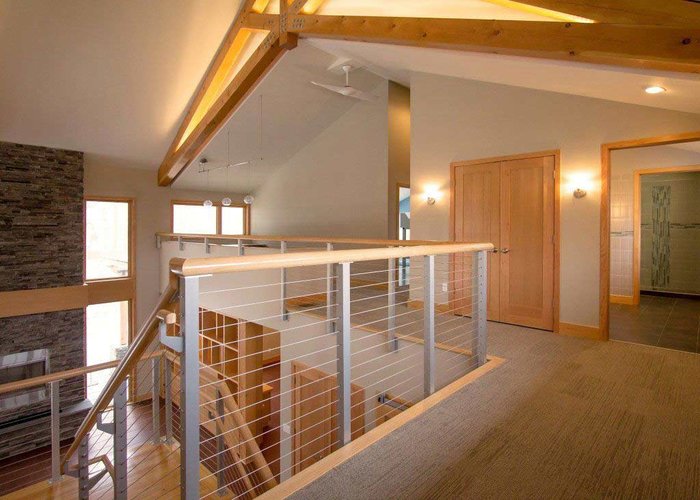 5. Before and After Stair and Railing Makeover
Our clients in Webster, NY purchased a home that had dated traditional finishes that they wanted to update to a more modern aesthetic. Updating the newels, balusters, and treads of the stairs brought a renewed modern sense of style to this space. The thick stair treads are made of red oak to match the handrail. The railing posts are the Ithaca Style made of steel and are powder-coated black. We made custom matching gates for the stairs as added security to prevent falls for the small children living in the home. Our client loved the transformation of their space!
At Keuka Studios, we custom fabricate residential and commercial stairs and railings to fit your style, space, and requirements. To learn more about how each cable railing project moves from vision to reality. Take a look at our custom railing design process. We take pride in building craftsman-quality and commercial-grade stairs and railings for interior and exterior applications. Contact us to get started on your project.