Keuka Studios Glass Infill Railings
While Keuka Studios specializes in cable railing, we also design and build custom glass railing systems. Just like cable infill, glass infill provides transparency. It also has a clean, minimalist aesthetic. If you want unobstructed views and a touch of modernist design, consider glass infill for your indoor or outdoor deck, balcony, or staircase railing.
Ideas for Glass Stair Railings: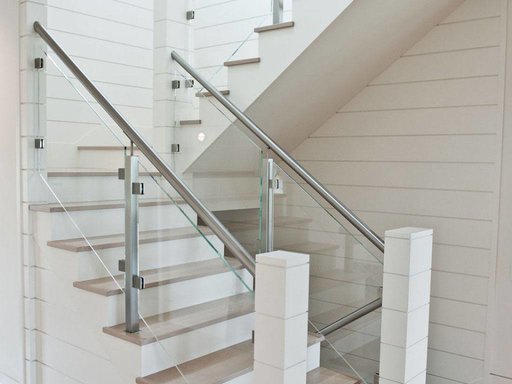 Nantucket, MA: Nautical Style Stair Railing
The owners of this Nantucket beach house wove a nautical theme throughout their entire home. For example, they chose white shiplap paneling for the interior walls. They also wanted a modern nautically inspired glass stair railing. To fit the motif, Keuka Studios designed a round stainless steel top rail and custom posts that accept glass infill panels.
Riverside, CT: Floating Stair with Glass Balustrade
An open modern floating stair with glass infill replaced a closed-in traditional style staircase making the entry brighter and more open. Paired with the room's floor-to-ceiling windows the transparency of the glass allows light to flow throughout. Our designers worked with architects Brooks and Falotico, and Redwood Construction to create the perfect stair for this home. The stair is made with steel mono-stringer and thick white oak treads that match the flooring.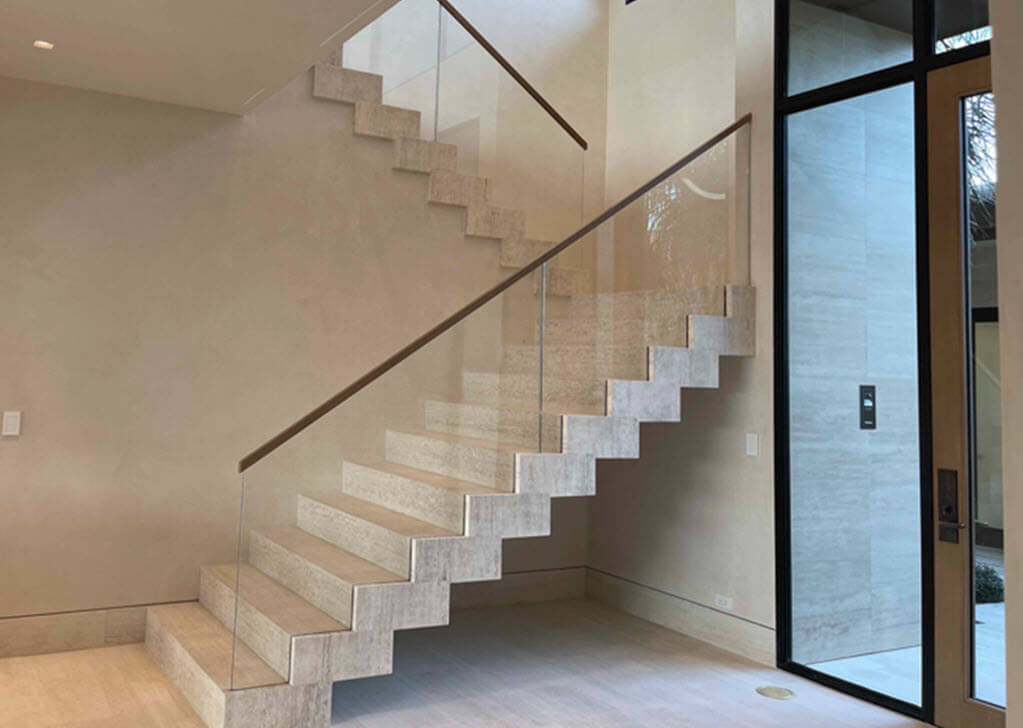 Las Vegas, NV: Travertine Stair with Glass Railing
Travertine stone steps appear weightless transcending up the first level of this staircase. The travertine stone wraps a steel structure that was not only designed to be hidden, it was also designed to support the weight of the stone. To attach the glass railings to the stair we made custom standoffs to allow the attachments to be concealed behind the travertine. The glass railings add a touch of glitz and glamour to this modern home.
Rochester, NY: Grand Entry Staircase and Railing
Our client in Rochester wanted the staircase and railing in their grand, open-concept entryway to make a statement. To give the space a contemporary look, our team crafted a floating staircase with a transparent railing. For the railing, we customized our Ithaca Style posts to accept the glass infill. The glass stair railing features a wood top rail and steel posts that are powder coated to look like copper.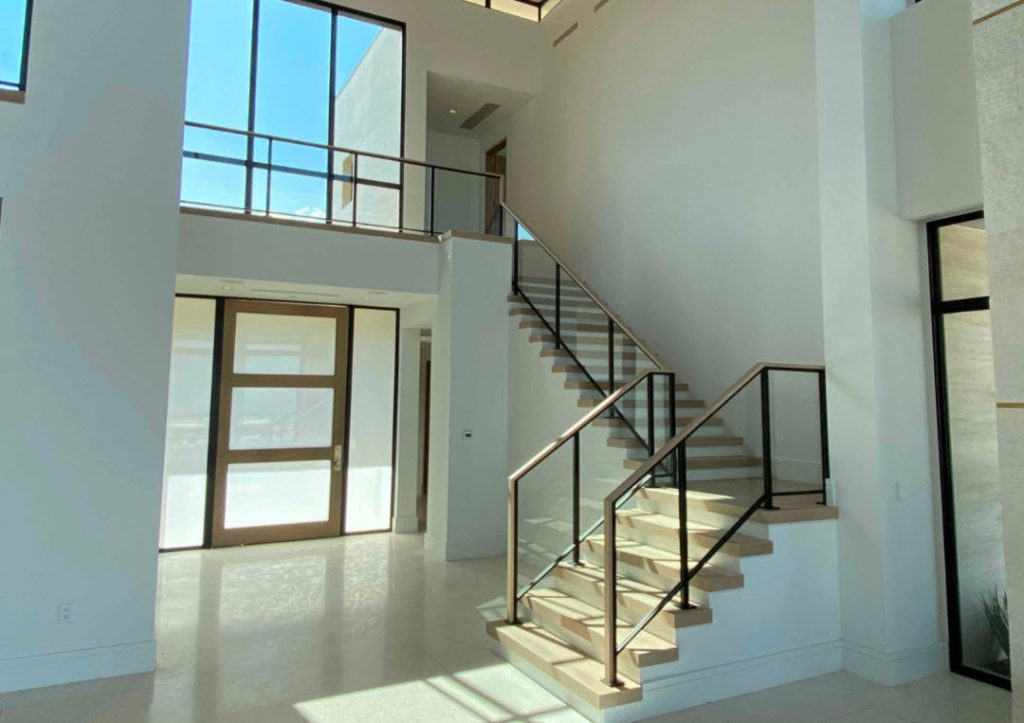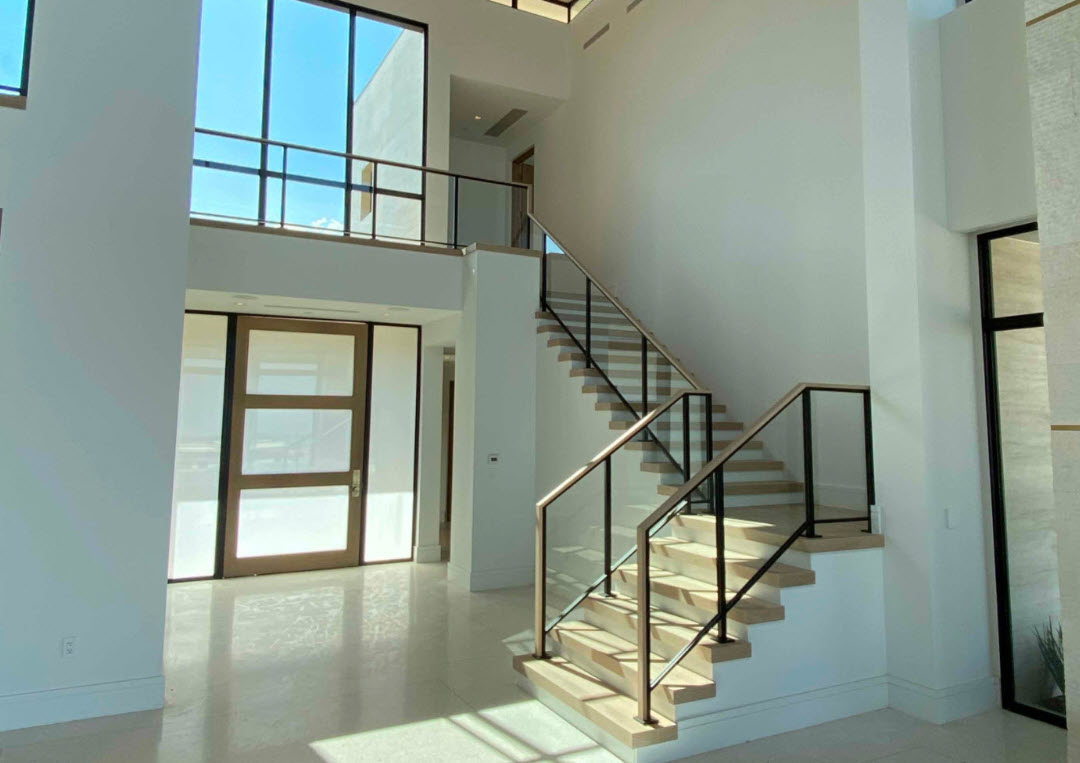 Las Vegas, NV: Modern Glass Stair Railing
An Oasis in the desert, the Summit Club residences offer a variety of home plans to suit your lifestyle. This sleek modern glass stair railing is designed with ultra-slim railing posts that conceal all of the hardware. This style of glass railing is referred to as dadoed since the glass is framed in metal on all sides. The oak top rail waterfalls down the front of the railing for a modern finish. The wood railing and treads are custom-made for the stairs and finished to match the flooring. This staircase perfectly complements the modern desert-style architecture of the home.
Montauk, NY: Glass Railing System for Floating Stairs
This modern home in Montauk features floor-to-ceiling windows and two decks enclosed by cable railing. Together, these features create transparency and bring the outdoors in. In order to complete this design, the homeowner requested a floating interior staircase with a glass infill railing. Paired with the stair's open risers, the clear railing allows for natural light to pass through. Furthermore, our Ithaca Style railing posts give the glass stair railing a minimalist appearance that matches the rest of the home.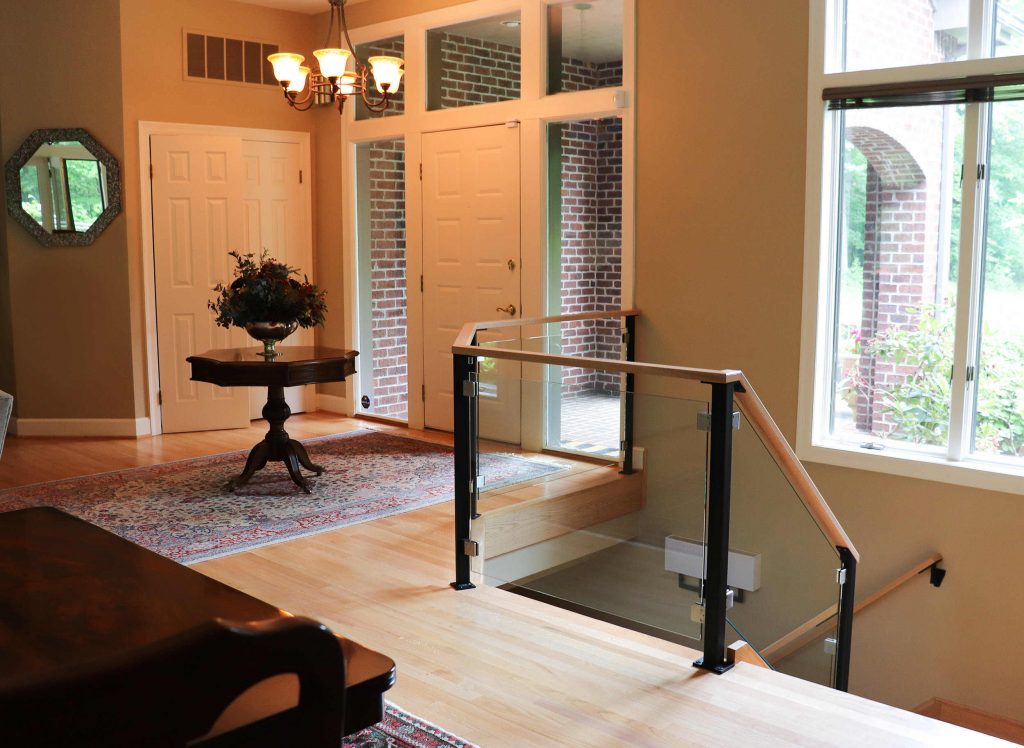 Webster NY: Interior Glass Infill Railing for Stairs
Keuka Studios designed a custom transparent railing for a family in Webster, New York that wanted to update their main staircase. The homeowners chose glass for the stair railing in order to allow the passage of natural light throughout their spacious living room. For the railing, they chose black powder-coated steel posts and a red oak wood top rail.
We take pride in building craftsman-quality and commercial-grade railings and stairs for interior and exterior applications. Every Keuka Studios custom railing or staircase is built specifically for your space. As a result, our products fit perfectly with your home or business' existing architecture, both in terms of structure and style. To learn more about how each project moves from vision to reality, take a look at our custom railing design process.