Keuka Studios designs and fabricates both zigzag stairs and sawtooth stairs that can add an element of distinctiveness to your home. These unique floating staircases feature angular, laser-cut stringers that typically enclose stair treads on both sides. Paired with cable railing, zigzag and sawtooth stairs can give any space a clean and contemporary feel. Our team of talented engineers design completely custom stairs made to fit the existing architecture of your home. For inspiration, take a look at these zigzag and sawtooth staircases crafted by Keuka Studios.
Custom Zigzag and Sawtooth Stairs by Keuka Studios
1. Red Oak Zigzag Staircase with Cable Railing
Our client in Teaneck, New Jersey desired a staircase for their foyer that would make a statement. They decided on a custom floating staircase with cable railing and zigzag stringers. To create a cohesive look, the homeowner chose black powder-coated steel for both the stair stringers and the Ithaca Style railing posts. The staircase also features American red oak treads that match the foyer's dark wood flooring.
2. Modern Zigzag Stairs with Steel Stringers and Stainless Steel Railing
Keuka Studios designed and fabricated a modern floating staircase for the renovation of this Greenwich, Connecticut home. The home has a cool, luxurious feel and the homeowner wanted a unique staircase to complete the look. Our team designed an open-riser staircase with laser-cut zigzag stringers. The stringers are steel with a black powder coat. For the staircase, we also crafted an Ithaca Style cable railing system. The railing features stainless steel posts and a white oak top rail that matches the stair treads.
3. Zig Zag Double Stringer Floating Stairs
Transitioning up 3 levels we designed and fabricated this modern zigzag double stringer floating stair for our customer in Sewickley PA. The stairs have open risers with oak treads. The wood top rail was made to waterfall down the newel post. Our Ithaca Style cable railings system was chosen to complement the home's interior design. The horizontal lines of the stair treads look perfect with the wood slat dividing walls while maintaining an open atmosphere.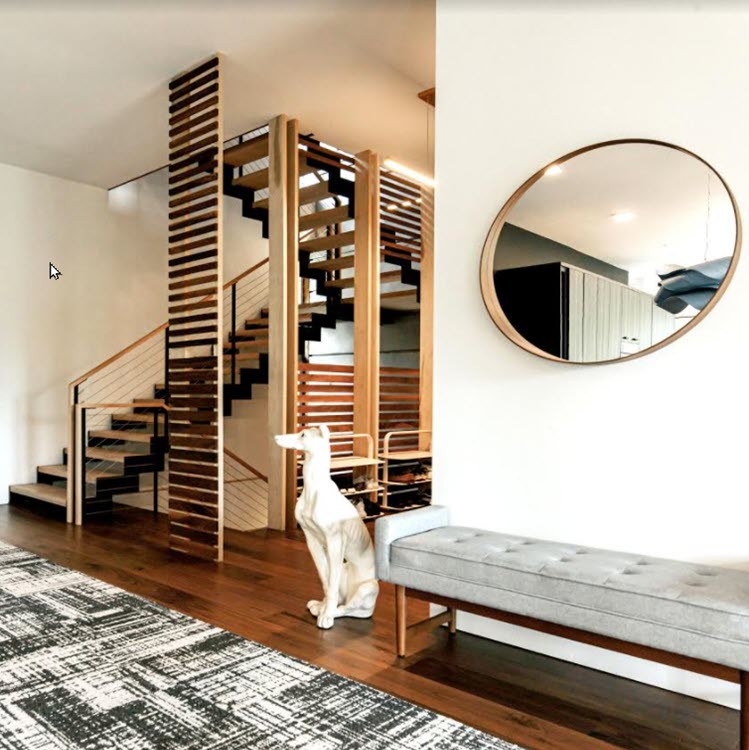 4. Steel Sawtooth Staircase with Oak Treads
For this local project, we designed and built custom sawtooth stairs with an Ithaca Style cable railing system. The floating staircase features laser-cut steel stringers with a "Raven Texture Black" powder coat and oak treads. We crafted the cable railing system with black powder-coated steel posts that are directly mounted to the steel plate stair stringers. The railing includes a wood oak top rail that matches the stair treads.
At Keuka Studios, we custom fabricate residential and commercial stairs and railings to fit your style, space, and requirements. To learn more about how each cable railing project moves from vision to reality. Take a look at our custom railing design process. We take pride in building craftsman-quality and commercial-grade stairs and railings for interior and exterior applications. Contact us to get started on your project.