Glass Railing Staircase – Rochester, NY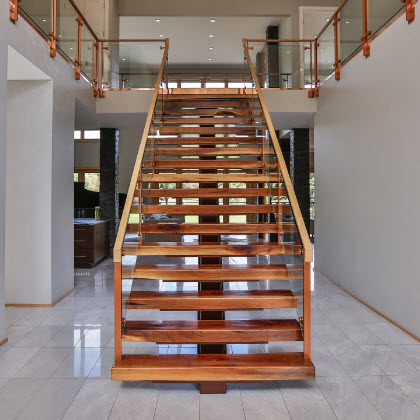 Location: Rochester, NY
Architect: Carini Engineering — Fairport, NY
Material and Finish: This mono-stringer glass railing staircase features powder-coated steel posts and open-riser wood treads.
Description: The mono-stringer floating staircase with glass railing is made of steel with wood treads and a wood top rail. The balcony also includes our Ithaca Style railing.
Notes:
Our client in Rochester, New York requested a modern, floating, glass railing staircase to accentuate their home's high ceilings and open-concept design. Above all, the homeowner wanted the railing system to match the copper accents throughout the house. To achieve a copper look without sacrificing stability, we used powder-coated steel in a copper shade. Both the mono-stringer staircase and balcony have Ithaca Style glass railing as well as custom-made steel posts. We designed the steel posts to slice through the wide wood treads and connect to a steel plate below. As a result, the staircase has a sleek, modern look and matches perfectly with the rest of the home's interior.
Request A Quote
Ithaca Style Cable Railing