By adding or remodeling a patio, you can dramatically improve the appearance and utility of your home or business' exterior. Unlike decks, patios typically sit at ground level. In general, this makes patios relatively easy to install or redesign. If you wish to enclose your patio, cable railing is an excellent option. While traditional railing styles can obstruct your view, cable railing systems are nearly transparent. (This is particularly important for patios because there isn't a platform to raise the living space high off the ground.) Keuka Studios offers five signature railings for patios: our Ithaca, Keuka, Chicago, Tokyo, and Prairie styles, which you can learn about here. Also, our team can design and build custom railings. If you need inspiration for your patio railing, take a look at a few patios with impressive views that Keuka Studios has designed railings for.
Cable Railings for Patios by Keuka Studios:
1. Residential Patio Custom Cable Railing System
Keuka Studios crafted a custom railing for the patio of this modern residence on Shelter Island, New York. The architect who designed the home, Vibeke Lichten, wanted an industrial style patio railing to match the home's exterior. The custom railing posts have a shape similar to the triangular metal plates that support the roof over the patio. To complement that home's concrete construction, the designer chose a dark, grayish-black custom color for the railing powder coat. This minimalist railing has nearly-transparent cable infill, allowing for clear views of the Peconic River in the distance. Photo by Evan Joseph.
2. Mixed-Use Development with Cable Railing Patio
This mixed-use, 10-building development sits right on the lake in The Woodlands, Texas. Because of the facility's bustling location and its varied uses, the building hosts many employees and visitors every day. Considering the facility's stunning backdrop, the designers wanted to incorporate outdoor spaces where people could gather for lunch or meetings. They decided to add a patio that wraps around the side of the building. Keuka Studios designed an Ithaca Style cable railing system for the patio. The railing features "Sparkle Silver" powder-coated steel posts and an IPE top rail. IPE, a wood species with natural resistance to corrosion, is perfect for the outdoor setting.
3. Oceanfront Villa Patio and Pool
Villa Capri, a private villa in the Turks and Caicos, features an expansive patio that overlooks the ocean. On the patio, you'll find multiple lounge areas, an outdoor kitchen, an infinity pool, and direct access to a private dock. To maximize the views of the azure water from the villa, it was important to the owners that the patio railing had a transparent appearance. Originally, the patio had a glass railing system. However, the glass panels shattered when a hurricane hit the island. When the owners remodeled after the storm, they opted for cable railing instead of glass. Our Ithaca Style cable railing has a minimalist, nearly-transparent appearance and is more durable than glass railing.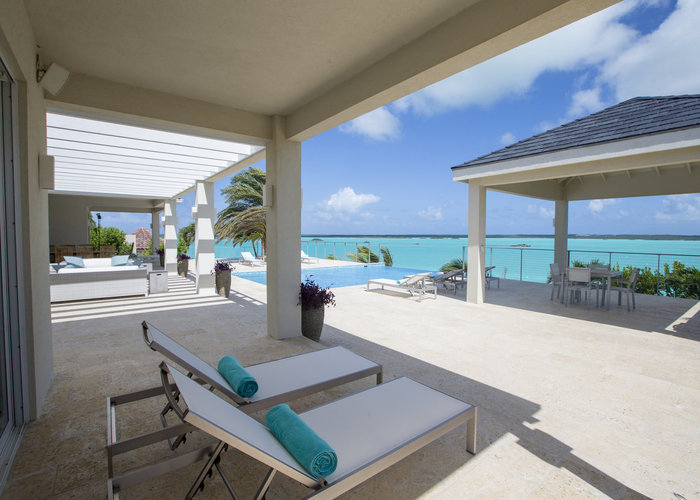 4. Outdoor Dining at D.C. Restaurant
Sequoia, a Washington D.C. restaurant, sits directly on the Potomac River. With installations featured throughout the building, the restaurant is equally focused on food and artwork. The biggest piece of art, a giant metal sculpture, can be seen on the waterfront patio. When the restaurant patio was remodeled, the designers wanted to create the perfect space for outdoor dining. Most importantly, they wanted to ensure that those eating outdoors could see both the sculpture and the river. To achieve this, they chose a cable railing system for the tiered patio. Keuka Studios designed the railing system with custom aluminum posts and a stainless steel top rail. Furthermore, to improve the patio's ambiance at night, we specially designed the railing system to accept an LED light system.
5. Corporate Training and Retreat Lodge
Nestled in the trees with views of Mt LeConte this corporate training facility and retreat includes an expansive wrap-around patio. The designer's objective was to create a variety of outdoor gathering spaces. To accomplish this they included several seating areas on the patio to relax and take in the views. Our Ithaca style railing system was chosen for its simple design and nearly transparent appearance.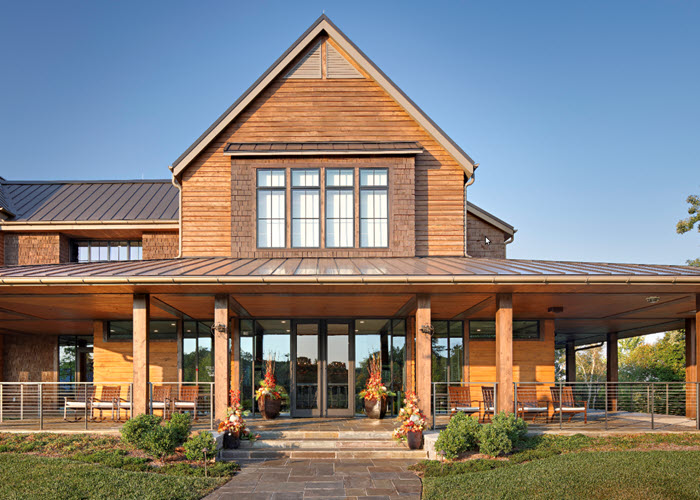 At Keuka Studios, we custom fabricate residential and commercial stairs and railings to fit your style, space, and requirements. To learn more about how each cable railing project moves from vision to reality, take a look at our custom railing design process. We take pride in building craftsman-quality and commercial-grade stairs and railings for interior and exterior applications. Contact us to get started on your project.