Massachusetts Custom Railing Projects
Our railing clients in Massachusetts have taken us all across the state. We've completed projects in the Boston metropolitan area, the island of Nantucket, and the Berkshire Mountains. Keuka Studios has also crafted railing systems for clients on the stunning, sprawling coastline of the North Shore. Along the way, we've fallen in love with the state's unique geography and historic legacy.
Whether you live on the coast and want to preserve your ocean views or have a historic home that needs a contemporary update, Keuka Studios can design the perfect staircase or railing for your needs. For inspiration for your building or renovation project, take a look at a few of our projects from across the state of Massachusetts.
Ideas for Railings and Stairs for Massachusetts Clients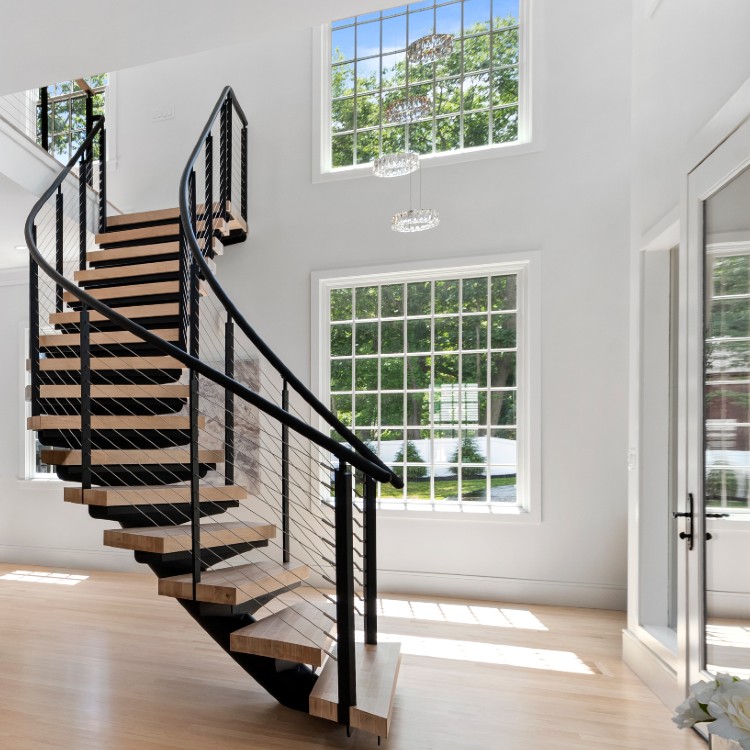 Andover, MA: Helical Floating Stair
This helical floating stair makes a stunning entrance for this modern open-concept home in Andover, MA. The stair stringer is made of a curved 10-inch round tube, the railing is our Ithaca-style cable railing system, and the stair treads are made of maple.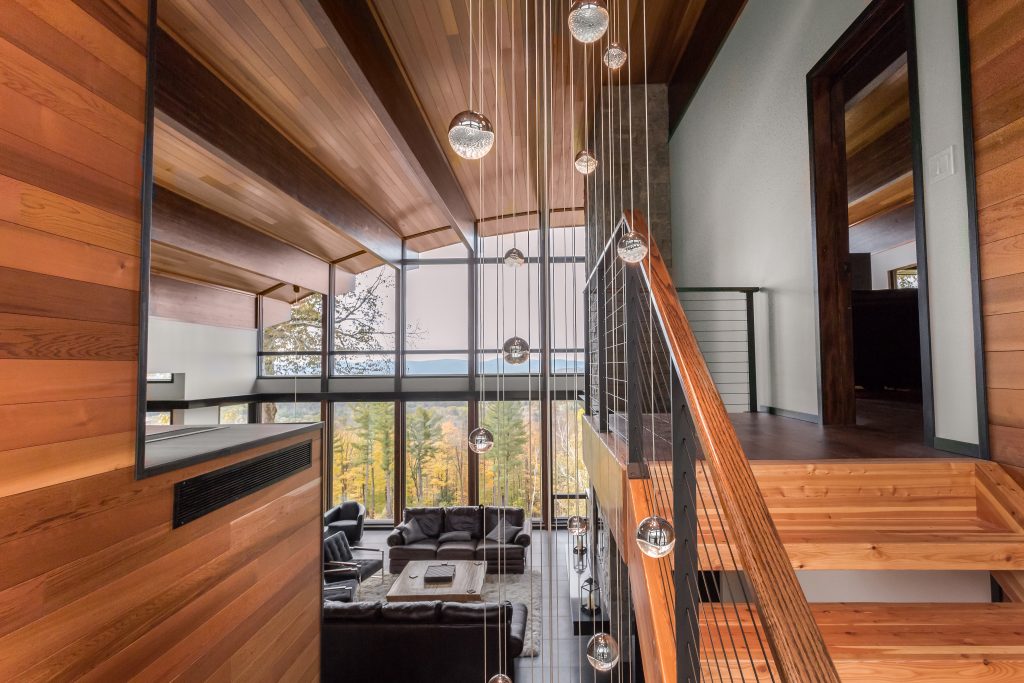 Berkshires, MA: Blackened Stainless Steel Railing
Our client in the mountains of Berkshire requested a modern railing system for the interior and exterior of their minimalist and tranquil mountain home. To match the home's existing design and unique light fixtures, we used blackened stainless steel fittings and cable.
North Shore, MA: Interior and Exterior Waterfront Railing System
This vacation home sits right on the North Shore with a beautiful view of the bluffs and harbor. For both their interior stairs and waterfront deck, our client wanted cable railing to maintain the view and create an open feel. Our team built the rails with our Ithaca Style posts. The posts are solid aluminum powder coated in "Oil-Rubbed Bronze," giving them extra protection from the salty sea air. While the staircase railing has a maple top rail, the exterior deck railing features an IPE top rail. This wood species naturally resists corrosion from the salty air.
Nantucket, MA: Nautical Glass Staircase Railing
We also worked with a client in Nantucket who wanted a nautical theme throughout their home. Our team designed a modern glass railing system that matches the white shiplap panels on the interior walls. We also handcrafted a custom metal foot railing for a boat-shaped kitchen table that the client designed.
Nantucket, MA: Modern Staircase and Cable Railing
When the current homeowners purchased this historic building, they built off of the existing structure and dramatically increased the square footage of the living space. Keuka Studios designed and built both a straight staircase and spiral staircase for the addition. The straight staircase shown features two steel stringers, wood treads, and our Ithaca Style cable railing.
We take pride in building craftsman-quality and commercial-grade railings and stairs for interior and exterior applications. Every Keuka Studios custom railing or staircase is built specifically for your space. As a result, our products fit perfectly with your home or business' existing architecture, both in terms of structure and style. To learn more about how each project moves from vision to reality, take a look at our custom railing design process.