Florida Cable Railing and Stair Projects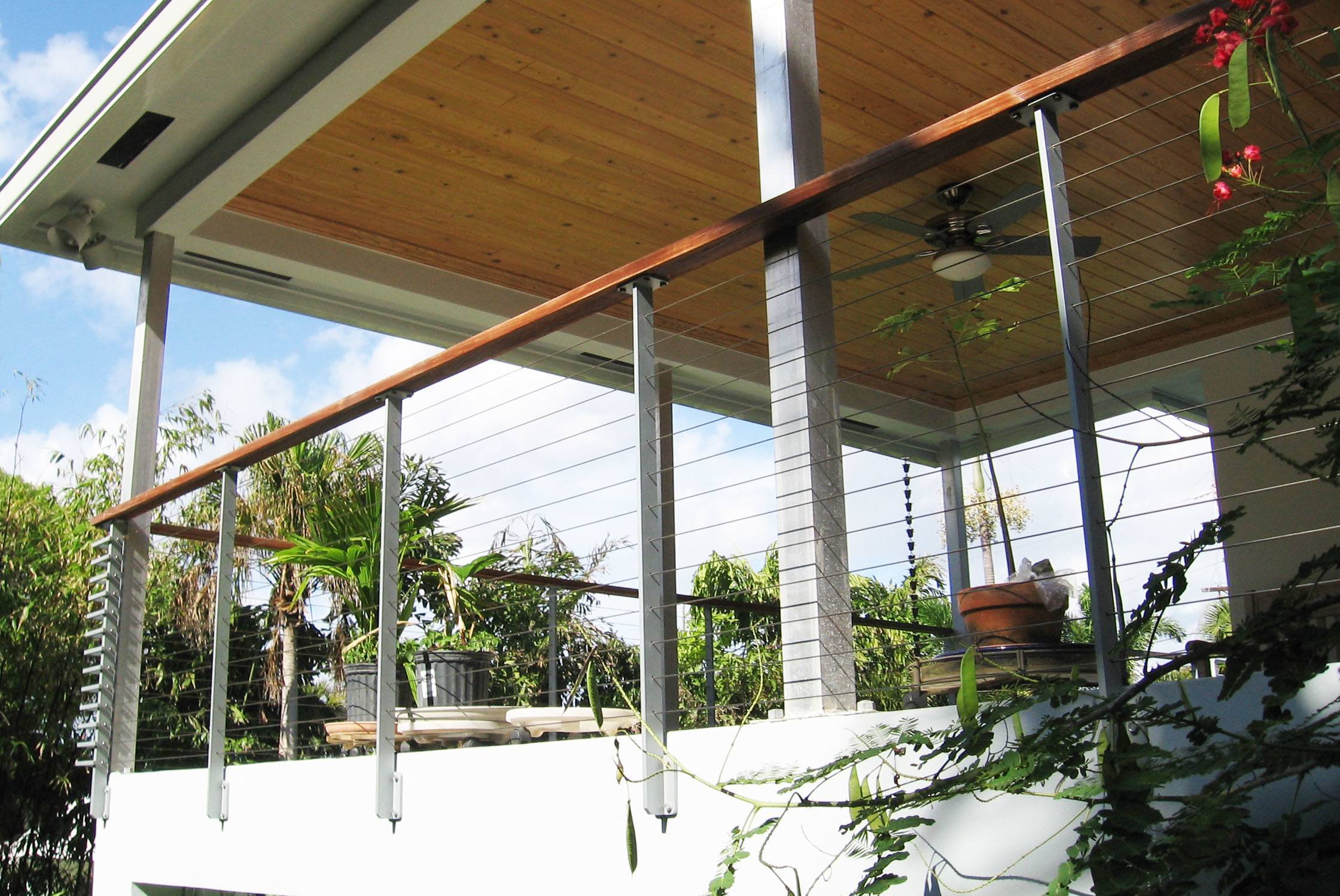 Cable Railing Projects in the Sunshine State
Our Florida cable railing customers highly value the appearance and functionality of outdoor living spaces. In general, our clients in Florida are looking for railings that don't obstruct the view or flow of tropical air. Keuka Studios custom designs their railings and stairs to meet your exact criterion.
Every Florida resident knows that living in paradise does mean braving harsh natural elements from time to time. For example, salty air speeds up the corrosion of building materials. In order to combat corrosion, Keuka Studios offers durable finish options for metal surfaces. For instance, powder-coated and hot-dip galvanized steel is perfect for oceanfront properties. In regard to hurricane-strength winds, cable railing naturally has an advantage over other railing types. For example, glass infill can shatter and act as a projectile during a storm.
Florida Residential Railing Stair Ideas
Second Level Dock Railing
This client in Orlando needed a railing system for their boat dock. Using our Keuka Style posts, we designed a railing to enclose the second-level deck with panoramic views. In addition, we built the railing for the stairs that lead up to the deck from a walkway directly on the water. As you can see, our cable railing blends in perfectly with the water and woods that surround it. Furthermore, the wood top rail complements the dock's wooden structure.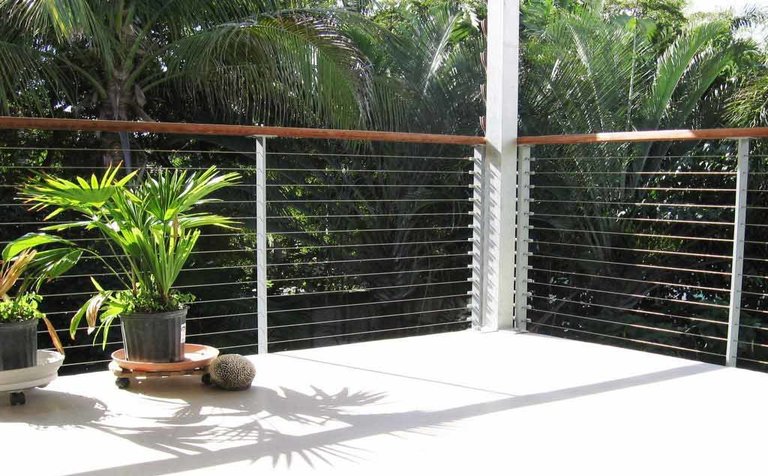 Deck View Railing
This home in Ocean Ridge, Florida has an exterior deck surrounded by gorgeous tropical greenery. In order to keep the view wide open, the homeowners opted for our Tokyo Style railing cable railing system.
Condo Spiral Stairs and Railing
Keuka Studios designed and fabricated a custom spiral staircase for clients in Jupiter, Florida. The objective was to maximize the space in their condominium while having access to the second level. To imitate the appearance of a seashell, we paired the spiral stairs with our curved Keuka Style railing.
Florida Commercial Railing Projects
Florida Marina Curved Cable Railing
The Ozona Blue Grilling Company at the Home Port Marina has a stunning view of Palm Harbor. To maximize the view, the restaurant installed our Keuka Style cable railing. In order to protect the railing from corrosion in this salty environment, we made the posts from galvanized and powder-coated steel.
Florida Living Bridge Railing
Keuka Studios proudly provided a custom guard rail for the pedestrian bridge that connects the Universal Studios Orlando Theme Park and the Universal Studios hotels. The fence has hot-dip galvanized and green powder-coated steel posts.
South Florida University Cafe Railing
This cafe at the University of South Florida wanted to enclose its outdoor cafe seating area. Our client needed a barrier yet still wanted the space to feel open. Furthermore, they wanted to allow the open breeze to pass through the seating area. For the restaurant, Keuka Studios designed a cable railing system with powder-coated steel posts and a wood top rail.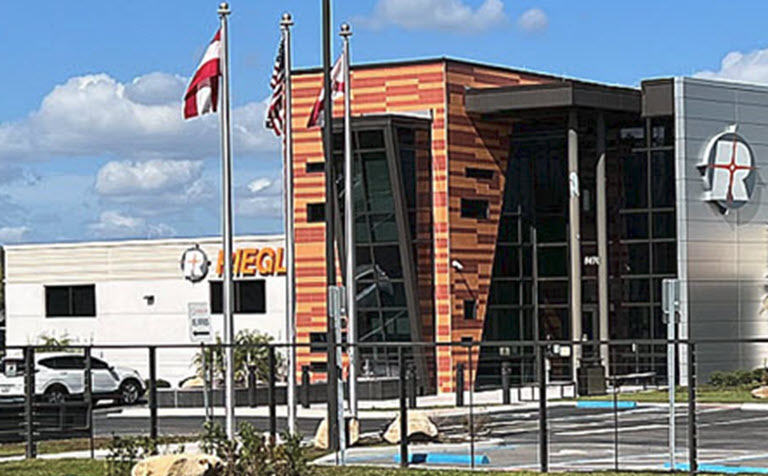 Fence and Gates for Florida Corporate Offices
The intent for this project was to add a cable fence, driveway gates, and pedestrian gates to this corporate office in Winter Garden, FL. The entire system was expertly designed and fabricated by Keuka Studios and shipped to the client.
Our Custom Design Process
Every Keuka Studios designed project is custom-built to your space and specifications. Our cable railings do more than just provide a safe barrier, they also complement your modern design with their clean and simple aesthetic. To learn more about how each cable railing and stair project moves from vision to reality, take a look at our custom railing design process. We take pride in manufacturing craftsman-quality, commercial-grade cable railings for interior and exterior applications. Additionally, Keuka Studios designs and builds custom staircases.