Boathouse Cable Railing – Orlando, Florida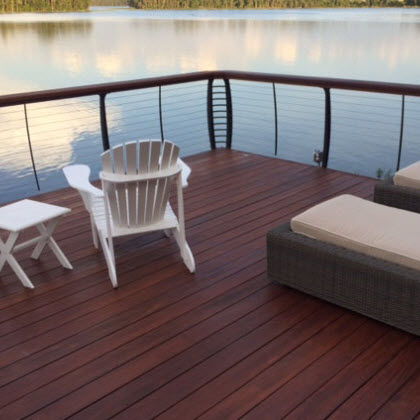 Location: Orlando, FL
Builder: Atlas Pools of Central Florida – Oviedo, FL
Material and Finish: "Raven Black" powder-coated steel posts in the curved Keuka Style design with IPE Brazilian walnut wood top rail.
Description: Keuka Style cable railing system made for a boathouse.
Notes:
We worked with Atlas Pools of Central Florida on this unique boat dock. Adding a boat lift with an adjacent dock large enough to entertain or relax and enjoy looking at the lake expands the outdoor living and entertaining space. In many areas, an additional entertaining dock can be added to the boat lift roof.
Our Keuka Style cable railing system encloses the dock's lounging area and continues down the staircase. The curved posts of the Keuka Style railing have a nautical aesthetic that perfectly complements the marine environment. The transparent design of our cable railing preserves the beautiful view of the lake and its surrounding forest. The railing is fascia mounted to the boathouse dock. The posts are made of steel with slim spacers used between the cables to maximize the cable spacing.
Request A Quote
Keuka Style Cable Railing