Keuka Studios has worked with architects and contractors across the country to provide cable railing systems for colleges and universities. To name a few, we've designed railings for the Albany College of Pharmacy, Texas Tech University, and Earlham College. For these commercial clients, we provide code-compliant deck or balcony railings and ADA-complaint railings for stairs. In the past, we've designed and custom fabricated railing systems for university observation decks, cafés, atriums, libraries, student centers, and more.
Keuka Studios Designs and Fabricates Cable Railing Systems for Universities
7 Examples:
Cornell University
Our team designed and fabricated this cable railing system for the Noyes Lodge at Cornell University. The lodge's exterior deck overlooks the serene Beebe Lake and is the perfect location to relax on campus. This Ithaca Style railing system features slender passivated steel posts and a wood top rail. To suit the architecture of the existing deck, we fascia mounted the posts on two sides and surface mounted them on the side facing the water.
Olivet Nazarene University
When Olivet Nazarene University remodeled the Reed Hall of Science, they enlisted Keuka Studios to design a cable railing system. The railing runs along the balcony in the building's main atrium. The railing system features our sleek Chicago Style posts in "Raven Black" powder-coated steel. In order to match the flooring on the balcony, the designers chose a wood top rail. As a result, the large atrium has a cohesive and modern design. In addition to the balcony, we also designed cable railing for the building's main stairwell. For this railing, we included an ADA-compliant graspable handrail in addition to the wood top rail.
University of South Florida
The Bayboro Café at the University of South Florida features an outdoor dining area with a view of a campus park and pond. The café owners wanted to enclose the patio but still preserve the charm of the outdoors. By opting for cable railing, they were able to create a physical barrier but maintain an open feel. For the railing, the owners chose our unique Tokyo Style design with "Sparkle Silver" powder-coated steel posts. The railing system features a wood top rail with a slightly curved profile.
Jacksonville University
Keuka Studios designed and built a cable railing system for the health sciences building at Jacksonville University in Florida. The architect on the project, Glenn Dasher of Dasher Hurst Architects, asked us to create a railing with a sleek, modern appearance. He wanted the staircase and balcony railings to have a clean and simple look that wouldn't distract from the other features of the building. For example, the architect wanted to bring attention to the indoor garden with a cascading water feature.
Our cable railing features steel Ithaca Style posts which were painted white on-site at the school. The staircase railing includes a wood top rail. It also has a stainless steel handrail that meets all requirements set by the ADA.
Rogers State University
For Rogers State University's Pryor Creek campus, we designed a Chicago Style cable railing system. You can find our product on the interior staircase and balcony of the building's main atrium. This railing system features 42″ tall steel posts with a "Dazzling Pewter" powder coat. The staircase railing features both a wood top rail and a wood handrail that complies with all ADA rules and regulations.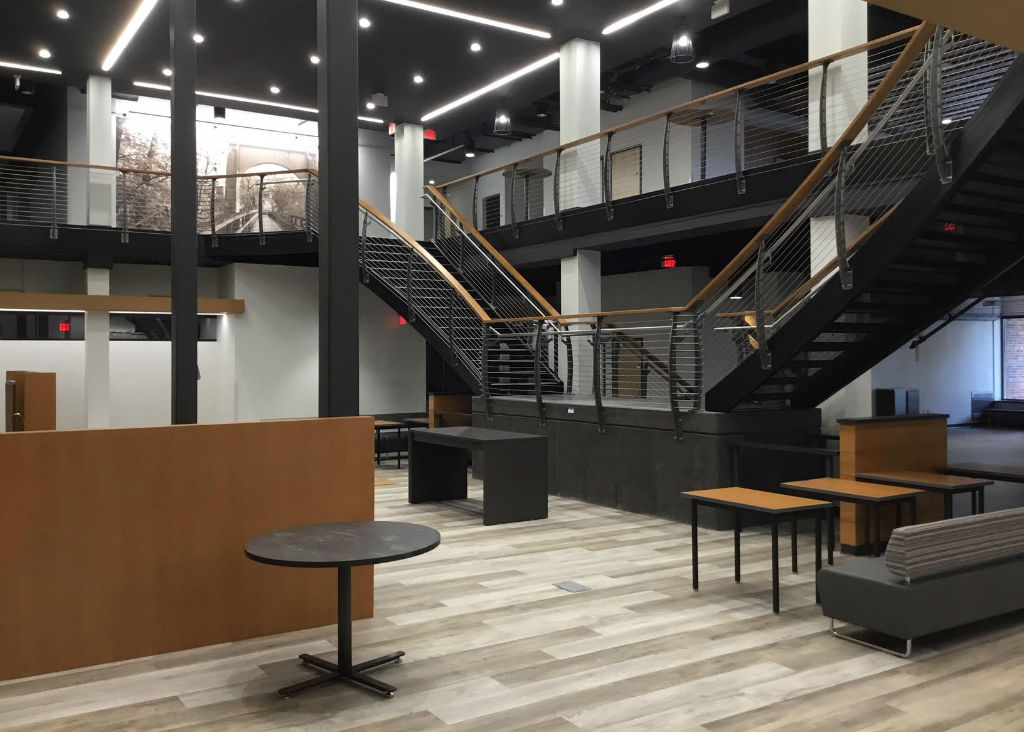 University Of Wisconsin
For the Rodli Hall renovation project at the University of Wisconsin, Keuka Studios custom-made the staircase and balcony railings. The railing is our curved Keuka Style that perfectly complements the curved staircase. The staircase cable railing system is 42 inches high with 3/16 in stainless steel cable. The railing is powder-coated dazzling pewter and features an ADA compliant handrail and wood top rails.
High Point University
High Point U of North Carolina created an inspiring and relaxing environment for its students by combining artistic sculptures, walkways, waterfalls, hammocks, and a fire pit on their campus. It's a beautiful place for students to mingle with friends and family, or study.
The cable railing system is our Ithaca style made to a height of 42 inches to meet commercial railing code requirements. We designed the bottom of the railing posts to connect to metal blades that are welded to the structure. In addition, we designed a scheme to accommodate the lighting for the top rail. The railing posts are made of stainless steel and powder coated.
Every Keuka Studios design project is custom-built for your home or business. To learn more about how each cable railing project moves from vision to reality, take a look at our custom railing design process. We take pride in building craftsman-quality and commercial-grade cable railings for indoor and outdoor applications. In addition to cable railing systems, we also design, build and ship modern staircases.