University Entry – Bourbonnais, Illinois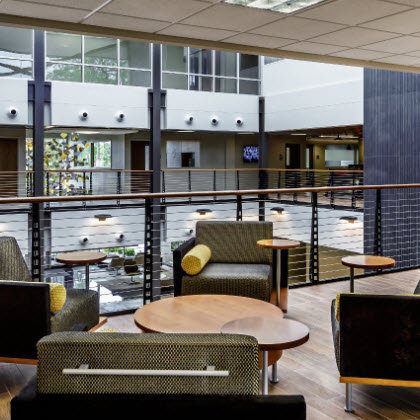 Location: Bourbonnais, IL
Builder: Buchar, Mitchell, Bajt Architects Inc. – Joliet, Illinois
Architect: Piggush-Simoneau, Inc. – Kankakee, Illinois
Material and Finish: "Raven Black" powder-coated and fascia-mounted steel posts with stainless steel cables and a wood top railing. ADA-compliant steel graspable handrails.
Description: Chicago Style cable railing for interior balcony and stairs.
Notes:
Olivet Nazarene University is located on University Avenue about 50 miles south of the city of Chicago. ONU has experienced an enrollment explosion in its engineering program, doubling the number of students enrolled over the past five years. The remodeled 19,000-square-foot Reed Hall of Science building opened its doors to students in the fall of 2014. New features included faculty offices, a hands-on laboratory, a physics laboratory, a collaborative project area, an electrical engineering classroom, an engineering design studio, and a collaboration conference room. Reed Hall of Science is home to not only the engineering department but also the departments of biological sciences and physical sciences.
The modern building materials give the building warmth and texture. Our Chicago Style cable railing was chosen for its high-tech and industrial look. You can find our cable railing in the spacious lobby which features a large water sculpture that greets you as you enter the facility. Together, the glass, natural light, and transparent cable railing keep the space feeling open and allow for great visibility of the building's surroundings. You can also find our Chicago Style cable railing on the arboretum stairs, laboratory balcony, and catwalk. Our unique Chicago Style cable railing fits in perfectly in the environment that was purposefully built to inspire students to create and have new ideas of their own.
Request A Quote
Chicago Style Cable Railing