Commercial Stair Railing for Duke University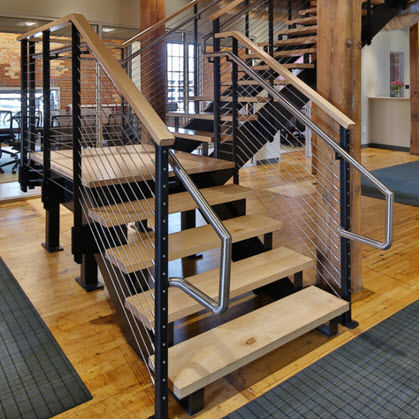 Location: Durham, NC
Architect: RND Architects — Durham, NC
Material and Finish: "Raven Black" powder-coated steel posts and a maple top rail.
Description: This commercial stair railing features a maple top rail, steel Ithaca Style posts, and custom fascia-mount brackets.
Notes:
When RND Architects remodeled the Office of Counsel at Duke University, they wanted to maintain the building's industrial style. The office features brick walls, timber beams, and an exposed ceiling — all essential elements of industrial design. As part of the remodel, the architects installed a floating staircase that connects the first and second floors. The staircase's open risers, hefty steel stringers, and wood treads all add to the industrial feel of the office. To complete this modern design scheme, RND Architects wanted a cable railing system for the staircase and the stair opening on the second floor.
Commercial Stair Railing System:
Keuka Studios designed and crafted an Ithaca Style cable railing system for the office. This railing style features slender posts and clean lines, giving it a streamlined look. The modern minimalist design looks right at home in this industrial-style office.
We designed the railing to meet the standards of the International Building Code for commercial settings. To fit the criteria, we crafted the railing posts to stand 42" tall. While we use 1/8" diameter stainless steel cables for the railing infill on residential projects, we used 3/16" diameter cables for this commercial stair railing.
We wanted the railing system and staircase to look as cohesive as possible. To match the staircase's exposed stringers, we used steel railing posts with a "Raven Black" powder coat. As an added detail, we kept visible the tops of the machine screws that attach the cable fittings to the end posts. The silver shimmer of the screws contrasts the black posts, adding to the building's raw, industrial vibe.
In order to attach the railing posts to the staircase, we designed custom brackets that were welded to the fascia of the staircase. The steel flanges with large exposed bolts match the mounting plates used for the staircase's platform supports. These details give the railing system and staircase a uniform appearance.
The architects also chose a top rail that complements the architecture of the office. To match the building's hefty exposed beams, they chose maple for the top rail. The maple matches the wood stair treads as well. A graspable metal handrail also runs along the staircase and is made from stainless steel tubing with a brushed finish.
The cable railing system also encloses the upper-level balcony created by the stair opening. This large gap in the floor gives the office an open feeling. Our Ithaca Style cable railing helps to maintain this open design. The slender posts, flat top rail, and the space between each cable infill work together to create a transparent appearance. This see-through style complements the floor-to-ceiling glass windows that enclose the upper-level offices.
Request A Quote
Ithaca Style Cable Railing