While Keuka Studios designs and builds custom stairs, we can also provide a railing system for your existing staircase. Our unique design process ensures that the final railing will fit perfectly with your staircase, no matter the size, shape, or style. Our engineers will design a custom railing system based off of dimensions and specifications provided by you or your contractor. For every project, we create a 3D rendering of the railing as it will appear once installed. This allows our clients to visualize the railing with their home's existing architecture before we even begin the fabrication process.

Keuka Studios can design railing systems for both interior and exterior staircases. We offer five signature cable railing styles that can be modified to accommodate existing architecture or to better fit your personal style. Our team also has experience crafting custom glass railings for stairs. Are you interested in updating your staircase railing but don't know where to begin? Take a look at a few railing systems we've designed to fit a clients' preexisting staircases. Or, if you're interested in a more dramatic transformation, you can read more about ordering a Keuka Studios custom staircase.
Custom Railings for Stairs by Keuka Studios:
1. Contemporary Cable Railing for Stairs
Keuka Studios designed this staircase railing system for a luxurious open-concept home in Mill Valley, California. The U-shaped staircase begins in the great room on the first floor and leads to a platform that has access to the backyard. Another run of stairs connects this platform to the second floor, then a third run leads to the top floor. In order to maintain the open feel of the home, our clients chose our Ithaca Style cable railing for the stairs. This railing style features a sleek, slender railing post and matches virtually any style of architecture. The homeowners chose brushed stainless steel posts for a modern look and an oak wood top rail to match the stair treads.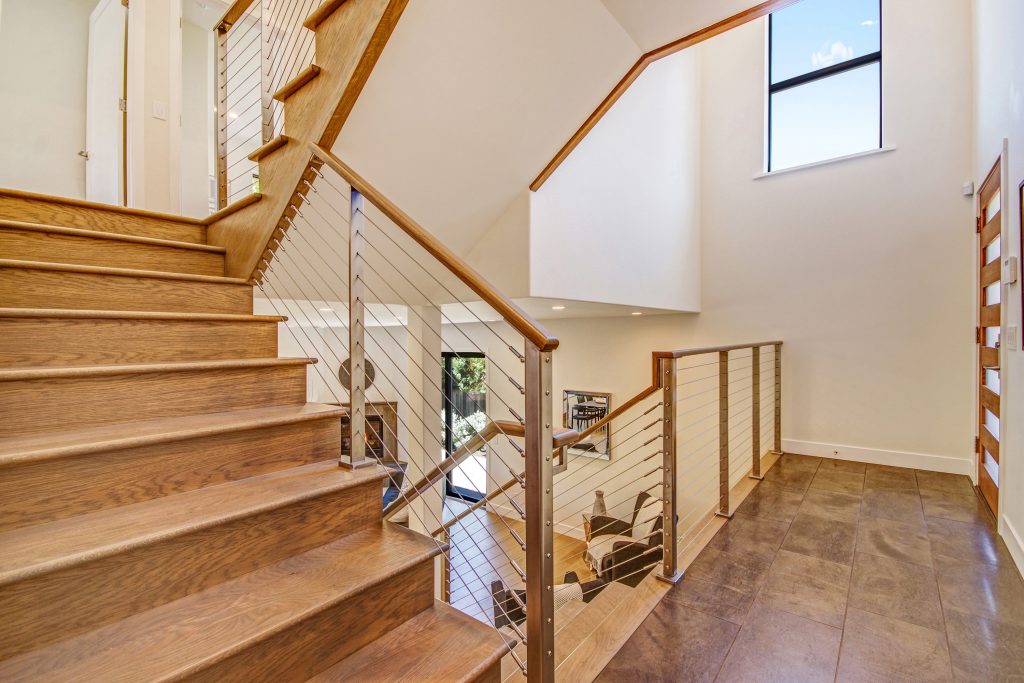 2. Chicago Style Cable Railing
When you walk into the foyer of this Las Vegas home, the first thing you see is an impressive indoor-outdoor pool. The open-concept, two-story entryway features large windows and skylights that bring in plenty of natural light. In one corner there's a staircase that leads to an upper-level balcony that overlooks the entryway. Altogether, the spacious foyer has a luxurious feel. The homeowners wanted a continuous railing system for the staircase and balcony. Keuka Studios designed a cable railing that accommodates the staircase's straight runs and corner turns. To match the home's unique windows, our clients chose our industrial Chicago Style railing posts. The steel posts have a "Raven Black" powder coat which complements the railing's wood top rail.
3. Cable Railing for Loft Staircase
This penthouse loft in downtown Denver boasts incredible views of both the city and the surrounding mountains. With floor-to-ceiling windows and a walkout deck, the apartment has an open atmosphere. The loft features a quarter-turn staircase, also known as an L-shaped stair. To maintain the openness of the apartment and to allow the flow of natural light, our clients chose our minimalist Ithaca Style railing for the stairs. The railing also runs along the upper-level balcony, including a curved platform. For the railing, the homeowners chose "Raven Black" powder-coated steel posts and a wood top rail that matches perfectly with the apartment's wood flooring.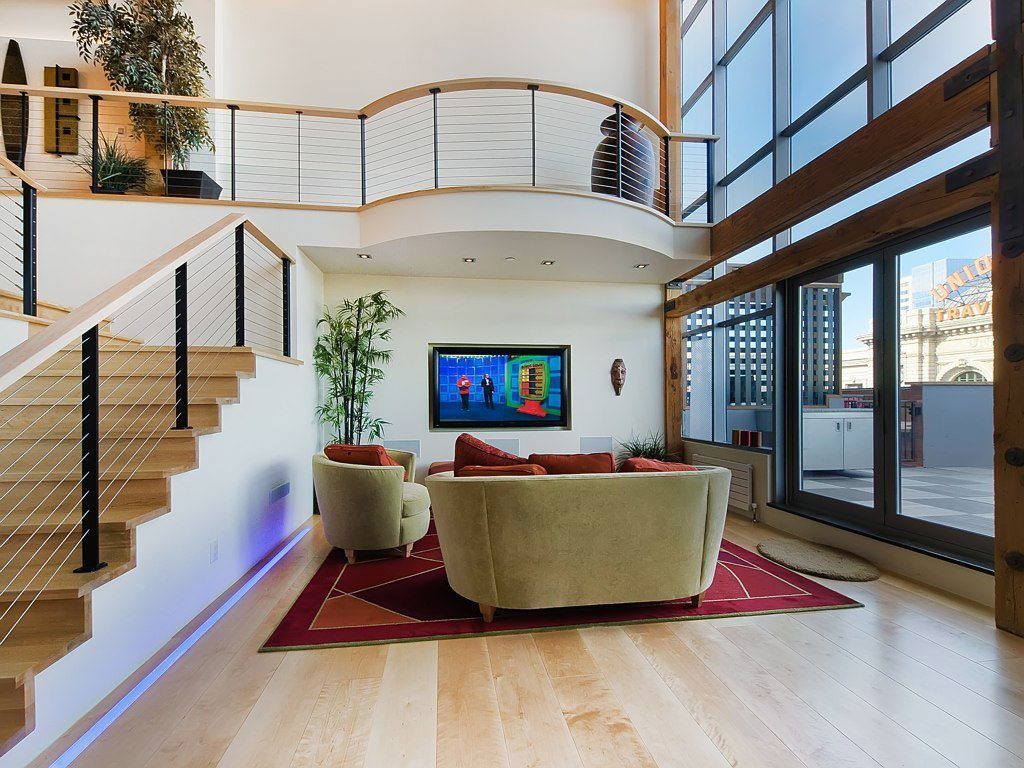 4. Stainless Steel and Glass Railing for Stairs
Keuka Studios serves many clients in Nantucket, Massachusetts. Many homes on the island have beachy or nautical-themed interiors. One of our clients with a taste for modern nautical design asked if we could craft a staircase railing to fit this motif. We designed a custom railing system with simple stainless steel posts that accept glass infill panels. The railing also features a sleek stainless steel pipe railing. Set against white shiplap walls, the glass staircase railing creates a light and airy atmosphere that's perfect for a coastal summer home.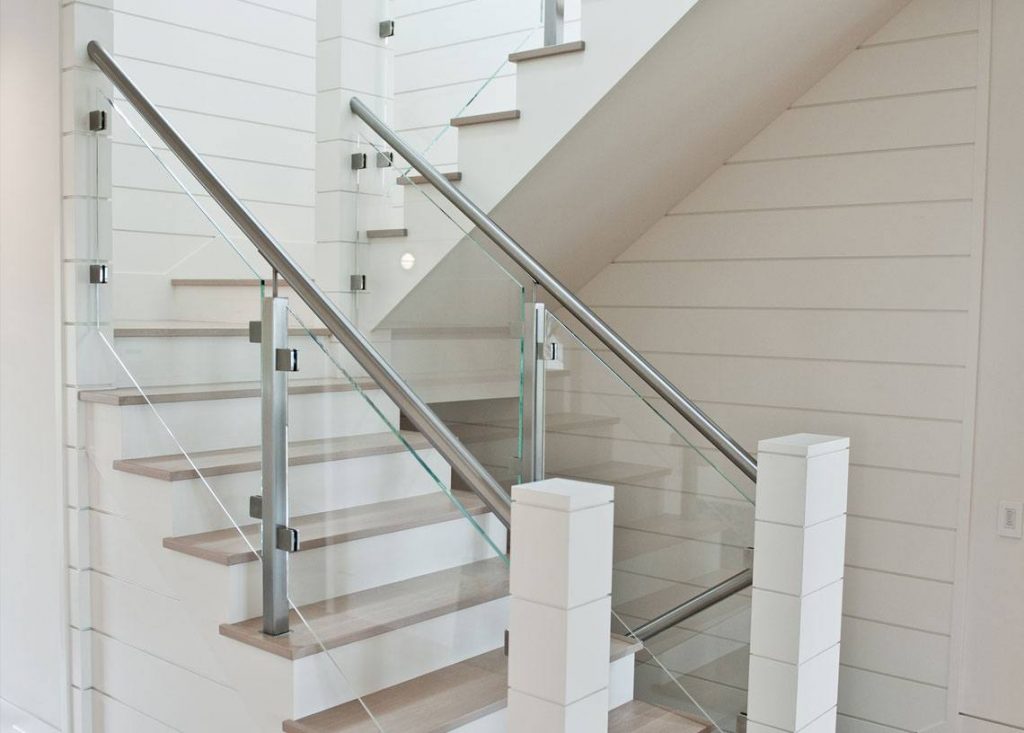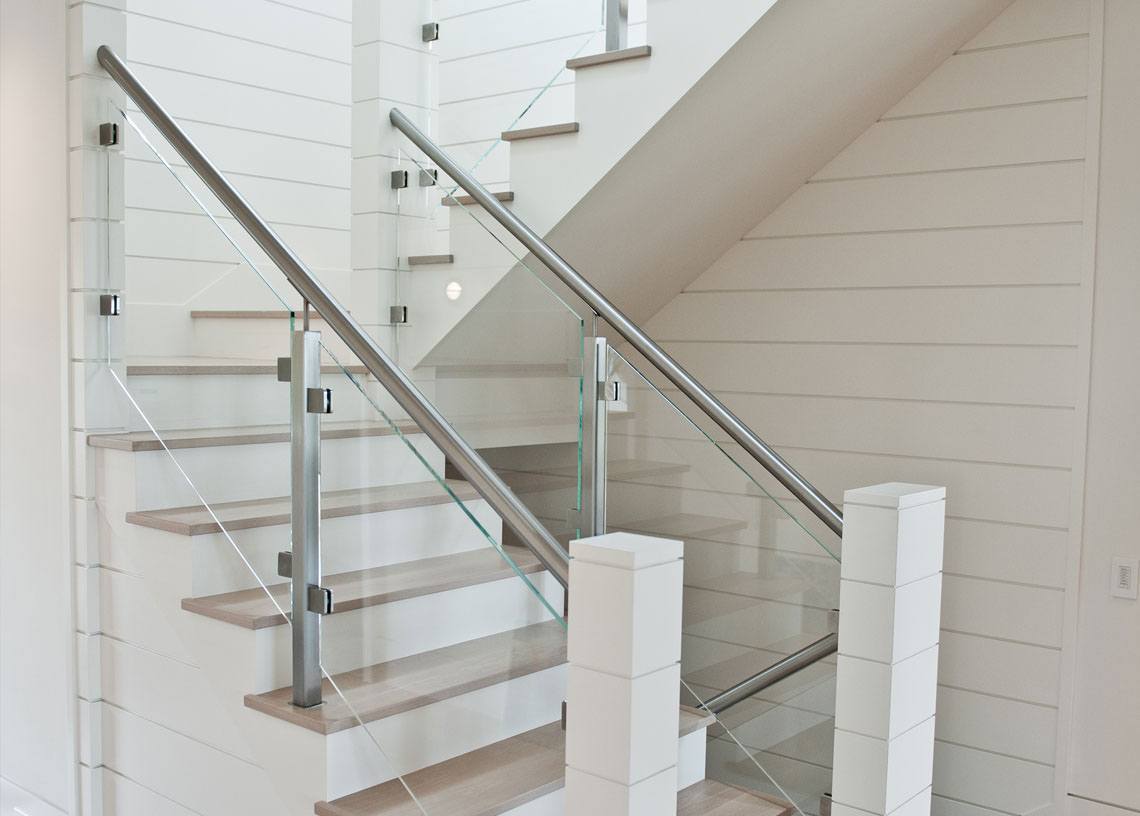 5. Blackened Stainless Steel Cable Railing
Located high up in the Berkshire Mountains, this beautiful home is the perfect place for solitude and relaxation. The homeowners wanted both the home exterior and interior to have a cohesive and contemporary look. To achieve this, they chose white walls and black accents to create contrast with the home's wood features. Our team designed a cable railing system that matches these materials. The Ithaca Style railing features black powder-coated steel posts. We also used blackened stainless steel fittings and infill cables to give the railing a unified appearance. The blackened finish is created through a chemical reaction that produces a black patina. To match the home's walls and flooring, the homeowners chose a wood top rail.
6. Grand Lobby Staircase

The lobby for a major pharmaceutical company features a three-level u-shaped staircase with Keuka Studios Ithaca Style cable railing system wrapping the stairs and landings. The railings for the stairs were chosen for the modern slim post and the sleek styling. We custom fabricated the railing to fascia mount to the staircase and have an ADA compliant handrail. The top rail is made of aluminum. To maintain a seamless appearance the entire project including the hardware was powder-coated texture black. As a result, the railing beautifully accents the lobby decor.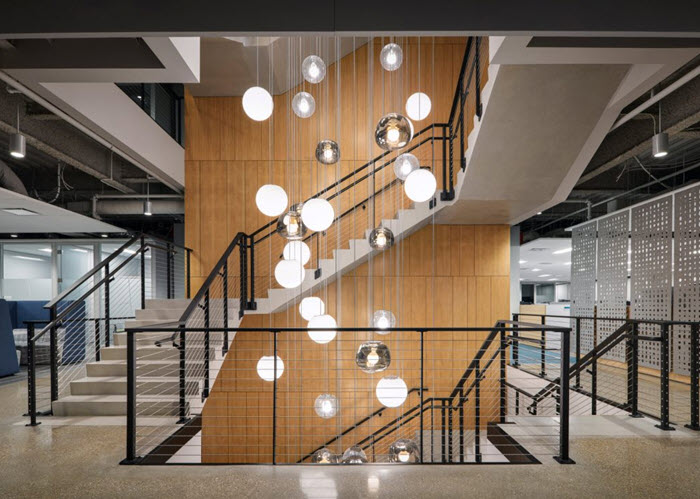 7. Curved Cable Railings for Wood Stairs

The homeowner's objective for this project was to create open spacious living areas allowing for natural light and an easy flow throughout the home. To accomplish this an open double stringer wood staircase was designed for the center of the home, in place of a more traditional closed-in stairwell. They chose our curved Keuka Style cable railings for the stairs beautifully combining curved steel posts with the angular wood stringers. We fabricated the cable railings posts to be surface mounted on the stairs and floors. The railings also run along the upper-level balcony and down to the lower level. The stair stringers and treads are made of thick wood that complements the heavy timber beams of this modern craftsman-style home.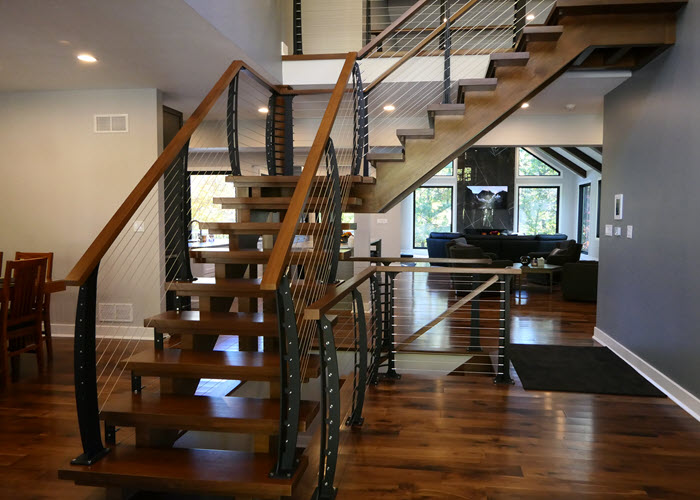 At Keuka Studios, we custom fabricate residential and commercial stairs and railings to fit your style, space, and requirements. To learn more about how each cable railing project moves from vision to reality. Take a look at our custom railing design process. We take pride in building craftsman-quality and commercial-grade stairs and railings for interior and exterior applications. Contact us to get started on your project.