Home Staircase and Balcony – Las Vegas, Nevada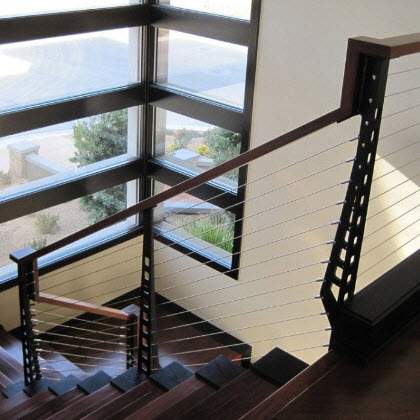 Location: Las Vegas, NV
Material and Finish: "Raven Black" powder-coated steel posts with wood top rail.
Description: Chicago Style cable railing.
Notes:
Situated in the Red Rocks area near Las Vegas, Nevada, this multi-story home has an open feel and receives an abundance of natural light. When you walk in the foyer, the first thing you notice is a stunning indoor/outdoor pool.
The homeowner wanted a railing system that would give the foyer, staircase, and upper-level balcony a simple and contemporary look. He found Keuka Studios online while searching for a "modern" stair railing. The client saw our Chicago Style railing and knew it would fit perfectly with his home's design. The cutouts on the Chicago Style posts matched the existing corner windows in the stairwell and throughout the home.
Keuka Studios fabricated this indoor railing system with black powder-coated steel posts and a wood top rail.
Request A Quote
Chicago Style Cable Railing