New York Modern Staircase Projects
Modern Stair and Railing Projects in New York State
Keuka Studios has completed a variety of modern stair projects throughout New York state. Our team designs and builds staircases, complete with railing systems, for both indoor and outdoor spaces. We work closely with clients in order to achieve the exact look they desire for their custom metal stairs.
Based on the specific dimensions of each worksite, our engineers create 3D renderings of our designs. Next, our craftsmen build the complete staircases with railings on-site at our studio in Rush, New York. We then disassemble the railing for shipping. To learn about the variety of stair types we produce, you can read more here.
Modern Staircase Inspiration
Shelter Island, NY: Floating Mono-Stringer Stairs
Keuka Studios had the opportunity to build a staircase for architect Vibeke Kichten's own home, the "Eco House." For the beautiful, environmentally-friendly house on Shelter Island, NY, we crafted a floating mono-stringer staircase. The single stringer runs along one end of the treads up against a concrete barrier. The treads are stone and the top rail is IPE. We also designed custom railing posts to match the house's exterior.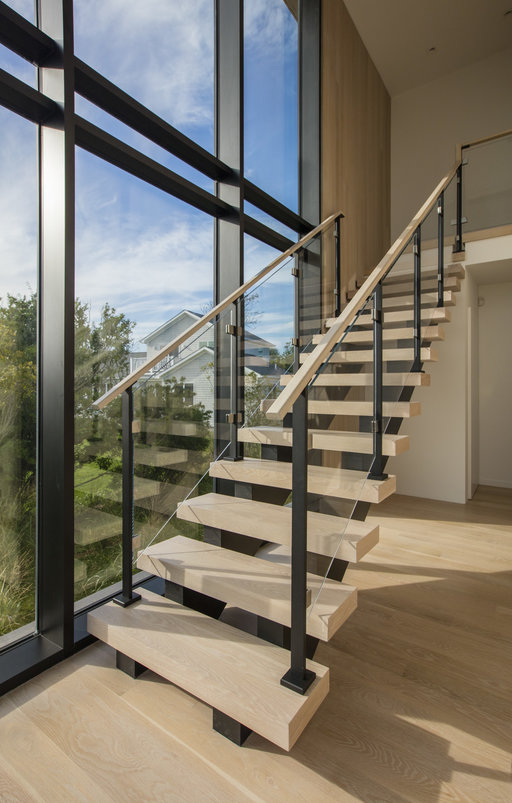 Montauk, NY: Interior Staircase with Glass Railing
The owners of this ultra-modern home in Montauk wanted the entire front of their house to be transparent. Thanks to the floor-to-ceiling glass windows, natural light floods the home. Furthermore, from almost anywhere inside the house you can look out at the incredible natural view. To carry this modern, transparent design into the stairwell, the owners requested a minimalist staircase with glass railing. Our team designed a double-stringer, open-riser staircase with white oak treads. The glass railing features our Ithaca Style posts and a white oak top rail.
Scarsdale, NY : Floating Mono Stringer Stair with Horizontal Rod Railing
We designed and crafted interior and exterior floating stairs and pencil rod railings for this cube-style home. The railing perfectly complements the home's strong geometric lines. The architects at Thread Collective wanted the same modern rod railing for the interior stairs and upper-level balcony as well as the exterior deck, rooftop deck, and stairs.
Rochester, NY: "Copper" Mono-Stringer Grand Staircase
Our client in Rochester wanted their grand staircase to match the copper accents already spread across the house. Keuka Studios fabricated a floating staircase and glass railing for both the stairs and second-level balcony. By using Ithaca Style steel posts with a faux copper finish, we achieved a modern look that matched the home interior without sacrificing stability.
Ithaca, NY: L-Shaped Closed Double-Stringer Stairs
For our client in Ithaca, we designed and fabricated a staircase with "Raven Black" powder-coated steel posts. The staircase has a platform midway up the stairs then turns 90 degrees, giving it the shape of an L. We crafted two steel stringers that enclose the treads. Also, Keuka Studios made the railing system. The cable railing features our Ithaca Style posts and a Brazilian cherry top rail.
Katonah, NY: Double-Stringer Floating Staircase
Keuka Studios fabricated this staircase and railing system for a client who wanted to personalize her home. We designed a double-stringer staircase with open risers. The homeowner chose a beautiful Brazilian cherry wood, also known as jatoba, for the stair treads and the railing's top rail.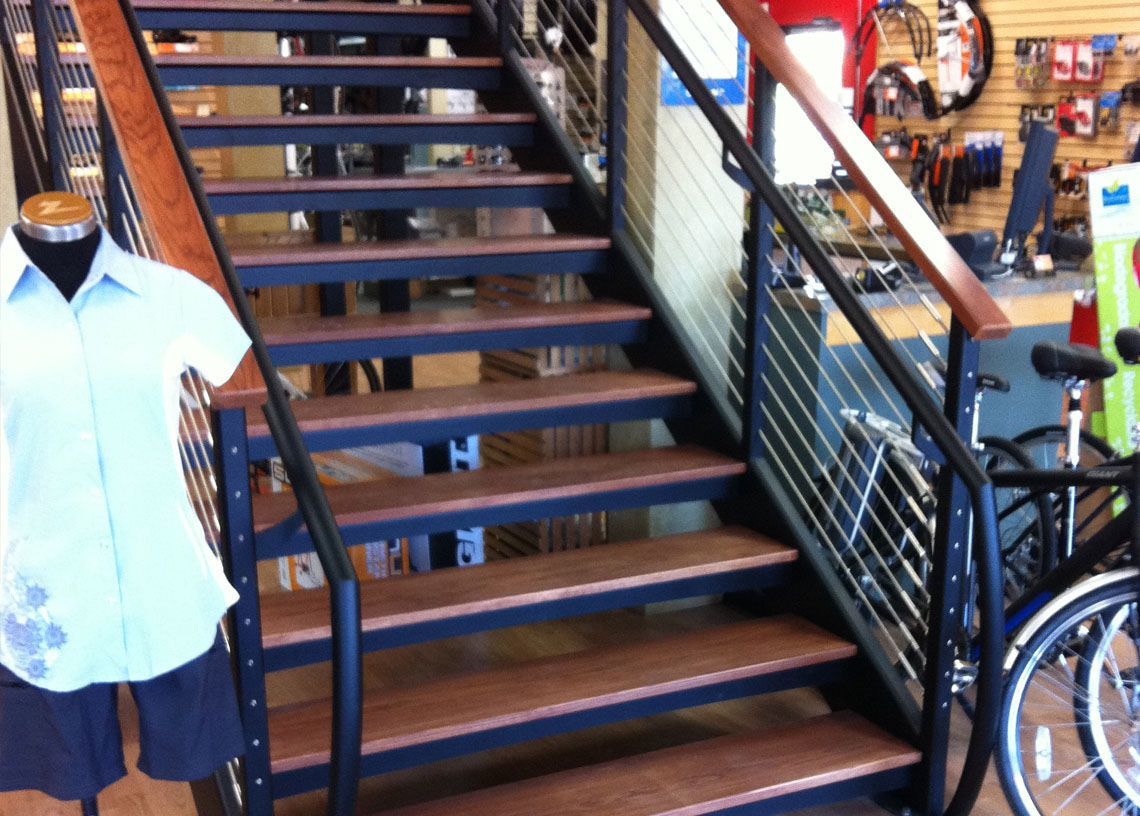 Ithaca NY: Store Stair Railing
Keuka Studios designed and fabricated this dual stringer stair and railing system for a bicycle store in Ithaca, NY. The business owners requested a double-wide staircase for the entrance of the store, to make it easy for customers to access the upper level of the store. The double-stringer staircase showcases our Ithaca-style cable railings with ADA-compliant handrails and wood tread.
Rochester, NY: One-Of-A-Kind Staircase and Railing
Our client in Rochester owns a realty company and wanted a one-of-a-kind staircase for their office. The engineers at Keuka Studios created a completely custom design for both the stairs and railing. The open-stringer staircase features unique, curved tread supports that meet the requirements of the local building code. The railing system has custom posts, a round wood top rail, and a knife handle railing termination.
Every Keuka Studios design project is custom-built for your space. To learn more about how each cable railing project moves from vision to reality, take a look at our custom railing design process. We take pride in building craftsman-quality and commercial-grade railings for interior and exterior applications.